Cal Tjader Plays The Contemporary Music Of Mexico And Brazil (2000)
Cal Tjader Plays The Contemporary Music Of Mexico And Brazil (2000)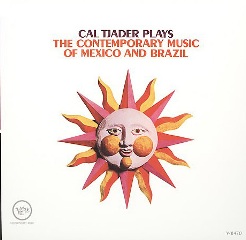 01. Vai Querer (Hianto de Almeida-Fernando Lobo)
02. Qu Tristeza (Mario Ruiz Armengol)
03. Meditao (Antonio Carlos Jobim-Ferreira De Mendonca)
04. So (Mario Ruiz Armengol)
05. Se Tarde, Me Perdoa (Carlos Eduardo Lyra-Ronaldo Boscoli)
06. No Diga Nada (Carlita-Noacy Marcenes)
07. Silenciosa (Mario Ruiz Armengol)                        play
08. Elizete (Clare Fischer)
09. Imagen (Mario Ruiz Armengol)                            play
10. Tentaao do Inconveniente (Augusto Mesquita- Manoel de Conceicao)
11. Preciosa (Mario Ruiz Armengol)
12. Chro e Batuque (Laurindo Almeida)

Personnel: 
Cal Tjader (vibraphone); 
Clare Fischer (arranger, piano); 
Ardeen DeCamp (vocals); 
Gene Cipriano, Bernie Fleischer, Paul Horn, John Lowe, Don Shelton (flute, clarinet); 
Laurindo Almeida (guitar); 
Freddie Schreiber (bass); 
Johnny Rae (drums, timbales); 
Changuito (congas); 
Milt Holland (percussion).

The Swedish-American vibraphonist Cal Tjader created a unique Latin/chamber-jazz sound with congueros Mongo Santamaria and Francisco Aguabella that danced and entranced musicians and listeners for decades. This 1962 recording departs from Tjader's trademark combo format and Afro-Cuban stylings and features him in an expanded, orchestrated setting with woodwind arrangements by Clare Fischer. The contemporary music represented on this disc features sambas from Brazil, including "Vai Querer," Antonio Carlos Jobim's "Meditacao"--which beautifully complements Stan Getz's more celebrated version--and "Choro e Batuque," a New World Afro-Amerindian dance composition penned by guest guitarist Laurindo Almeida. Tjader's Milt Jackson-influenced, soft and syncopated touch is supported by a topflight crew of sidemen, featuring flutist Paul Horn and the Cuban percussion king, Changuito, who expand and elongate the melodically rich music of Mexican composer Mario Ruiz Armengol. With the ethereal, wordless vocals of Ardeen de Camp, Tjader and company radiate cool, azure-impressioned Latin tinges on the boleros "Que Tristeza" and "Silenciosa" and the clave-coded "Sone." Clare Fisher's festive samba "Elizete" rounds out this pleasing potpourri of imaginative inter-American music. --Eugene Holley Jr.
Purists often decry the use of orchestral arrangements on jazz recordings, yet there are albums where the marriage of traditional jazz instrumentation and orchestral elements works quite nicely. CAL TJADER PLAYS THE CONTEMPORARY MUSIC OF MEXICO AND BRAZIL is one such album. Tjader's light, cool-toned vibraphone is complemented by flautist Paul Horn and conguero Mongo Santamaria, among other sidemen, as well as by tasteful woodwind arrangements by Clare Fisher. The result is groovy and light, a pleasing combination of south of the border tradition and dinner-jacket lounge music.
Cal Tjäder fue reconocido como el líder no latino por excelencia de los movimientos de bandas de latín-jazz de la década de 1950 hasta su muerte en 1982. Su tranquila y cálida facilidad para interpretar los ritmos latinos y jazz se demuestran en este aclamado álbum.
Publicado originalmente en 1962, cuando la música brasileńa se presentó ante un público ávido, Cal Tjäder logra reproducir la Música Contemporánea de Mexico y Brasil, ya que es más que un álbum de bossa nova. Es una exploración de las música popular de Mexico y Brasil, sofisticadas a través de jazz americano, uniendo una idea de Tjäder con el pianista Clare Fischer. Después de un viaje a la Ciudad de México, Fischer había regresado a Los Ángeles, con grandes elogios para el compositor mexicano Mario Ruiz Armengol, y se convirtió decidido a mostrar su música. żQué mejor manera de darle igual importancia al lado de la popular bossa nova? Aunque los ritmos son diferentes, la bossa nova y Armengol, sin embargo, comparten una armonía, atractiva y sensual exuberancia tropical. Fischer, quien escribió los arreglos, y Tjäder disfrutando de este proyecto, sin recurrir a los clichés. Fischer, dibuja una paleta de pinturas musicales influenciadas por un profundo afecto por la música latinoamericana. Tjäder respalda con vibraciones sensibles la fluidez de Fischer en el teclado, junto con el bajo, timbales, congas, voz de fondo ocasionales, y la guitarra de Laurindo Almeida. El resultado es un suave jazz con sabor a la interpretación de música de Mexico y Brasil, que sigue siendo tan fresco como cuando fue aclamado por los oyentes exigentes.
Vibraphonist Cal Tjader was renowned as the non-Latino leader par excellence of swinging Latin-jazz bands from the 1950s until his death in 1982. His laid-back yet buoyant way with the vibes negotiated with ease the terrain between Latin rhythms and mainstream jazz — as is clearly demonstrated on this acclaimed album.
Originally released in 1962, when Brazilian music was being introduced to an avid American public, Cal Tjader Plays the Contemporary Music of Mexico and Brazil is more than a bossa nova album. It is an exploration of the sophisticated popular musics of Mexico and Brazil via American jazz, an idea sparked by Tjader's then-pianist, Clare Fischer. After a trip to Mexico City, Fischer had returned to Los Angeles with high praise for the Mexican composer Mario Ruíz Armengol, and became determined to showcase his music. What better way than to give it equal room beside the wildly popular bossa nova? While the rhythms are different, bossa nova and Armengol nevertheless share a harmonic lushness and a winsome tropical tristesse.
Fischer, who wrote the arrangements here, and Tjader both clearly enjoyed this project. Without resorting to clichés, Fischer paints from a palette influenced by the best big-band writing and a deep affection for Latin American music. A choir of woodwinds backs Tjader's sensitive vibes and Fischer's fluent keyboard, along with bass, timbales, congas, occasional wordless vocals, and the guitar of Laurindo Almeida. The result is a mellow, jazz-flavored interpretation of music from Mexico and Brazil that remains as fresh as when it was first acclaimed by discerning listeners. (Verve Records)
download: uploaded yandex 4shared mediafire solidfiles mega zalivalka filecloudio anonfiles oboom
Last Updated (Friday, 08 August 2014 08:52)