Joe Zawinul - Zawinul (1971)
Joe Zawinul - Zawinul (1971)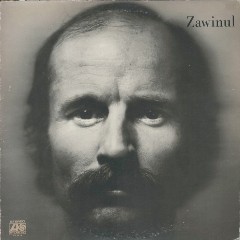 A1 	Doctor Honoris Causa 	14:47
A2 	In A Silent Way 	4:47
B1 	His Last Journey 	4:37
B2 	Double Image 	10:37
B3 	Arrival In New York 	1:59

Bass – Miroslav Vitous, Walter Booker
Electric Piano – Herbie Hancock, Joe Zawinul
Flute – George Davis (tracks: A1 to B1, B3), Hubert Laws (tracks: B2)
Melodica – Jack DeJohnette (tracks: B1)
Percussion – Billy Hart, David Lee, Jack DeJohnette (tracks: B2), Joe Chambers
Soprano Saxophone – Earl Turbinton (tracks: A1 to B1, B3), Wayne Shorter (tracks: B2)
Trumpet – Jimmy Owens (tracks: B1), Woody Shaw (tracks: A1, A2, B2, B3)

Track Notes:
A1: Dedicated to Herbie Hancock for his Honorary Doctorate at Grinnell University in Des Moines, Iowa.
A2: Impressions of Joe Zawinul's as a shepherd boy in Austria.
B1: A tone poem reminiscent of his grandfather's funeral on a cold winter day in an Austrian mountain village.
B2: A concept of what man thinks he is as opposed to what he really is.
B3: Joe Zawinul's first impression of New York when he arrived here as a boy on a ship from France.

Conceptually, sonically, this is really the first Weather Report album in all but name, confirming that Joe Zawinul was the primary creative engine behind the group from the beginning. It is also the link between WR and Miles Davis' keyboard-laden experiments on In a Silent Way; indeed, the tune "In a Silent Way" is redone in the more complex form in which Zawinul envisioned it, and Miles even contributes a brief, generous tribute to Zawinul on the liner. Two keyboardists -- Zawinul and the formidable Herbie Hancock -- form the underpinning of this stately, probing album, garnishing their work with the galactic sound effects of the Echoplex and ring modulator. Earl Turbinton provides the Wayne Shorter-like beams of light on the soprano sax, spelled by Wayne himself on "Double Image." The third founder of WR, Miroslav Vitous, checks in on bass, and hard-bopping trumpeter Woody Shaw proves to be perfectly adept at the jazz-rock game. Two short-lived standards of the jazz-rock era, the aforementioned "Double Image" and "Doctor Honoris Causa," are introduced here, yet it is mood pieces like "His Last Journey" and "Arrival in New York" that with the help of tape-speed manipulation, establish the lasting, murky, reflective ambience of this CD. ---Richard S. Ginell, AllMusic Review
Joe Zawinul to jeden z najsłynniejszych jazzowych pianistów i zarazem jeden z pionierów stylu fusion - był wśród pierwszych jazzmanów używających elektrycznego pianina, a następnie syntezatorów. Urodził się w Austrii, gdzie od najmłodszych lat zdobywał klasyczne wykształcenie muzyczne. Z czasem jednak zafascynowała go muzyka jazzowa. Wkrótce po wyjeździe do Stanów, gdzie miał kontynuować naukę w bostońskiej Berklee School of Music, dołączył do zespołu trębacza Maynarda Fergusona (wtedy też po raz pierwszy zetknął się z Wayne'em Shorterem). Niedługo później, w 1961 roku, przeszedł do kwintetu Cannonballa Adderleya, z którym grał do końca lat 60. Tam po raz pierwszy miał okazję grać na elektrycznym pianinie, co zwróciło uwagę Milesa Davisa, który pod koniec dekady nawiązał współpracę z pianistą. Zawinul znacząco wpłynął na kształt albumów "In a Silent Way" i "Bitches Brew". Współpraca nie trwała jednak długo, bo już pod koniec 1970 roku Zawinul i Shorter założyli grupę Weather Report.
Powstanie zespołu poprzedziło nagranie solowego albumu "Zawinul". Sesje nagraniowe odbywały się pomiędzy 6 sierpnia, a 28 października 1970 roku. Wzięli w nich udział tacy muzycy, jak np. Herbie Hancock, trębacz Woody Shaw, grający na perkusjonaliach Jack DeJohnette, Billy Hart i Joe Chambers, basista Miroslav Vitouš (kolejny późniejszy członek Weather Report), wspomniany już Wayne Shorter, oraz oczywiście sam Joe Zawinul. Na repertuar złożyło się pięć kompozycji lidera, w tym dwie nagrane już wcześniej z Davisem - tytułowa z "In a Silent Way" oraz "Double Image", która po raz pierwszy została wydana dopiero w boksie "The Complete 'Bitches Brew' Sessions" (nie licząc alternatywnej wersji "Medley: Gemini/Double Image" z "Live-Evil"). Nie jest tajemnicą, że Zawinul nie był zadowolony z tego, co Miles zrobił z "In a Silent Way" (Słyszałem piękno melodii napisanej przez Joe, ale zaśmiecało ją to całe badziewie. Podczas nagrywania wywaliłem wszystkie zapisy z akordami i kazałem wszystkim grać samą melodię, nic poza tym - wyjaśniał trębacz w swojej autobiografii*), dlatego zapewne zdecydował się nagrać własną wersję.
Materiał zawarty na tym longplayu jest rozwinięciem elektrycznego jazzu z albumu "In a Silent Way". Oba wydawnictwa mają podobny, subtelny klimat. O ile jednak na dziele Davisa był on kontrapunktowany ostrzejszymi partiami gitary Johna McLaughlina i mocniejszą perkusją Tony'ego Williamsa, zdradzając inspirację muzyką rockową, tak na "Zawinul" takie wpływy są praktycznie nieobecne. Brzmienie opiera się na dwóch pianinach elektrycznych, saksofonie sopranowym, trąbce, flecie, dwóch kontrabasach i różnych perkusjonaliach. Instrumentaliści grają bardzo swobodnie, a ich partie interesująco się przeplatają i uzupełniają. Najciekawiej wypada to chyba w czternastominutowym otwieraczu "Doctor Honoris Causa", w którym instrumentalnej wirtuozerii towarzyszy piękny nastrój. Doskonałe otwarcie, bardzo reprezentatywne dla całości. "In a Silent Way" w tej wersji ma bardziej złożoną fakturę, ale czy wyszło to na dobre? Raczej rację miał Davis, podkreślając piękno tej melodii bardziej ascetyczną aranżacją. Co ciekawe, kolejny utwór, "His Last Journey", został zaaranżowany w taki oszczędniejszy sposób i brzmi to naprawę ładnie. W "Double Image" nastrojowe granie z czasem ustępuje miejsca partiom o wręcz freejazzowym charakterze (tutaj najlepiej wykorzystano obecność dwóch basistów). Całość zamyka eksperymentalna miniatura "Arrival in New York".
Album "Zawinul" z pewnością zostanie doceniony przez wszystkich wielbicieli "In a Silent Way" czy wczesnych wydawnictw Weather Report, które są jego bezpośrednią kontynuacją. ---Paweł Pałasz, pablosreviews.blogspot.com
download (mp3 @320 kbs):
yandex mediafire ulozto gett bayfiles
Last Updated (Friday, 18 October 2019 14:42)