Abbey Lincoln – Music Is The Magic (1993)
Abbey Lincoln – Music Is The Magic (1993)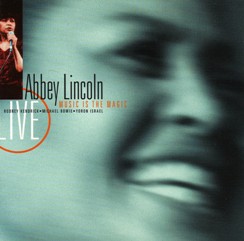 01 The Music Is The Magic (Abbey Lincoln) 7:34
02 Bird Alone (Abbey Lincoln) 6:28
03 Throw It Away (Abbey Lincoln) 7:23
04 How High The Moon (Nancy Hamilton/W Morgan Lewis) 7:16
05 Brother Can You Spare A Dime (EY Harburg/Jay Gorney) 5:27
06 Introducing The Band 0:38
07 Spring Will Be A Little Late This Year (Frank Loesser) 5:04     play
08 Wholly Earth (Abbey Lincoln) 10:49

Line Up:
Abbey Lincoln- Vocals
Rodney Kendrick- Piano
Michael Bowie- Bass
Yoron Israel- Drums

Abbey Lincoln (born Anna Marie Wooldridge on August 6, 1930, Chicago, Illinois – died August 14, 2010, Manhattan, New York), was a jazz vocalist, songwriter, and actress. Her first album, Abbey Lincoln's Affair, A Story of a Girl in Love was released in 1956. Also that year Lincoln starred in the film The Girl Can't Help It, for which she famously wore a dress worn by Marilyn Monroe. Lincoln sang on the 1960s landmark jazz civil rights recording, We Insist! - Freedom Now Suite in 1960 by jazz musician and Lincolns husband from 1962-1970, Max Roach. Especially since this album, Abbey Lincoln was connected to the political fight against racism in the United States. She co-starred with Sidney Poitier and Beau Bridges in 1968's For Love of Ivy and received a 1969 Golden Globe nomination for her appearance in the film. She also starred in the 1990 Spike Lee movie Mo' Better Blues.
In 2003, she received the National Endowment for the Arts NEA Jazz Masters Award. Lincoln died on August 14, 2010 in Manhattan at the age of 80. Although no official cause of death was given, Lincoln had suffered deteriorating health following open heart surgery in 2007. She passed away in a Manhattan nursing home. ---last.fm
Gaby Woolridge, bo takie jest jej prawdziwe imię i nazwisko, zaczęła pojawiać się przed publicznością jako wokalistka na początku lat 50. Pracowała w chicagowskich klubach pod różnymi pseudonimami (m.in. jako Anna Marie i Gaby Lee). Pod własnym nazwiskiem wystąpiła w połowie lat 50. w klubie Moulin Rouge w Los Angeles. Wtedy dokonała także pierwszych nagrań płytowych z Bennym Carterem. Koncertowała też z muzykami bopowymi, jak Thelonious Monk, Mal Waldron i Max Roach.
Zaczęła też sama pisać teksty i komponować, manifestując często w swych utworach problemy związane z przebudzaniem się świadomości czarnej społeczności USA. Współpracowała z Roachem (od 1962 r. jej mężem) przy wielu ważnych dla jazzu nagraniach (jak "Freedom Now Suite" i "Straight Ahead").
W latach 60. rozpoczęła karierę aktorską, pojawiając się w filmach "Nothing But A Man" (1964) i "For Love Of Ivy" (1968). Pod wpływem impresji związanych z pobytem w Afryce (w połowie lat 70.) przyjęła nowe nazwisko Aminata Moseka. Jej pełen emocji głos sprawiał, że zawsze nawiązywała doskonały kontakt z publicznością. Jej styl wokalny obejmuje ballady wykonywane przy ogromnym natężeniu emocjonalnym. Pod koniec lat 80. artystka ponownie znalazła się w kręgu najważniejszych wokalistek współczesnego jazzu, a płyty, które zrealizowała z udziałem wybitnych jazzmanów (Dave Liebman, Oliver Lake, Steve Coleman, Charlie Haden, Roy Hargrove, Kenny Barron, Pat Metheny, Stan Getz, Hank Jones, Clark Terry, Grady Tate, Stanley Turrentine, Archie Shepp), umiejscowiły jej sztukę wokalną wśród najwybitniejszych osiągnięć jazzu ostatnich dziesięcioleci.
W 2000 roku wystapiła pierwszy raz w Polsce podczas festiwalu Ery Jazzu w Poznaniu. Rok później podczas Jazz Jamboree.
download: ziddu uploaded yandex 4shared mediafire solidfiles mega zalivalka filecloudio anonfiles oboom
Last Updated (Friday, 11 July 2014 08:51)