Nicole Simone – Nicole Simone EP (2010)
Nicole Simone – Nicole Simone EP (2010)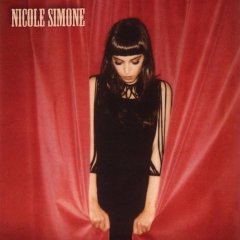 01. The Wedding Song (3:43)
02. Teach Me (4:13)
03. Melt (4:29)
04. Haunt You (3:56)
05. You Got Me (3:11)
06. Back For More (3:07)

Although she was born in the eighties, Nicole Simone has always been fascinated with nostalgia and old films from a very young age. She writes all her music with love for creating a mood and environment of her own in which one gets transported into old movie scenes set in a David Lynch-ian smoky nightclub, where Nicole takes the stage in front of the red plush curtains.
Her haunting, intoxicating and timeless music is illustrated by a unique instrumentation of guitar, marxophone, orchestron, trumpet, mandolin, vibraphone, piano and ukulele. Nicole just completed her first EP, which will be released on March 9th 2010. On the opening track entitled, "The Wedding Song" actor/musician Jason Schwartzman lent his talents on drums and banjo.
Nicole Simone's music can be heard in the Sundance film The Good Life starring Bill Paxton, Zooey Deschanel, and Harry Dean Stanton, as well as in the indie film Alone With Her starring Colin Hanks. Her diverse artistic influences range from Frederic Chopin to Tom Waits and New Orleans funeral processions to the likes of Howlin' Wolf, Billie Holiday and Cesária Évora.
Nicole Simone's first music video for the song "Melt" was shot near the Joshua Tree desert. The video is an homage to one of Nicole's favorite films, Wim Wenders Paris, Texas as well as inspired by French New Wave directors such as Jean-Luc Godard and Louis Malle.
FLAUNT magazine featured Nicole in their music issue alongside Bryan Ferry, Ryan Adams and Charlotte Gainsbourg. She has played support slot for artists such as Ed Harcourt, Jesca Hoop, Maria Taylor and Diane Birch.---Jermy Leeuwis, musicremedy.com
yandex 4shared mega mediafire solidfiles gett cloudmailru oboom
Last Updated (Saturday, 21 February 2015 20:40)