Jo Stafford - As Time Goes By (2011)
Jo Stafford - As Time Goes By (2011)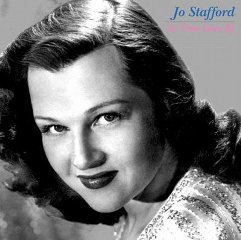 1 	–Jo Stafford - I Believe In You
2 	–Jo Stafford - As Time Goes By 	
3 	–Jo Stafford - Corcovado 	
4 	–Jo Stafford - I'll Be Seeing You 	
5 	–Jo Stafford - September In The Rain 	
6 	–Jo Stafford - Somwhere My Love (Lara's Theme) 	
7 	–Jo Stafford - People 	
8 	–Jo Stafford - A Ghost Of A Chance 	
9 	–Jo Stafford - Stormy Weather 	
10 	–Jo Stafford - Try To Remember 	
11 	–Jo Stafford - What The World Needs Now Is Love
12 	–Jo Stafford - Silver Threads Among The Gold 	
13 	–Jo Stafford - The Party's Over

Arranged By – Glenn Osser, Billy VerPlanck, Paul Weston
Trombone, Vocals – Warren Covington (tracks: 1, 11)
The Pied Pipers (tracks: 1, 2, 9, 11)
The Gaslight Singers (tracks: 12)
Vocals - Jo Stafford

Jo Staffordis one of the top singers in the 20th century American popular music history. Her pre-war fame came with the choral group the Pied Pipers she formed in 1938 and the group's work with the Tommy Dorsey Orchestra from 1939 until 1942. As a solo singer, Stafford made many hit records for Capitol Records.
The 13 tunes contained in this CD were recorded for Reader's Digest between 1967 and 1970. Sold through mail order, the original records were soon forgotten and faded into obscurity, until the good people at the Japanese label SSJ Records uncovered them and released them on CD for the first time.
Stafford is heard here with The Pied Pipers (Track 1, 2, 9, 11), The Gaslight Singers (Track 12) and Warren Covington (trombone and vocals on Track 1 and 11). Arrangements are provided by her husband Paul Weston (Track 2-10, 12, 13), Glenn Osser (Track 1) and Billy VerPlanck (Track 11). The program consists of old and new standards, and Stafford sings and swings with deeply felt emotion with her consistently crystalline voice.
A rare gem for collectors and a must-have CD for fans of Jo Stafford! Recorded in 1967, 1969 and 1970. DSD remastered in 2011. Japanese, paper sleeve (mini LP) limited edition. ---eastwindimport.com
download (mp3 @320 kbs):
yandex mediafire uloz.to cloudmailru gett