G.P. Telemann – Christmas Cantatas (2006)
G.P. Telemann – Christmas Cantatas (2006)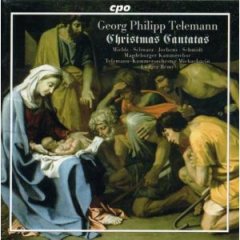 Nun komm der Heiden Heiland TWV 1:1174
01. 1. Choral		01:33
02.	2. Aria		02:20
03.	3. Recitativo		01:21
04.	4. Aria		02:19
05.	5. Choral		01:29
06.	6. Recitativo		02:35
07.	7. Aria		03:34            play
08.	8. Choral		03:06

Der jüngste Tag wird bald sein ziel erreichen TWV 1:301
09. 1. Accompagnato		02:28
10.	2. Choral		01:06
11.	3. Recitativo		01:51
12.	4. Aria		03:43
13.	5. Tutti		01:06
14.	6. Recitativo		01:07
15.	7 Choral		01:21

Uns ist ein Kind geboren TWV 1:1451
16. 1. Tutti		01:31
17.	2. Duetto		01:23
18.	3. Tutti		01:28
19.	4. Aria		02:39
20.	5. Recitativo		01:29
21.	6. Aria		03:11
22.	7. Aria		02:30           play
23.	8. Choral		01:03

Gelobet seist du Jesu Christ TWV 1:612
24. 1. Choral		00:55
25.	2. Aria		02:36
26.	3. Recitativo		00:29
27.	4. Aria		03:07
28.	5. Recitativo		00:28
29.	6. Aria		02:35
30.	7. Recitativo		00:29
31.	8. Aria		03:03
32.	9. Recitativo		00:21
33.	10. Tutti		01:37

Il Fondamento
Paul Dombrecht - director

... in Bach's own birthplace, though Telemann was born in Magdeburg in 1681, four years before Bach. Telemann became Kapellmeister in Eisenach in 1708, working chiefly there and in Frankfurt until 1721, when he famously rejected an offer from Leipzig in order to become High Poobah of Musik in Hamburg, a berth he filled for the rest of his long life.
The first two cantatas on this CD - "Say unto the Daughter of Zion" and "Say unto the Weak of Heart" - were composed for the court of Eisenach as portions of annual cantatas cycles, though it seems they may have been written after Telemann moved "up". In any case, they are examples of Telemann's early mastery of the cantata form and were performed elsewhere in later decades, evidence of Telemann's immense popularity in his times. They are NOT Christmas music in the usual modern sense. Both were written for performance on Sundays in Advent, the period of penitential expectation before Christmas. As such, their textual themes are the awareness of Sinfulness and the Prophecy of the Messiah. The two Christmas Sunday cantatas - "Arise Zion" and "Childlike is the Divine Mystery" - are products of Telemann's maturity; the former probably dates from the 1740s and the latter from the 1760s. Thus, this recording offers a fine study of both Telemann's preservation of the baroque cantata form well into the era of rococo and of Telemann's brilliant innovations within that conserved form. All four cantatas are stunning music, whether one cares about their provenance or not. Like the best of Bach, all four get better and better as the listener becomes intimate with them.
The first and last of the set feature the rousing sounds of trumpets and timpani. Telemann's use of drums in Lutheran worship services was not unique, but the musical imagination displayed in his percussion is. No other composer wrote anything as dramatic for timpani as Telemann, especially in the fourth cantata "Kündlich groß ist das gottselige Geheimnis". Hearing is believing, friends, and ya gotta hear it! Trumpets were intended for the third cantata "Auf Zion" also, but the surviving score, prepared by Telemann's son Georg Michael, substituted recorders, and recorders it is on this CD. The trumpets and oboes in the Advent cantata "Saget der Tochter Zion" sound ominous, alerting humanity to its peril, while the same trumpets and oboes in the Christmas cantata "Kündlich etc" sound joyous, a remarkable feat of musical affect.
download: uploaded yandex 4shared mediafire solidfiles mega zalivalka filecloudio anonfiles oboom
Last Updated (Thursday, 05 June 2014 20:15)