Karajan conducts Tchaikovsky (8CD) [2001]
Karajan conducts Tchaikovsky (8CD) [2001]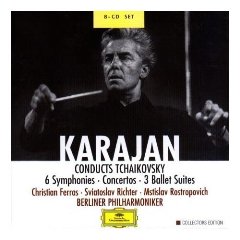 CD1
1. Symphony No.1 in G minor, Op.13 "Winter Reveries" - 1. Dreams of a winter journey Allegro tranquillo
2. Symphony No.1 in G minor, Op.13 "Winter Reveries" - 2. Land of desolation, land of mists-
 Andante cantabile ma non tanto
3. Symphony No.1 in G minor, Op.13 "Winter Reveries" - 3. Scherzo (Allegro scherzando giocoso)
4. Symphony No.1 in G minor, Op.13 "Winter Reveries" - 4. Finale. Andante Lugubre - Allegro moderato
 - Allegro maestoso - Allegro vivo
5. Eugene Onegin, Op.24 – Polonaise
6. Eugene Onegin, Op.24 / Act 2 - Valse	
7. Slavonic March, Op.31 - Moderato in modo di marcia funebre - Andante molto maestoso - Allegro risoluto

CD2
1. Symphony No.2 in C minor, Op.17 "Little Russian" - 1. Andante sostenuto - Allegro vivo
2. Symphony No.2 in C minor, Op.17 "Little Russian" - 2. Andantino marziale, quasi moderato
3. Symphony No.2 in C minor, Op.17 "Little Russian" - 3. Scherzo. Allegro molto vivace -
 Trio. L'istesso tempo
4. Symphony No.2 in C minor, Op.17 "Little Russian" - 4. Finale. Moderato assai - Allegro vivo – Presto
5. Ouverture solennelle "1812," Op.49 - Largo - Allegro giusto

CD3
1. Symphony No.3 in D, Op.29 "Polish" - 1. Introduzione e Allegro. Moderato assai (Tempo di marcia funebre) 
2. Symphony No.3 in D, Op.29 "Polish" - 2. Alla tedesca. Allegro moderato e semplice
3. Symphony No.3 in D, Op.29 "Polish" - 3. Andante elegiaco	
4. Symphony No.3 in D, Op.29 "Polish" - 4. Scherzo. Allegro vivo
5. Symphony No.3 in D, Op.29 "Polish" - 5. Finale. Allegro con fuoco (Tempo di Polacca)
6. Capriccio italien, Op.45 - Andante un poco rubato

CD4
1. Symphony No.4 in F minor, Op.36 - 1. Andante sostenuto - Moderato con anima - Moderato assai,
 quasi Andante - Allegro vivo
2. Symphony No.4 in F minor, Op.36 - 2. Andantino in modo di canzone	
3. Symphony No.4 in F minor, Op.36 - 3. Scherzo. Pizzicato ostinato - Allegro	
4. Symphony No.4 in F minor, Op.36 - 4. Finale (Allegro con fuoco)
5. Variations on a Rococo Theme, Op.33 - Moderato assai quasi andante	Mstislav Rostropovich
6. Variations on a Rococo Theme, Op.33 - Tema: Moderato semplice	Mstislav Rostropovich	
7. Variations on a Rococo Theme, Op.33 - Variazione I: Tempo del Tema	Mstislav Rostropovich
8. Variations on a Rococo Theme, Op.33 - Variazione II: Tempo del Tema	Mstislav Rostropovich	
9. Variations on a Rococo Theme, Op.33 - Variazione III: Andante sostenuto	Mstislav Rostropovich
10. Variations on a Rococo Theme, Op.33 - Variazione IV: Andante grazioso	Mstislav Rostropovich
11. Variations on a Rococo Theme, Op.33 - Variazione V: Allegro moderato	Mstislav Rostropovich
12. Variations on a Rococo Theme, Op.33 - Variazione VI: Andante	Mstislav Rostropovich	
13. Variations on a Rococo Theme, Op.33 - Variazione VII e Coda: Allegro vivo

CD5
1. Symphony No.5 in E minor, Op.64 - 1. Andante - Allegro con anima	
2. Symphony No.5 in E minor, Op.64 - 2. Andante cantabile, con alcuna licenza - Moderato con anima	
3. Symphony No.5 in E minor, Op.64 - 3. Valse (Allegro moderato)
4. Symphony No.5 in E minor, Op.64 - 4. Finale (Andante maestoso - Allegro vivace)
5. Serenade for Strings in C, Op.48 - 1. Pezzo in forma di sonatina: Andante non troppo - Allegro moderato
6. Serenade for Strings in C, Op.48 - 2. Walzer: Moderato (Tempo di valse)	
7. Serenade for Strings in C, Op.48 - 3. Elégie: Larghetto elegiaco
8. Serenade for Strings in C, Op.48 - 4. Finale (Tema russo): Andante - Allegro con spirito

CD6
1. Symphony No.6 in B minor, Op.74 -"Pathétique" - 1. Adagio - Allegro non troppo
2. Symphony No.6 in B minor, Op.74 -"Pathétique" - 2. Allegro con grazia
3. Symphony No.6 in B minor, Op.74 -"Pathétique" - 3. Allegro molto vivace
4. Symphony No.6 in B minor, Op.74 -"Pathétique" - 4. Finale (Adagio lamentoso - Andante)
5. Romeo and Juliet, Fantasy Overture

CD7
1. The Sleeping Beauty, Suite, Op.66a - Introduction - The Lilac Fairy
2. The Sleeping Beauty, Suite, Op.66a - Pas d'action. Rose Adagio
3. The Sleeping Beauty, Suite, Op.66a - Pas de caractère: Puss in Boots
4. The Sleeping Beauty, Suite, Op.66a - Panorama (andantino)
5. The Sleeping Beauty, Suite, Op.66a – Valse
6. Swan Lake, Op.20 Suite - 1. Scene - Swan Theme
7. Swan Lake, Op.20 Suite - 2. Valse in A	
8. Swan Lake, Op.20 Suite - 3. Danse des petits cygnes
9. Swan Lake, Op.20 Suite - 4. Scene	Michel Schwalbé
10. Swan Lake, Op.20 Suite - 5. Danse Hongroise (Czardas)
11. Swan Lake, Op.20 Suite - 6. Scène finale.
12. Nutcracker Suite, Op.71a - 1. Miniature Overture
13. Nutcracker Suite, Op.71a - 2. Danses caractéristiques a. Marche (Tempo di marcia viva)
14. Nutcracker Suite, Op.71a - 2b. Danse de la fée-Dragée (Andante non troppo)	
15. Nutcracker Suite, Op.71a - 2c. Danse russe Trépak (Tempo di Trépak, molto vivace)
16. Nutcracker Suite, Op.71a - 2d. Danse arabe (Allegretto)
17. Nutcracker Suite, Op.71a - 2e. Danse chinoise (Allegro moderato)
18. Nutcracker Suite, Op.71a - 2f. Danse des mirlitons (Moderato assai)	
19. Nutcracker Suite, Op.71a - 3. Valse des fleurs

CD8
1. Piano Concerto No.1 in B flat minor, Op.23 - 1. Allegro non troppo e molto maestoso - Allegro con spirito
 Sviatoslav Richter
2. Piano Concerto No.1 in B flat minor, Op.23 - 2. Andantino semplice - Prestissimo - Tempo I
 Sviatoslav Richter
3. Piano Concerto No.1 in B flat minor, Op.23 - 3. Allegro con fuoco	Sviatoslav Richter
4. Violin Concerto in D, Op.35 - 1. Allegro moderato	Christian Ferras
5. Violin Concerto in D, Op.35 - 2. Canzonetta (Andante)	Christian Ferras
6. Violin Concerto in D, Op.35 - 3. Finale (Allegro

Christian Ferras – violin
Sviatoslav Richter – piano
Mstislav Rostropovich – cello

Berliner Philharmoniker • Wiener Symphoniker
Herbert von Karajan – director

Karajan is one of my favorite conductors who has recorded truck loads of great classical. With all the various releases and re releases of the same music recorded from the 50s to the 80s by Karajan, it can at times be very confusing. I really do like to know what I am buying. I have no need to buy the same music twice unless it has been substantially improved by being remastered.
This set is posted at Rhapsody and the track listing is posted at the Deutsche Grammophon website. At that website, each track may be clicked to open a track recording info window. The track times listed at Deutsche Grammophon are not exact matches as listed on their actual CDs. For example, I have Karajan's mid 70s Tchaikovsky Symphonies 4, 5, 6 2CD 2fer and the track times on the CD box do not exactly match the track times posted at Deutsche Grammophon. But they are within 4 to 6 seconds most of the time.
I was curious about when the symphonies and other orchestral works were recorded, especially the first three symphonies. The first three symphonies were recorded in December 77 and early 1979. These are apparently the same recordings as my triple LP box set copyrighted 1979. They are also for sale as a 2 CD 2fer. The dances from Eugene Onegin were recorded in 1971 and the remaining symphonies and orchestral works are from the 1960s, many from Oct 1966, according to Deutsche Grammophon's website.
From this set I like the symphonies best. The ballet suites are excellent as well, but they have been released elsewhere so beware of buying the same music twice. The orchestral works are a little above average to very good. For example, the recording of the Marche Slav is good, but a far superior over the top recording was done by Yuri Temirkanov with the Royal Philharmonic.
The concertos have been recorded by just about every major conductor and several times each by Karajan with different soloists. It would be interesting to know why these particular soloists were chosen. The recorded sound varies but, for the most part, is pretty good. With a box set, I do not expect each track to be all time greats, instead I am hoping for above average to very good. That is the case here. This set would serve well as a primary or secondary Tchaikovsky set. I have listened thru a couple of times and enjoyed the music. ---King Lemuel, amazon.com
Pyotr Ilyich Tchaikovsky was a Russian composer of the Romantic era. He wrote some of the most popular concert and theatrical music in the current classical repertoire, including the ballets Swan Lake, The Sleeping Beauty and The Nutcracker, the 1812 Overture, his First Piano Concerto, seven symphonies, and the opera Eugene Onegin.
Born into a middle-class family, Tchaikovsky's education prepared him for a career as a civil servant, despite the musical precocity he had demonstrated. Against the wishes of his family he chose to pursue a musical career, and in 1862 entered the St Petersburg Conservatory, graduating in 1865. This formal, Western-oriented training set him apart, musically, from the contemporary nationalistic movement embodied by the group of young Russian composers known as "The Five", with whom Tchaikovsky sustained a mixed professional relationship throughout his career.
As his style developed, Tchaikovsky wrote music across a range of genres, including symphony, opera, ballet, instrumental, chamber and song. Although he enjoyed many popular successes, he was never emotionally secure, and his life was punctuated by personal crises and periods of depression. Contributory factors were his suppressed homosexuality and fear of exposure, his disastrous marriage, and the sudden collapse of the one enduring relationship of his adult life, his 13-year association with the wealthy widow Nadezhda von Meck. Amid private turmoil Tchaikovsky's public reputation grew; he was honored by the Tsar, awarded a lifetime pension and lauded in the concert halls of the world. His sudden death at the age of 53 is generally ascribed to cholera, but some attribute it to suicide.
Although enduringly popular with concert audiences across the world, Tchaikovsky has at times been judged harshly by critics, musicians and composers. However, his reputation as a significant composer is now generally regarded as secure. In the early and mid-20th century, Western critics dismissed his music as vulgar and lacking in elevated thought, but this disdain has largely dissipated.
download:
yandex: CD1 CD2 CD3 CD4 CD5 CD6 CD7 CD8
4shared: CD1 CD2 CD3 CD4 CD5 CD6 CD7 CD8
mediafire: CD1 CD2 CD3 CD4 CD5 CD6 CD7 CD8
mega: CD1 CD2 CD3 CD4 CD5 CD6 CD7 CD8
solidfiles: CD1 CD2 CD3 CD4 CD5 CD6 CD7 CD8
zalivalka: CD1 CD2 CD3 CD4 CD5 CD6 CD7 CD8
filecloudio: CD1 CD2 CD3 CD4 CD5 CD6 CD7 CD8
anonfiles: CD1 CD2 CD3 CD4 CD5 CD6 CD7 CD8
oboom: CD1 CD2 CD3 CD4 CD5 CD6 CD7 CD8
Last Updated (Friday, 30 May 2014 13:00)