Igor Stravinsky - The Rake's Progress (1993)
Igor Stravinsky - The Rake's Progress (1993)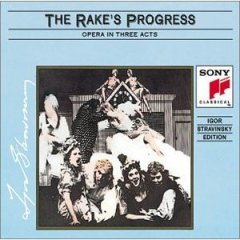 Disc: 1
1. The Rake's Progress - Act I - Scene 1: Prelude
2. The Rake's Progress: 'The Woods Are Green...'
3. The Rake's Progress - Act I - Scene 1: 'Here I Stand...'
4. The Rake's Progress - Act I - Scene 1: 'Tom Rakewell?'
5. The Rake's Progress - Act I - Scene 1: 'Farewell For Now...'
6. The Rake's Progress - Act I - Scene 2: 'With Air Commanding...'
7. The Rake's Progress - Act I - Scene 2: 'Come, Tom...'
8. The Rake's Progress: 'Love, Too Frequently Betrayed...'
9. The Rake's Progress: 'The Sun Is Bright'
10. The Rake's Progress: ''No Word From Tom.'
11. The Rake's Progress: 'I Go To Him.'
12. The Rake's Progress: 'Vary The Song, O London, Change!'
13. The Rake's Progress: 'Master, Are You Alone?'
14. The Rake's Progress: 'My Tale Shall Be Told...'
15. The Rake's Progress: 'How Strange!'
16. The Rake's Progress: 'Anne! Here!'
17. The Rake's Progress: 'Could It Then Have Been Known...'

Disc: 2
1. The Rakes Progress: 'As I Was Saying...'
2. The Rakes Progress: 'You! O Nick, I've Had The Strangest Dream.'
3. The Rakes Progress: 'What Curious Phenomena...'
4. The Rakes Progress: 'Aha!'
5. The Rakes Progress: 'Sold! Annoyed! I've Caught You! Thieving!'
6. The Rakes Progress: 'I Go To Him.'
7. The Rakes Progress: Prelude
8. The Rakes Progress: 'How Dark And Dreadful Is This Place.'
9. The Rakes Progress: 'Very Well, Then, My Dear...'
10. The Rakes Progress: 'I Burn! I Freeze!'
11. The Rakes Progress: 'Prepare Yourselves, Heroic Shades.'
12. The Rakes Progress: 'There He Is. Have No Fear. He Is Not Dangerous
13. The Rakes Progress: 'Gently, Little Boat...'
14. The Rakes Progress: 'Where Art Thou, Venus?'
15. The Rakes Progress: Epilogue 'Good People, Just A Moment:...'

Truelove - Don Garrard, bass
Anne (his daughter) - Judith Raskin, soprano
Tom Rakewell - Alexander Young, tenor
Nick Shadow - John Reardon, baritone
Mother Goose - John Manning, mezzo-soprano
Baba the Turk - Regina Sarfaty, mezzo-soprano
Sellem (Auctioneer) - Kevin Miller, tenor
Keeper - Peter Tracey, bass
Colin Tilney -  harpsichord

The Sadler's Wells Opera Chorus
John Barker - director
Royal Philharmonic Orchestra
Igor Stravinsky – conductor

This is the original postmodern opera: Igor Stravinsky, in an unlikely collaboration with W.H. Auden, resurrected the centuries-old formulas of opera buffa and delivered a parodistic commentary on them at the same time. Composed in 1951, and based on William Hogarth's satirical engravings A Rake's Progress (published in 1735), this virtuosic three-act comedy is one of the indisputable masterpieces of 20th-century opera, a fresh and unique fusion of familiar musical, theatrical, and scenic elements with a wild libretto and a vivacious score in Stravinsky's most scintillating neoclassical idiom. Recorded in London in 1964--with the composer conducting the Royal Philharmonic Orchestra and the chorus of Sadler's Wells (he was then 82)--this account remains the standard by which others must be judged. The performance is vital and wickedly dry, with first-class singing from a cast that includes Judith Raskin as Anne Truelove and John Reardon as Nick Shadow. ---Ted Libbey, amazon.com
Igor Stravinsky completed The Rake's Progress in 1951. The composer had toyed with the idea of writing an opera since he had emmigrated to the United States in 1939. In 1947, his inspiration finally came to him in the form of a set of eighteenth century engravings by William Hogarth depicting the self-ruin of an Augustan rake. Stravinsky asked his publisher to contact W.H. Auden to see if he would be interested in a collaboration on the subject; Auden agreed. Their rapport was immediate, and within a week, the scenes and individual numbers had already been worked out. This was one of the few works by Stravinsky that was not commissioned; he simply wanted to do it.
Auden enlisted Chester Kallman to help hammer out the particulars of the libretto, and Robert Craft acted as the composer's personal assistant. The result is perhaps the last word in neo-Classical opera. While the musical syntax is definitively Stravinskyian, the structure is clearly reminiscent of Mozart, whose operatic touches frequently appear in The Rake's Progress, though morphed into the Russian composer's own harmonic language and counterpoint.
In his leading man, Stravinsky created is a sort of antipode to Mozart's violent and charismatic Don Giovanni. Stravinsky's hero, Tom Rakewell, is the opposite of the Don, whose courage, vigor and decisiveness might have saved the rake from his lazy, floundering self. Throughout the opera's three acts and two and a half hours, Tom always looks for the easy way out, whines, and allows himself to be led about by his late uncle's demonic manservant, Nick Shadow. While the Don is unable to back down from a challenge, Tom is unable to accept one. Even when an affluent existence is handed to him, he cannot take control of his legacy. Shadow convinces Rakewell to squander love and fortune in favor of bad business and unrelenting, tedious hedonism.
The first performance of this opera took place on September 11, at the Teatro La Fenice in Venice. Stravinsky conducted; the reviews were mixed. Many doubted the continued relevance of the composer's neo-Classical experiment, which had already seen its definitive statement in his Symphony in C. However, there were several conventions of eighteenth century music that Stravinsky had still left untouched until this point. Recitatives accompanied by harpsichord are a case in point; the composer's distinctive language makes the recycling of a dated convention relevant and striking. Nevertheless, The Rake's Progress was to be the composer's last neo-Classical work.
The Rake's Progress makes so many references to operatic history that one could spend a lifetime garnering the knowledge of opera necessary to understand them all. However, the piece's appeal rests in its effective drama and well-realized characters rather than its stylistic elements or intrinsic cleverness; it is an excellent piece that has become deservedly entrenched in the operatic canon. The best-known excerpt from the work is Anne Truelove's two-part aria, "No word from Tom." As much as any portion of the opera, it represents the freshness and vitality that Stravinsky brought to forms and ideas borrowed from eras past, and it has become a standard concert piece for sopranos. ---John Keilor, Rovi
download: uploaded yandex 4shared mediafire solidfiles mega zalivalka filecloudio anonfiles oboom
Last Updated (Monday, 19 May 2014 12:57)