Heinrich Schütz - Opus ultimum, op. 13 'Schwanengesang' (2017)
Heinrich Schütz - Opus ultimum, op. 13 'Schwanengesang' (2017)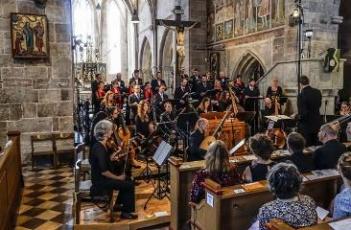 1. Psalm 119. Aleph und Beth. "Wohl denen, die ohne Wandel leben", SWV 482 
2. Psalm 119. Gimel und Daleth. "Tue wohl deinem Knechte, daß ich lebe", SWV 483
3. Psalm 119. He und Vav. "Zeige mir, Herr, den Weg deiner Rechte", SWV 484 
4. Psalm 119. Dsaïn und Chet. "Gedenke deinem Knechte an dein Wort", SWV 485 
5. Psalm 119. Thet und Jod. "Du tust Guts deinem Knechte", SWV 486 
6. Psalm 119. Caph und Lamed. "Meine Seele verlanget nach deinem Heil", SWV 487 
7. Psalm 119. Mem und Nun. "Wie habe ich dein Gesetze so lieb", SWV 488 
8. Psalm 119. Samech und Aïn. "Ich hasse die Flattergeister", SWV 489
9. Psalm 119. Pe und Zade. "Deine Zeugnisse sind wunderbarlich", SWV 490 
10. Psalm 119. Koph und Resch. "Ich rufe von ganzem Herzen", SWV 491
11. Psalm 119. Schin und Tav. "Die Fürsten verfolgen mich ohn Ursach", SWV 492 
12. Psalm 100. "Jauchzet dem Herren, alle Welt", SWV 493
13. Deutsches Magnificat. "Meine Seele erhebt den Herren", SWV 494
14. Applause

Dorothee Mields - Soprano
Gerlinde Sämann - Soprano
David Erler - Alto
Stefan Kunath - Alto
Georg Poplutz - Tenor
Tobias Mäthger - Tenor
Martin Schicketanz -  Bass
Felix Schwandtke - Bass

Dresdner Kammerchor
Dresdner Barockorchester 
Hans Christoph Rademann – director

Heilsbronn Abbey, 01.08.2017

If not texturally pared down, this is a journey where the 86-year-old Schütz withdraws from the world in a lexicon of finely drawn plainchants, antique modes, taut contrapuntal and antiphonal exchanges, melodic swathes and quicksilver declamations. Herreweghe illuminates each verse with a considered and gentle ear for the progression from the "statutes" of faith towards a sense of hope and salvation as we move towards a new Covenant, revealed in the final motet with its assuaging supplications and rock-like assurance. Here we sense, above all, Schütz's mix of defiance and resignation for the gradual passing of a self-contained sacred tradition threatened by radical worldly things (like operas).
That we have these works at all is a minor miracle. Schütz's Opus ultimum was discovered in 1900 and then assumed destroyed in the Second World War, before reappearing in the mid-1970s. Can a greater work have been completed by an octogenarian? This recording urges us, very persuasively, to think perhaps not. --- Jonathan Freeman-Attwood, gramophone.co.uk
Heinrich Schütz (1585-1672), born 100 years before Johann Sebastian Bach, was the greatest German composer of his time, bridging the Renaissance and the Baroque. The choral work Schwanengesang is his musical and spiritual testament. It comprises 11 motets for double choir, settings of Psalm 119, complemented by a setting of Psalm 100 and of the Magnificat.
Conductor Hans-Christoph Rademann is an expert for performing Schütz's compositions. "Not powerful with 100 choir singers, but always very clean and transparent in the voices" - this is the (more difficult) right way to perform Schütz's compositions.
Johann Sebastian Bachs letztes Werk ist die »h-Moll-Messe«, Heinrich Schütz' opus ultimum der »Schwanengesang«, eine erst 1984 wieder aufgefundene, elfteilige Vertonung des Psalms 119, des Psalms 100 und des »Magnificat « in deutscher Sprache.
Mit dem »Schwanengesang« setzt die Bachwoche die 2011 begonnene Reihe mit großen Sammlungen des »Sagittarius« (so nannte sich Schütz in gelehrtem Latein) fort. Hans Christoph Rademann und seine Dresdener Ensembles widmen sich seit vielen Jahren dem Schützschen Gesamtwerk; sie haben sich in diese Materie, die Geheimnisse und Ausdruckskraft seiner Musik hineingearbeitet wie sonst niemand.
Wie immer seit 1948, als hier die »Kunst der Fuge« gespielt wurde, bietet das Münster Heilsbronn, die Grablege der fränkischen Hohenzollern, einen wunderbaren spirituellen Rahmen für solche Meisterwerke. 1578, nur wenige Jahre vor Schütz' Geburt, war das stille Zisterzienserkloster aufgelöst und in eine Fürstenschule umgewandelt worden. Zeit, Raum und Musik – hier finden sie wunderbar zu einer Einheit. --- bachwoche.de
download (mp3 @320 kbs):
yandex 4shared mega mediafire uloz.to cloudmailru gett