Schumann ‎– Piano Concerto∙Etudes symphoniques∙Arabesque∙Vogel als Prophet (1999)
Schumann ‎– Piano Concerto∙Etudes symphoniques∙Arabesque∙Vogel als Prophet (1999)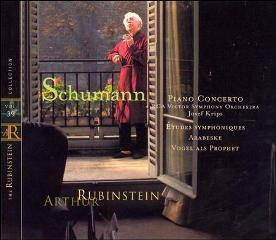 Piano Concerto, Op. 54 In A Minor 	(31:55)
1 	Allegro Affettuoso 	15:34
2 	Intermezzo: Andantino - (Attacca) 	5:30
3 	Allegro Vivace 	10:46
Etudes Symphoniques, Op. 13 	(24:27)
4 	Andante 	1:21
5 	I 	1:18
6 	II 	3:22
7 	III 	1:20
8 	IV 	0:54
9 	V 	1:19
10 	VI 	0:57
11 	VII 	0:43
12 	VIII 	2:26
13 	IX 	0:37
14 	X 	0:55
15 	XI 	2:50
16 	XII 	6:16

17 	Arabeske, Op. 18 In C 	8:10
18 	Vogel Als Prophet (Waldszenen, Op. 82, No. 7) 	3:23

Arthur Rubinstein - piano
RCA Victor Symphony Orchestra (tracks: 1-3) 
Josef Krips (tracks: 1-3) - conductor

Tracks 1-3 recorded at Manhattan Center, New York City on April 5, 6, 1958.
Tracks 4-16 recorded in concert at Carnegie Hall on November 19, 1961.
Tracks 17-18 recorded at RCS Italiana Studios, Rome on June 16, 1969. 

Volume 39 of RCA's complete Rubinstein Collection contains Schumann performances which date from the middle and late periods of the pianist's career. This was the second of Rubinstein's three authorized recordings of Schumann's popular Piano Concerto. The pianist graces the Concerto with his usual rhythmic vitality, natural phrasing, and a virtuosity which never calls attention to itself. Josef Krips and the pick-up orchestra furnish an admirable accompaniment.
The Symphonic Etudes, one of Schumann's most technically challenging works, was recorded at Rubinstein's marathon cycle of concerts at Carnegie Hall in 1961 (it was not released until 1980). There are several technical baubles, including a number of mistakes as well as frequent overpedaling, which can be easily overlooked. What is less easily forgiven is Rubinstein's often wholesale ignoring of the composer's dynamic markings, which robs much of the music of its character. Incidentally, Rubinstein does not play the five "posthumous" variations published after Schumann's death. This performance does not reach the same level of achievement as Perahia's (Sony) of Cherkassky's (Decca/London).
Rubinstein recorded Schumann's popular Arabesque several times. This performance hails from 1969. I must confess, I've never cared for Rubinstein's way with this piece. This performance, in particular, is self-consciously dragged and bogged down. The Prophet Bird, from Schumann's Forest Scenes, fares better. One wishes Rubinstein had recorded the entire cycle.
RCA has done a fine job remastering the sound, although they have been unable to completely eliminate some distortion during the Symphonic Etudes. ---T. Drake, arkivmusic.com
download (mp3 @320 kbs):
yandex mediafire ulozto gett bayfiles