Domenico Scarlatti – Tetide in Sciro (2001)
Domenico Scarlatti – Tetide in Sciro (2001)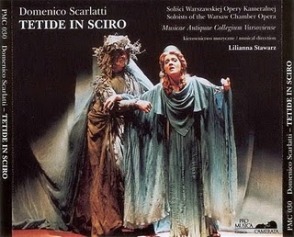 CD1
1. Tetide In Sciro – Sinfonia              play
2. Atto I – Vi Lancio
3. Per Credere
4. Vorebbe Dal Tuor Cor
5. Sapre Ben Il Petto Opperre
6. A Che D'inutil Ferro
7. L'uccidero, Io Svenero
8. Impara
9. Se Non Vedo
10. Si, Si Piu Che Non Vuoi
11. Atto II – Sento L'aura Scherza Tra La Fronde     play
12. Deidamia Molto Osserva
13. Atterato, Fulminato
14. Amando E Tacendo
15. Deidamia, Com Sola
16. Io Creda Che Fosse Pena

CD2
1. Non e Il Ciel
2. Madre Se Quest'amore
3. Lascia Mi Piangere
4. Atto III – E'lontano Il Mio Tormento
5. Achille Dell'attica Tromba
6. Se Vuoi D'alloro
7. Quando In Notte                     play
8. Filarte Ascolta
9. Cosi Orgogliosa
10. Lancio Te Ma Non Lancio
11. Quanto Troia Vinta Cada
12. Deh! Ferma
13. Son Tuo Figlio E Sono Amante       play
14. Misera Genitrice
15. O Numi Tiranni
16. Antiope, Ben Presago
17. Che Vedo I Guisti Numi
18. Crudel Che Piu Tardi
19. Che Tirana
20. Cassino I Vostri Gemiti
21. Licomede, Tu Vedi Viva Deidamia
22. Quando Amor Chiama A Godere

Tetide - Marzanna Rudnicka
Antiope - Marta Boberska
Deidamia - Dorota Lachowicz
Achille - Wolciech Parchem
Ulisse - Jaroslaw Brek
Licomede - Andrzej Klimczak

Musicae Antiquae Collegium Varsoviense
Lilianna Stawarz, 2001

First world recording of the opera which has survived in its entirety and original shape, written in Rome (1712) for polish queen Maria Casimira.
Domenico Scarlatti was an exact contemporary of JS Bach and Handel but, while his keyboard music has received a good deal of attention, his vocal works have been comparatively neglected. Certainly his only opera seria, Tetide in Sciro, of which this is to the best of my knowledge the only recording ever made, is no match for Handel at his best, but I was pleased to make its acquaintance. ---musicweb-international.com
Pierwsze w historii fonografii nagranie jedynej opery, która przetrwała do naszych czasów, napisanej w Rzymie (1712) dla królowej Marii Kazimiery; wystawieniem której Warszawska Opera Kameralna uświetniła obchody 400 lat opery na świecie.
download: uploaded yandex 4shared mediafire solidfiles mega zalivalka filecloudio anonfiles oboom
Last Updated (Thursday, 24 April 2014 13:39)