Domenico Scarlatti – Salve Regina (2010)
Domenico Scarlatti – Salve Regina (2010)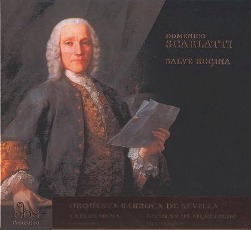 1. Aria Narciso Vorrebbe La Speranza 	Orquesta Barroca De Sevilla 	2:08 
2. Aria Narciso Si, Si Tu Ben Lo Sai 	Orquesta Barroca De Sevilla 	2:55
3. Avision, Concerto V Re Menor Largo 	Nicolau de Figueiredo 	2:44
4. Avision, Concerto V Re Menor Allegro 	Nicolau de Figueiredo 	1:58 
5. Avision, Concerto V Re Menor Andante Moderato 	Nicolau de Figueiredo 	1:41
6. Avision, Concerto V Re Menor Allegro 	Nicolau de Figueiredo 	2:38 
7. Salve Regina 	Orquesta Barroca De Sevilla 	2:25                                 play
8. Salve Regina Ad Te Clamamos 	Orquesta Barroca De Sevilla 	2:39 
9. Salve Regina Eja Ergo 	Orquesta Barroca De Sevilla 	1:27 
10. Salve Regina Nobis Post Hoc 	Orquesta Barroca De Sevilla 	2:34 
11. Salve Regina O Clemens-Amen 	Orquesta Barroca De Sevilla 	3:27 
12. D. Scarlatti Sinfonia C Major Presto 	Nicolau de Figueiredo 	0:42 	
13. D. Scarlatti Sinfonia C Major Andante e Staccato 	Nicolau de Figueiredo 	0:54 
14. D. Scarlatti Sinfonia C Major Allegrissimo 	Nicolau de Figueiredo 	1:33 
15. D. Scarlatti Cantata Doppo Lungo Servire 	Orquesta Barroca De Sevilla 	0:41 
16. D. Scarlatti Cantata Luci Umicide 	Orquesta Barroca De Sevilla 	2:54 
17. D. Scarlatti Cantata Cosi Dal Duolo Opresso 	Orquesta Barroca De Sevilla 	0:24 
18. D. Scarlatti Cantata Lo Lo So Che Una Pena Tiranna 	Orquesta Barroca De Sevilla 	4:13 
19. D. Scarlatti Cantata Ma Pur Non Dispersar 	Orquesta Barroca De Sevilla 	1:03 
20. D. Scarlatti Cantata Cara Se Vuoi Che Io Sprei 	Orquesta Barroca De Sevilla 	5:04 
21. Charles Avision Concerto X Gratioso 	Nicolau de Figueiredo 	1:09 	     play
22. Charles Avision Concerto X Allegro 	Nicolau de Figueiredo 	2:01
23. Charles Avision Concerto X Adagio 	Nicolau de Figueiredo 	0:46 
24. Charles Avision Concerto X Giga 	Nicolau de Figueiredo 	2:40 
25. Sonata K 10 	Nicolau de Figueiredo 	2:54 
26. Sonata K 41 	Nicolau de Figueiredo 	4:02 
27. Sonata K 5 	Nicolau de Figueiredo 	3:19 
28. Sonata K 9 	Nicolau de Figueiredo 	3:40 
29. Sonata K 11 	Nicolau de Figueiredo 	2:16

Carlos Mena, countertenor

Orquesta Barroca de Sevilla
dir. Nicolau de Figueiredo

Giuseppe Domenico Scarlatti (Naples, 26 October 1685 – Madrid, 23 July 1757) was an Italian composer who spent much of his life in the service of the Portuguese and Spanish royal families. He is classified as a Baroque composer chronologically, although his music was influential in the development of the Classical style. Like his renowned father Alessandro Scarlatti he composed in a variety of musical forms although today he is known almost exclusively for his 555 keyboard sonatas.
Domenico Scarlatti is best known for his huge number (at least 550) of solo harpsichord sonatas. Several recorded editions of that wonderful body of music exist; and they feature regularly in anthologies, as "fillers" and encores at recitals. But Scarlatti's choral works are far less well-known. There is a significant number of them: 15 operas; dozens of arias, duets, cantatas; oratorios and other sacred works. True, we usually think of Domenico Scarlatti's father, Alessandro, when we think of choral music. But Domenico's output is significant and worthy of close attention.
Domenico Scarlatti was a Neapolitan; trained (possibly by Alessandro) and immersed in the rich choral traditions of that city, he inherited a love of the mellifluous; after all, opera seria originated in Naples. Early musical experiences included those of the Papal court at Rome; a spell in Florence; as protegé to members of exiled aristocracies (the bulk of Scarlatti's life was spent in the service of the Spanish court – in Spain); and in the opera houses, churches and salons amongst such established luminary composers as Corelli, Handel and Scarlatti's father, Alessandro. From the end of 1713 until his departure for Portugal in 1719, Domenico was maestro di cappella at the Basilica Giulia and, although it's tempting (because convenient) to assign the composer's sacred choral music all to these six years, there's no evidence for doing so… not least because we know he continued his work in the area on arrival in Madrid. Tentative dating has nevertheless been attempted by the producers of this disk; it helps in setting what are very different musical styles.
The longest and most substantial of the four choral pieces presented here, the Stabat Mater, does seem highly likely, however, to date from Scarlatti's Basilica Giulia period. Chiefly because of the unusual scoring. Rather than calling for a choir of ten voices, the score plainly requires ten distinct soloists who work together to create the most remarkable shifting sets of changing and contrasting sonorities, textures and effects. This highly personal and somewhat exposed feel is particularly appropriate to the taut emotional strength of the Stabat Mater. These singers and players are completely in accord with this and offer a thoughtful, suitably harrowing interpretation. To say it is full of atmosphere is nevertheless not to say it either cloys or tries to hide the simple and searing import and tone of the music with effect. The small instrumental complement adds to the sense of cradling, tenderness and humility which the words of several of the movements to emphasize. Those which are more upbeat and extrovert, almost, such as the "Inflammatus" [tr.16] are like flashes of sunlight through a still gray sky… the clouds are not absent, just in remission.
It seems likely that the Te Deum may have been written while Scarlatti was in Portugal. It was certainly performed in Lisbon at the end of 1721 according to newspaper reports. Here there is a double choir and there are polyphonic, responsorial effects between them while the continuo has a supporting role. Again the instrumentalists actually add immeasurably to the tone and texture of the Te Deumspecifically by a consistently subdued and rolling musical line. It's a short piece at six and a half minutes. This adds to its happy confluence of simplicity and tightness.
Written for only soprano, alto and continuo the Salve Regina is sparer and more concentrated. If a date were hazarded, it would surely be for Scarlatti's earliest period, in Naples. It's a reflective, almost "moody" piece; less dark than downbeat, more consciously detached that laden with imprecations. Yet it verges on the lugubrious, though the singers are on top and energized all the time. As with the other three pieces, the members of Vox Luminis are expert not only at the meaning-packed articulation of the text and melody, but at conveying the grander architecture of Scarlatti's intentions. Their consistent treatment of tempi has something to do with this achievement. As do
Domenico Giuseppe Scarlatti (ur. 26 października 1685 – zm. 23 lipca 1757) – kompozytor włoski okresu baroku. Syn i uczeń Alessandro Pietro Scarlattiego, urodzony w Neapolu, nadworny klawesynista polskiej królowej Marii Kazimiery, króla Portugalii oraz dworu królewskiego w Madrycie. W latach 1710–1713 Aleksander Benedykt Sobieski zrealizował w swoim rzymskim teatrze kilka spektakli operowych we współpracy ze Scarlattim i scenografem Filippo Juvarra.
download: uploaded yandex 4shared mediafire solidfiles mega zalivalka filecloudio anonfiles oboom
Last Updated (Thursday, 24 April 2014 12:01)