Erik Satie - Avent-Dernieres Pensees (2009)
Erik Satie - Avent-Dernieres Pensees (2009)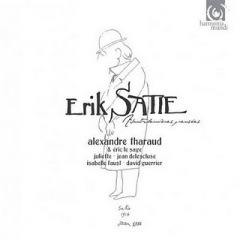 CD 1
1. Gnossienne N°1 	
2. Petite Ouverture A Danser 	
3. Gymnopédie N°1 	
4. Véritables Préludes Flasques (Pour Un Chien) : Sévère Réprimande 	
5. Véritables Préludes Flasques (Pour Un Chien) : Seul A La Maison 	
6. Véritables Préludes Flasques (Pour Un Chien) : On Joue 	
7. Gnossienne N°2 	
8. Les Trois Valses Distinguées Du Précieux Dégoûté : Sa Taille 	
9. Les Trois Valses Distinguées Du Précieux Dégoûté : Son Binocle 	
10. Les Trois Valses Distinguées Du Précieux Dégoûté : Ses Jambes 	
11. Gnossienne N°3 	
12. Le Picadilly 	
13. Descriptions Automatiques : Sur Un Vaisseau 	
14. Descriptions Automatiques : Sur Une Lanterne 	
15. Descriptions Automatiques : Sur Un Casque 	
16. Gnossienne N°4 	
17. Les Pantins Dansent 	
18. Le Piège De Méduse : Quadrille 	
19. Le Piège De Méduse : Valse 	
20. Le Piège De Méduse : Pas Vite 	
21. Le Piège De Méduse : Mazurka 	
22. Le Piège De Méduse : Un Peu Vif 	
23. Le Piège De Méduse : Polka 	
24. Le Piège De Méduse : Quadrille 	
25. Pièces Froides : Danses De Travers I 	
26. Pièces Froides : Danses De Travers Ii 	
27. Pièces Froides : Danses De Travers Iii 	
28. Avant-Dernières Pensées : Idylle 	
29. Avant-Dernières Pensées : Aubade 	
30. Avant-Dernières Pensées : Méditation 	
31. Gambades 	
32. Embryons Desséchés : D'Holothurie 	
33. Embryons Desséchés : D'Edriophthalma 	
34. Embryons Desséchés : De Podophthalma 	
35. Gnossienne N°5 	
36. Valse Ballet 	
37. Heures Séculaires Et Instantanées : Obstacles Venimeux 	
38. Heures Séculaires Et Instantanées : Crépuscule Matinal (De Midi) 	
39. Heures Séculaires Et Instantanées : Affolements Granitiques 	
40. Première Pensée Rose+Croix 	
41. Poudre D'Or 	
42. Gnossienne N°6

CD 2
1. Trois Morceaux En Forme De Poire : Manière De Commencement - Eric Le Sage 	
2. Trois Morceaux En Forme De Poire : Prolongation Du Même - Eric Le Sage 
En Forme De Poire : Lentement - Eric Le Sage 	
4. Trois Morceaux En Forme De Poire : Enlevé - Eric Le Sage 	
5. Trois Morceaux En Forme De Poire : Brutal - Eric Le Sage 	
6. Trois Morceaux En Forme De Poire : En Plus - Eric Le Sage 	
7. Trois Morceaux En Forme De Poire : Redite - Eric Le Sage 	
8. Je Te Veux - Juliette 	
9. Chez Le Docteur - Juliette 	
10. J'Avais Un Ami - Juliette 	
11. La Diva De L'Empire - Juliette 	
12. La Belle Excentrique : Marche Franco-Lunaire - Eric Le Sage 	
13. La Belle Excentrique : Grande Ritournelle - Eric Le Sage 	
14. La Belle Excentrique : Valse Du Mystérieux Baiser Dans L'Oeil - Eric Le Sage
15. La Belle Excentrique : Grande Ritournelle - Eric Le Sage 	
16. La Belle Excentrique : Cancan Grand-Mondain - Eric Le Sage 
17. Choses Vues A Droite Et A Gauche (Sans Lunettes) : Choral Hypocrite - Isabelle Faust 
18. Choses Vues A Droite Et A Gauche (Sans Lunettes) : Fugue A Tâtons - Isabelle Faust 
19. Choses Vues A Droite Et A Gauche (Sans Lunettes) : Fantaisie Musculaire - Isabelle Faust 
20. Cinéma - Eric Le Sage 
21. Daphénéo - Jean Delescluse 	
22. Ludions : Le Rat, Drôle - Jean Delescluse 	
23. Ludions : Spleen, Mélancolique - Jean Delescluse 	
24. Ludions : La Grenouille (Américaine), Fantasmagorie - Jean Delescluse
25. Ludions : Le Poète, Léger - Jean Delescluse 	
26. Ludions : Le Chat, Burlesque - Jean Delescluse 	
27. La Statue Retrouvée - David Guerrier 	
28. Embarquement Pour Cythère - Isabelle Faust 	
29. Allons-Y Chochotte - Jean Delescluse

Alexandre Tharaud – piano
Eric le Sage – piano
Jean Delescluse – tenor
Isabelle Faust – violin
David Guerrier – trumpet
 
'My aim was to offer on these two discs the richest possible panorama of Satie's piano and chamber music, ranging over his whole lifetime'. So writes Alexandre Tharaud in the sleevenotes.
Tharaud has worked magic here by presenting Satie in a highly inventive way. Whereas most discs of Satie's music simply present the Three Gymnopedies, the Six Gnossiennes, and other popular pieces, grouped together as published, the pianist here has presented us with a two CD 'concert'. The first is a disc of music for solo piano, starting with the First Gymnopedie (the other two are omitted), then interweaving various Satie gems with the Gnossiennes, which are spread out throughout this first CD. The playing is simply outstanding; there is no shortage of fine pianists offering their interpretations of Satie, but I know of no other who seems so 'inside' the music. Because of the silly titles, it is easy to think of Satie's as superficial music, but Tharaud feels below the surface, giving an enchanting disc. I sat mesmerised from beginning to end (all 42 tracks).
The second disc, entitled 'Duos', includes pieces for two pianos, one piano/four hands (the second pair of hands one Eric le Sage - a name surely redolent of Satie's Paris?), piano and violin (Isabelle Faust), piano and chanteuse ('Juliette'), and tenor (Jean Delescluse), and trumpet (David Guerrier). Well, the trumpeter only gets one track, but he certainly makes the most of it. Juliette sounds as though she spends most of her time in a Paris cafe dense with cigarette smoke, entirely appropriately. Le Sage is equal with Tharaud, thoroughly immersed in this strangely beautiful music. And Delescluse is, er, delicious in the slightly rude song 'Allons-y Chochotte' ('Come on, Chochotte, Chochotte..')which finishes the second disc. But wait, there is a Satie-esqe surprise at the very end..
The presentation is excellent too. The discs are housed in a double fold-out plastic tray, a sketch of the composer imprinted on the front. A substantial tri-lingual booklet is part of the package and also includes texts in French, with English and German translations. There is even a secret code on the back of the booklet to gain access to free downloads of further Satie recordings by Tharaud (including 14 minutes of 'Vexations'). This is all outstanding. ---Steve, amazon.com
download: uploaded yandex 4shared mediafire solidfiles mega zalivalka filecloudio anonfiles oboom
Last Updated (Wednesday, 23 April 2014 14:17)