Gioachino Rossini - L'Inganno Felice (1997)
Gioachino Rossini - L'Inganno Felice (1997)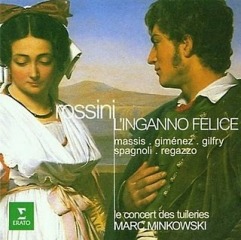 1. L'Inganno felice: Sinfonia
2. L'Inganno felice: Scene 1: Introduzione: Duetto: 'Cosa dite ! Ma Cosa dite !' (Isabella, Tarabotto)
3. L'Inganno felice: Scene 1: Recitativo: 'Ebben che ascondi a Tarabotto ?' (Isabella, Tarabotto)
4. L'Inganno felice: Scene 2: Aria: 'Qual tenero diletto' (Bertrando)
5. L'Inganno felice: Scene 2 - 5: Recitativo: Ne posson due lustri ancora cancellarti (Bertrando, Ormondo, 
   Batone, Tarabotto, Isabella)
6. L'Inganno felice: Scene 5: Aria: 'Una voce m'ha colpito' (Batone)
7. L'Inganno felice: Scene 6 - 8: Recitativo: 'Egli resto indeciso' (Isabella, Tarabotto, Bertrando)  play
8. L'Inganno felice: Scene 6 - 8: Terzetto: 'Quel sembiante quello sguardo (Bertrando, Tarabotto, Isabella)
9. L'Inganno felice: Scene 9 - 10: Recitativo: 'Oh l'impressione e fatta' (Tarabotto, Bertrando, Ormondo)
10. L'Inganno felice: Scene 10: Aria: 'Tu mi conosci' (Ormondo)
11. L'Inganno felice: Scene 11: Recitativo: 'Me la paghera tua vita !' (Batone, Tarabotto)
12. L'Inganno felice: Scene 11: Duetto: 'Va taluno mormorando' (Batone, Tarabotto)
13. L'Inganno felice: Scene 13: Aria: 'Al piu dolce' (Isabella)
14. L'Inganno felice: Scene 14 - 15: Recitativo: 'Son fuor di me !' (Bertrando, Ormondo, Tarabotto)   play
15. L'Inganno felice: Finale: 'Tacita notte amica' (Batone, Isabella, Tarabotto, Bertrando, Ormondo)

Annick Massis (Soprano), 
Rodney Gilfry (Bass), 
Raúl Giménez (Tenor), 
Pietro Spagnoli (Bass), 
Luca Regazzo (Baritone)

Le Concert des Tuileries
Marc Minkowski

L'inganno felice (The Fortunate Deception) is an opera in one act by Gioachino Rossini with a libretto by Giuseppe Maria Foppa. Foppa reworked the libretto which Giuseppe Palomba had written for an opera of the same name by Paisiello (1798).
Rossini called his opera a farsa, although as Richard Osborne in the New Grove Dictionary of Opera explains: "Its designation as a farsa is misleading in the light of its semiseria status as a romantic melodrama with buffo elements." The work has much in common with French Revolutionary operas such as Cherubini's Les deux journées.
It was first performed at the Teatro San Moisè, Venice on January 8, 1812 and was an instant success. By the end of the decade it had been heard in theatres throughout Italy as well as in Paris and London. Following this triumph, Rossini was commissioned to write three more operas by the manager of the Teatro San Moisè.
An interesting plot and glorious music combined to make this opera a success in its day and a very stageable work today. There are only five soloists and no chorus. The orchestra in our recording play on original instruments, bringing out subtleties that a modern large orchestra just cannot bring across. It is unfortunate, however, that a harpsichord was used to accompany the secco recitative. A forte-piano should have been utilized. As for the soloists, Annick Massis sings very lyrically and handles the tessitura very well. She can sing coloratura flawlessly. The same cannot be said for tenor Raul Gimenez. Despite a good sense of line and beauty of tone, his coloratura turns nasal and is somewhat muddy. The other three male singers are excellent in their roles except for some interpolated high notes which are not stylistically accurate and also do not sound good. There are notes and a libretto in English with this Erato set. If you buy this recording, despite a couple of musical drawbacks, you will enjoy a first class Rossini comedy. ---Halvor
The singers, all of them, are so fine and the orchestra so supple and attentive to Maestro Marc Minkowski, you'd swear you'd heard a much "grander" opera with, perhaps, a huge chorus. The performance is rich with talent and heart and at its finish one can ask nothing more of it. Rossini wrote L'INGANNO for five voices and orchestra. (There is no chorus, of course.) The recitativo secco (accompanied by harpsichord), is an extremely well thought-out part of Maestro Minkowski's plan for this offering and the orchestra is positively brilliant, stunning us with nuance. It is an astounding accomplishment for a small work. Annick Massis, Raul Gimenez, Rodney Gilfrey, Pietro Spagnoli and Lorenzo Regazzo sing the five roles. They sing with extraordinary style and warmth. The agility of the coloratura delights. The delicate and dynamic merging of orchestra and voice is wonderful. It is buoyant, full of life and so much more melodically impressive than I had expected. ---W. Burton
L'inganno felice è una farsa di Gioachino Rossini. Il libretto, in un atto, è di Giuseppe Maria Foppa, che adattò l'omonimo libretto di Giuseppe Palomba musicato da Giovanni Paisiello nel 1798. Rientra nell'ambito dell'opera semiseria. La prima rappresentazione ebbe luogo l'8 gennaio 1812 al Teatro San Moise di Venezia. L'inganno felice è la terza opera rappresentata di Rossini (dopo La cambiale di matrimonio e L'equivoco stravagante) e fu il suo primo grande successo. Infatti all'immediato successo a Venezia, seguirono non solo rappresentazioni in tanti teatri italiani e stranieri ma anche la stampa dello spartito e della partitura, cosa all'epoca piuttosto rara.
download: uploaded yandex 4shared mediafire solidfiles mega zalivalka anonfiles oboom ziddu
Last Updated (Thursday, 17 April 2014 22:19)