Gioachino Rossini - L'italiana In Algeri (Abbado) [1989]
Gioachino Rossini - L'italiana In Algeri (Abbado) [1989]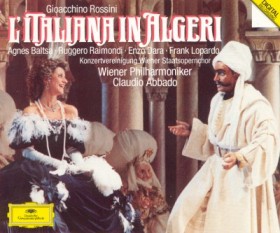 CD1
1. Rossini: L'italiana in Algeri - Overture	Claudio Abbado	7:52
2. Rossini: L'italiana in Algeri / Act 1 - Serenate il mesto ciglio	Helmut Froschauer	6:54	
3. Rossini: L'italiana in Algeri / Act 1 - Ritiratevi tutti	Alessandro Corbelli	1:21
4. Rossini: L'italiana in Algeri / Act 1 - Languir per una bella	Claudio Abbado	6:41
5. Rossini: L'italiana in Algeri / Act 1 - Ah, quando fia ch'io possa in Italia tomar?	Ruggero Raimondi	0:42
6. Rossini: L'italiana in Algeri / Act 1 - Se inclinassi a prender moglie	Ruggero Raimondi	4:09
7. Rossini: L'italiana in Algeri / Act 1 - Quanto roba! amor tiranno!	Agnes Baltsa	4:47	
8. Rossini: L'italiana in Algeri / Act 1 - Già ci siam. Tanto fa.	Agnes Baltsa	1:02	
9. Rossini: L'italiana in Algeri / Act 1 - Ah! Isabella ... siam giunti a mal partito	Agnes Baltsa	0:56
10. Rossini: L'italiana in Algeri / Act 1 - Ai capricci della sorte	Agnes Baltsa	7:18	
11. Rossini: L'italiana in Algeri / Act 1 - Ascoltami, Italiano	Ruggero Raimondi	0:40	
12. Rossini: L'italiana in Algeri / Act 1 - Dunque degg'io lasciarvi?	Patrizia Pace	0:44
13. Rossini: L'italiana in Algeri / Act 1 - Già d'insolito andore	Ruggero Raimondi	3:22	
14. Rossini: L'italiana in Algeri / Act 1 - Vi dico il ver	Patrizia Pace	1:02	
15. Rossini: L'italiana in Algeri / Act 1 - Viva, viva, il flagel delle donne	Agnes Baltsa	8:25
16. Rossini: L'italiana in Algeri / Act 1 - "Pria di dividerci da voi, Signore" - "Va sossopra il mio cervello"	Agnes Baltsa	9:12

CD2
1. Rossini: L'italiana in Algeri / Act 2 - Uno stupido, uno stolto	Patrizia Pace	1:37	
2. Rossini: L'italiana in Algeri / Act 2 - Amiche, andate a dire all'italiana	Patrizia Pace	0:42	
3. Rossini: L'italiana in Algeri / Act 2 - Qual disdetta è la mia!	Agnes Baltsa	1:15
4. Rossini: L'italiana in Algeri / Act 2 - Ah, come il cor di giubilo	Claudio Abbado	2:12
5. Rossini: L'italiana in Algeri / Act 2 - Ah! Se da solo a sola	Enzo Dara	0:53
6. Rossini: L'italiana in Algeri / Act 2 - Viva il grande Kaimakan	Helmut Froschauer	1:01	
7. Rossini: L'italiana in Algeri / Act 2 - Kaimakan! Io non capisco niente	Enzo Dara	0:21	
8. Rossini: L'italiana in Algeri / Act 2 - Ho un gran peso sulla testa	Konzertvereinigung Wiener Staatsopernchor	3:55	
9. Rossini: L'italiana in Algeri / Act 2 - Dunque a momenti	Agnes Baltsa	1:25	
10. Rossini: L'italiana in Algeri / Act 2 - Per lui che adoro	Agnes Baltsa	5:14
11. Rossini: L'italiana in Algeri / Act 2 - Io non resisto più	Enzo Dara	0:32
12. Rossini: L'italiana in Algeri / Act 2 - Ti presento di mia man	Agnes Baltsa	9:04	
13. Rossini: L'italiana in Algeri / Act 2 - Con tutta la sua boria	Alessandro Corbelli	0:24	
14. Rossini: L'italiana in Algeri / Act 2 - Le femmine d'Italia	Alessandro Corbelli	2:24
15. Rossini: L'italiana in Algeri / Act 2 - E tu speri di togliere Isabella	Enzo Dara	1:17
16. Rossini: L'italiana in Algeri / Act 2 - Pappataci! che mai sento?	Enzo Dara	5:27	
17. Rossini: L'italiana in Algeri / Act 2 - Tutti i nostri Italiani	Enzo Dara	0:35	
18. Rossini: L'italiana in Algeri / Act 2 - "Pronti abbiamo e ferri e mani" - "Amici, in ogni evento" - "Pensa alla patria"	Agnes Baltsa	8:32
19. Rossini: L'italiana in Algeri / Act 2 - Che bel cor ha costei!	Enzo Dara	0:37	
20. Rossini: L'italiana in Algeri / Act 2 - Dei Pappataci s'avanza il coro	Agnes Baltsa	9:00
21. Rossini: L'italiana in Algeri / Act 2 - Son L'aure seconde	Agnes Baltsa	1:48	
22. Rossini: L'italiana in Algeri / Act 2 - "Mio Signore ..." - "Mio marito ..."	Agnes Baltsa	2:26	

Agnes Baltsa (Mezzo Soprano), 
Ruggero Raimondi (Bass Baritone), 
Enzo Dara (Baritone), 
Alessandro Corbelli (Baritone), 
Anna Gonda (Mezzo Soprano), 
Patrizia Pace (Soprano), 
Frank Lopardo (Tenor)

Vienna State Opera Chorus
Vienna Philharmonic Orchestra
Claudio Abbado – conductor

The year 1813 proved a productive one for Rossini, with four important works for four different theaters. Il Signor Bruschino was premiered in January at the Teatro San Moisè in Venice, Tancredi was produced at Venice's La Fenice in February, and Aureliano in Palmira was introduced at Milan's La Scala in December. In between came an opera that nearly didn't happen. Rossini's La Pietra del Paragone (1812) was announced for a revival, but the Teatro San Benedetto in Venice used Rossini's second act only, substituting a first act drawn from the work of another composer. It was not a success. Meanwhile, Carlo Coccia, who had accepted a commission to compose an opera for that theater, apparently ran into difficulty in completing his assignment. Rossini accepted the offer from the theater's impresario and wrote L'Italiana in Algeri in less than a month. Given the tight schedule, the composer turned to a libretto already in existence, one by Angelo Anelli, already set by Luigi Mosca.
Although Rossini was likely familiar with Mosca's opera, significant additions and changes were made to the libretto, quite possibly by Gaetano Rossi. The 21-year-old composer elected to go for broke with the effects of his ensemble writing. The impression made by the breathless piling up of rhythmic patterns using repeated consonants is often deliriously funny. The opera was premiered on May 22, 1813, to applause that, according to one critic, "thundered without pause."
L'Italiana was the first of several important Rossini comic operas to hold prominent roles for lower female voices. While voices were less rigidly categorized than they were to become in the twentieth century, Rossini clearly wrote for what we now call a coloratura mezzo-soprano. The deeper, fuller sound he had in mind lends a greater piquancy and strength to figures such as L'Italiana's Isabella, Rosina in Il Barbiere di Siviglia, and Angelina in La Cenerentola.
The protagonist in L'Italiana is a determined Italian lady who travels to Algiers to search for her lover Lindoro, kidnapped and held as a slave by Mustafà, the Bey of Algiers. Isabella's wit and charm prove too much for Mustafà and his retinue, and she is able to escape with Lindoro at the end, leaving the Bey fuming until he realizes there is nothing to be done. The role of the Bey is a gift for that rare bass with agility, comic presence, and a gift for rapid patter.
L'Italiana, though often performed, existed in manuscript only until the Ricordi publishing house offered a printed score toward the end of the nineteenth century. Numerous errors and modifications had crept in by then, however, and a more accurate documentation of the composer's intentions was not made available to performing organizations until the critical edition was researched and prepared by the Rossini Foundation in the late twentieth century. ---Erik Eriksson, Rovi
download: uploaded yandex 4shared mediafire solidfiles mega zalivalka filecloudio anonfiles oboom
Last Updated (Friday, 18 April 2014 13:03)