Gioachino Rossini - Demetrio e Polibio (1996)
Gioachino Rossini - Demetrio e Polibio (1996)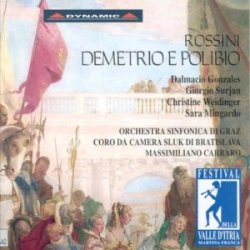 CD1
1. Demetrio e Polibio: Act I: Sinfonia	Sara Mingardo	5:32
2. Demetrio e Polibio: Act I Scene 1: Mio figlio non sei (Polibio, Siveno)	Sara Mingardo	5:20
3. Demetrio e Polibio: Act I Scene 1: Vanne al tempio, o Siveno, e la m'attendi! (Polibio, Siveno)
 Sara Mingardo	0:44
4. Demetrio e Polibio: Act I Scene 1: Pien di contento in seno (Siveno)	Sara Mingardo	3:45	      play
5. Demetrio e Polibio: Act I Scene 2: Signor, di Siria un messagger s'avanza (Onao, Polibio, Eumene)
 Sara Mingardo	4:01
6. Demetrio e Polibio: Act I Scene 2: Non cimentar lo sdegno (Polibio, Eumene)	Sara Mingardo	5:31
7. Demetrio e Polibio: Act I Scene 3: O di Polibio sudditi fedeli, Amati Parti, la vostra vista oh quanto mi
 consola! (Siveno, Polibio)	Sara Mingardo	0:47
8. Demetrio e Polibio: Act I Scene 3: Nobil gentil donzella in si ridente giorno (Chorus)	Sara Mingardo	1:38
9. Demetrio e Polibio: Act I Scene 3: Deh! fate, amici Dei, che in tal momento (Lisinga) Sara Mingardo 0:37
10. Demetrio e Polibio: Act I Scene 3: Alla pompa gia m'appresso (Lisinga)	Sara Mingardo	1:58
11. Demetrio e Polibio: Act I Scene 3: Dell'ara v'appressate, o figli, al piede (Polibio)	Sara Mingardo	0:27
12. Demetrio e Polibio: Act I Scene 3: Questo cor ti giura amore (Lisinga, Siveno)	Sara Mingardo	5:13
13. Demetrio e Polibio: Act I Scene 1: Si, mia vita, sarai (Siveno, Lisinga, Polibio)	Sara Mingardo	2:22
14. Demetrio e Polibio: Act I Scene 3: Sempre teco ognor contente (Lisinga, Siveno, Polibio, Chorus)
 Sara Mingardo	6:56
15. Demetrio e Polibio: Act I Scene 3: Che pensi, o padre! (Siveno, Polibio, Onao, Olmira) Sara Mingardo 2:01
16. Demetrio e Polibio: Act I Scene 4: Andiamo taciti a lento passo (Chorus)	Sara Mingardo	1:31
17. Demetrio e Polibio: Act I Scene 4: Amici, ormai propizia appieno (Eumene)	Sara Mingardo	1:20
18. Demetrio e Polibio: Act I Scene 4: All'alta impresa tutti (Eumene, Chorus)	Sara Mingardo	6:46
19. Demetrio e Polibio: Act I Scene 5: Mi scende sull'alma un dolce sopore (Lisinga)	Sara Mingardo	3:49
20. Demetrio e Polibio: Act I Scene 5: Fermatevi. Io sol m'inoltrero. Contento io sono (Eumene, Lisinga)
 Sara Mingardo	1:36
21. Demetrio e Polibio: Act I Scene 5: Ohime, crudel, che tenti, ah vile traditore ? (Lisinga, Eumene, Siveno,
 Polibio, Chorus)	Sara Mingardo	5:48

CD2
1. Demetrio e Polibio: Act II Scene 1: Ah che la doglia amara si legge nel suo volto (Chorus)
 Sara Mingardo	2:22
2. Demetrio e Polibio: Act II Scene 1: Ove la cara figlia involata sara (Polibio)	Sara Mingardo	1:45
3. Demetrio e Polibio: Act II Scene 1: Come sperar riposo, dove trovar la figlia (Polibio, Siveno, Chorus)
 Sara Mingardo	6:03
4. Demetrio e Polibio: Act II Scene 2: Onao, ove t'en vai? (Olmira, Onao, Lisinga, Eumene, Siveno, Polibio)
 Sara Mingardo	1:56
5. Demetrio e Polibio: Act II Scene 2: Donami omai Siveno o le trafiggo il petto (Eumene, Polibio, Lisinga,
 Siveno) - Scene 3: Vieni, caro, al mio sen (Eumene)	Sara Mingardo	8:51
6. Demetrio e Polibio: Act II Scene 3: Ov'e Lisinga? (Siveno, Eumene)	Sara Mingardo	0:59
7. Demetrio e Polibio: Act II Scene 3: Perdon ti chiedo, o padre (Siveno, Eumene)	Sara Mingardo 5:36
8. Demetrio e Polibio: Act II Scene 4: Inosservato io vidi dell'armata di Eumen l'ordin disposto (Onao)
 Sara Mingardo	0:34	
9. Demetrio e Polibio: Act II Scene 4: Io piu sposo non ho, per man d'un empio egli mi fu rapito (Lisinga,
 Polibio)	Sara Mingardo	4:32
10. Demetrio e Polibio: Act II Scene 4: Superbo, ah! tu vedrai se abbasserai l'orgoglio (Lisinga, Chorus)
 Sara Mingardo	5:14
11. Demetrio e Polibio: Act II Scene 5: Quanto e possente amor, real donzella! (Olmira)Sara Mingardo 0:55	
12. Demetrio e Polibio: Act II Scene 5: Che feci mai! Ove n'ando Siveno? (Eumene)	Sara Mingardo	2:25	
13. Demetrio e Polibio: Act II Scene 5: Lungi dal figlio amato mi si divide il core (Eumene, Chorus, Lisinga,
 Siveno)	Sara Mingardo	4:44			play
14. Demetrio e Polibio: Act II Scene 6: Festosi al Re si vada ad apportar la pace (Chorus)Sara Mingardo0:50	
15. Demetrio e Polibio: Act II Scene 6: Oh Ciel, che miro! Lisinga la figlia (Polibio, Eumene, Lisinga, Siveno)
 Sara Mingardo	1:20
16. Demetrio e Polibio: Act II Scene 6: Quai moti al cor io sento (Everybody, Chorus)	Sara Mingardo	1:53

Demetrio - Dalmacio González
Polibio - Giorgio Surjan
Lisinga - Christine Weidinger
Siveno - Sara Mingardo

Orchestra Sinfonica di Graz
Coro da Camera Sluk di Bratislava
Massimiliano Carraro - conductor, 1996

Demetrio e Polibio (Demetrius and Polybius) is a two-act operatic dramma serio by Gioachino Rossini to a libretto by Vincenzina Viganò-Mombelli. The opera was orchestrated for strings only.
Demetrio e Polibio was Rossini's first attempt at a full-scale opera, though it was not his first staged opera. Written for the Mombelli family of singers, Rossini completed the opera in 1806, during his student days at the Philharmonic Academy of Bologna. However it was not staged until May 18, 1812 when it premiered at Rome's Teatro Valle.
Synopsis
    Time: 2nd Century,B.C.
    Place: Parthia

Act 1
The good Polybius, King of Parthia, is the protector of both his own daughter Lisinga and her lover Siveno. Everyone believes Siveno to be the son of Minteus, a minister of King Demetrius of Syria, but he is actually the long estranged son of Demetrius. Demetrius, holding Minteus responsible for his son's disappearance, arrives at the court of Parthia in the guise of Eumeno, a royal messenger, and demands that Siveno be turned over to Syria. Polybius refuses. Siveno and Lisinga celebrate their marriage. Polybius confides to Siveno that he is worried about what has happened, but Siveno reassures him. Meanwhile, Eumene (Demetrius) plots to kidnap Siveno and bring him back to Syria. He bribes the servants and guards and at night manages to enter the Parthian court. However, when he arrives in the bed-chamber of the young couple, he finds Lisinga alone and kidnaps her instead. Polybius and Siveno try in vain to stop him.
Act 2 Polybius and Siveno plead for Lisinga's release. In reply, Euemeno (Demetrius) threatens to kill her unless Siveno is turned over to him. In turn, Polybius threatens to kill Siveno unless Lisinga is released. The situation starts to resolve when Eumene (Demetrius), looks at an old medallion and realizes that Siveno is actually his lost son. Meanwhile, Polybius does not want to lose Lisinga, and Eumene (Demetrius) only wants Siveno. Desperate at their impending separation, Lisinga tries to kill Eumene, but he finally reveals his true identity as King Demetrius and announces that Siveno is his son. Peace is restored, and the couple live happily ever after.
download: uploaded yandex 4shared mediafire solidfiles mega zalivalka filecloudio anonfiles oboom
Last Updated (Thursday, 17 April 2014 23:48)