Henry Purcell – Ayres for The Theatre (Holman) [1999]
Henry Purcell – Ayres for The Theatre (Holman) [1999]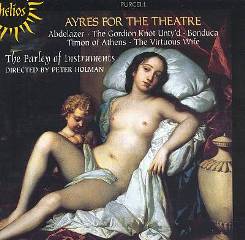 1. Abdelazer, or, the Moor's Revenge, incidental music, Z. 570: Overture [Grave - Canzona]
2. Abdelazer, or, the Moor's Revenge, incidental music, Z. 570: Rondeau
3. Abdelazer, or, the Moor's Revenge, incidental music, Z. 570: Aire
4. Abdelazer, or, the Moor's Revenge, incidental music, Z. 570: Aire
5. Abdelazer, or, the Moor's Revenge, incidental music, Z. 570: Minuett
6. Abdelazer, or, the Moor's Revenge, incidental music, Z. 570: Aire
7. Abdelazer, or, the Moor's Revenge, incidental music, Z. 570: Jigg
8. Abdelazer, or, the Moor's Revenge, incidental music, Z. 570: Hornpipe
9. Abdelazer, or, the Moor's Revenge, incidental music, Z. 570: Aire
10. Timon of Athens, semi-opera, Z. 632: Overture [Grave - Canzona - Adagio - Canzona]
11. Timon of Athens, semi-opera, Z. 632: Curtain Tune
12. The Gordian Knot Unty'd, incidental music, Z. 597: Overture
13. The Gordian Knot Unty'd, incidental music, Z. 597: Aire
14. The Gordian Knot Unty'd, incidental music, Z. 597: Rondeau Minuett
15. The Gordian Knot Unty'd, incidental music, Z. 597: Aire
16. The Gordian Knot Unty'd, incidental music, Z. 597: Jigg
17. The Gordian Knot Unty'd, incidental music, Z. 597: Chacone
18. The Gordian Knot Unty'd, incidental music, Z. 597: Aire
19. The Gordian Knot Unty'd, incidental music, Z. 597: Minuett
20. Bonduca, or, The British Heroine, incidental music, Z. 574: Overture [Grave - Canzona]
21. Bonduca, or, The British Heroine, incidental music, Z. 574: Song Tune
22. Bonduca, or, The British Heroine, incidental music, Z. 574: Song Tune
23. Bonduca, or, The British Heroine, incidental music, Z. 574: Aire
24. Bonduca, or, The British Heroine, incidental music, Z. 574: Hornpipe
25. Bonduca, or, The British Heroine, incidental music, Z. 574: Aire
26. Bonduca, or, The British Heroine, incidental music, Z. 574: Hornpipe
27. Bonduca, or, The British Heroine, incidental music, Z. 574: Aire
28. Bonduca, or, The British Heroine, incidental music, Z. 574: Minuett
29. Chacony, for 4 strings in G minor, Z. 730
30. The Virtuous Wife, or, Good Luck at Last, incidental music, Z. 611: Preludio
31. The Virtuous Wife, or, Good Luck at Last, incidental music, Z. 611: Hornpipe
32. The Virtuous Wife, or, Good Luck at Last, incidental music, Z. 611: Minuett
33. The Virtuous Wife, or, Good Luck at Last, incidental music, Z. 611: Minuett
34. The Virtuous Wife, or, Good Luck at Last, incidental music, Z. 611: Overture [Grave - Canzona]
35. The Virtuous Wife, or, Good Luck at Last, incidental music, Z. 611: Song Tune
36. The Virtuous Wife, or, Good Luck at Last, incidental music, Z. 611: Slow Aire
37. The Virtuous Wife, or, Good Luck at Last, incidental music, Z. 611: Aire

Parley of Instruments
Peter Holman – conductor

It is very pleasing to hear early music played straight without either fussiness or paranoid preoccupation with authenticity and ornamentation. Oh that all early music was played like this, played as pure music and not as bloodless, dreary and effeminate exercise. In these performances we do not have the dandy or the fop. We are not interested in the powdered wigs, beauty spots or lorgnettes and 'the insincere flattering words of fops and the false manners and modesty of well-dressed tarts' to quote Rameau.
How I rejoiced in the famous Rondeau from Abdelazer being played as intended. Britten really did demean this lovely theme in his Young Person's Guide to the Orchestra - a work which had so many horrendous mistakes in it that it caused Britten to fall out with that splendid conductor Norman Del Mar who pointed out to Britten that he had written notes for instruments that were outside their range; unfortunate as he was composing a guide to the orchestra!
I suppose it is true to say that Henry Purcell was the first great British composer. What other gems would he have written had he not died so young? His death is a mystery. He was only in his mid-thirties. It is said that his wife, who was said to be something of a spiteful and unpredictable woman, locked her husband out and when he returned from the local hostelry he could not get in and caught a severe chill resulting in pneumonia from which he died.
The music on this disc is scored for few instruments usually two violins, viola, bass viol and harpsichord and sometimes a chamber organ. Crispin Steele-Perkins played the trumpet in the Timon of Athens music and in Bonduca and to great effect. This string ensemble gives the music a mellow flavour but, sadly, most of it sounds so similar that interest is placed under strain. Having said that, it is beautifully played. Of course, it is not known what instruments were available in the theatres at this time.
It is also a pity that most of this music is incidental music. The four main items are incidental music to plays namely Abdelzar, The Gordion Knot Untied, Bonduca and The Virtuous Wife - obviously not a reference to his own spouse! Most of this music was published posthumously as A Collection of Ayres composed for the Theatre. This was in 1697 two years after his death. In fact three of these plays date from the year before his death.
I think it is fair to say that this music is slight due to its brevity. In the four suites we have 34 movements in all, lasting from 39 seconds to three minutes 41 seconds which, no doubt, was the required amount for the various productions just as film composers today have to compose for a precise set time.
Purcell's religious music contains some fine pieces yet it should not be taken that he was a honourable man. He wrote some secular and rather bawdy works. Yet he has the distinction of being the first British composer to write an opera which is a masterpiece namely Dido and Aeneas of 1689.
Purcell is the British composer of what we call the Reformation period but the term is used not only in religious connotations but in political ones as well. All theatres had been closed since the beginning of the Civil War in 1642. Charles II changed that in 1660 and with the Duke of York, patronised several theatres.
The CD is further enhanced by Sir Peter Lely's exquisite painting of Nell Gwyn with the infant Duke of St. Albans. If she was this beautiful one can understand the king's dalliance with her.
A lovely disc, despite the music being too similar to maintain continual interest, beautifully played and recorded. And, at £5.99 a bargain. I hope it will encourage people to explore Purcell 's music and his world! --- David C F Wright, MusicWeb International
download: uploaded yandex 4shared mediafire solidfiles mega filecloudio nornar ziddu