Purcell - King Arthur (Gardiner) [1994]
Purcell - King Arthur (Gardiner) [1994]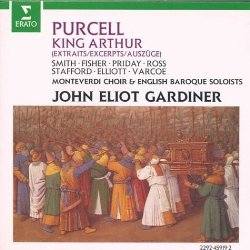 1-1 		Overture 	1:46 	
1-2 		Air 	1:29 	
1-3 		Overture 	1:16 	
  	First Act
1-4 		"Woden, First To Thee" / "The White Horse Neigh'd Aloud" /
 "To Woden Thanks We Render" 	3:40 	
1-5 		"The Lot Is Cast" 	0:33 	
1-6 		"Brave Souls" 	2:20 	
1-7 		"I Call You All To Woden's Hall" 	2:01 	
1-8 		Symphony / "Come If You Dare" 	3:41 	
  	Second Act
1-9 		"Hither, This Way" 	2:12 	
1-10 		"Let Not A Moonborn Elf" / Ritornello 	1:15 	
1-11 		"Hither, This Way" 	0:37 	
1-12 		"Come, Follow Me" / Ritornello 	2:25 	
1-13 		[Song Tune] "How Blest Are Shepherds" 	6:37 	
1-14 		Symphony / "Shepherd, Leave Decoying" 	2:10 	
1-15 		Hornpipe / "Come, Shepherds" 	1:37 	
1-16 		Second Act Tune: Air 	0:55 	
  	Third Act
1-17 		(The Frost Scene) Prelude /
 "What Ho! Thou Genius Of This Isle" 	1:20 	
1-18 		Prelude While Cold Genius Rises / "What Power Art Thou" 	2:51 	
1-19 		"Thou Doting Fool" 	1:03 	
1-20 		"Great Love" 	0:54 	
1-21 		"No Part Of My Dominion" 	0:55 	
1-22 		Prelude / "See, See, We Assemble" / Dance 	3:26 	
1-23 		"Tis I That Have Warm'd Ye" / Ritornello /
 "Tis Love That Has Warm'd Us" 	2:01 	
1-24 		"Sound A Parley" / Ritornello 	3:44 	
1-25 		Third Act Tune: Hornpipe 	0:38 	
  	Fourth Act
2-1 		"Two Daughters Of This Aged Stream" 	2:39 	
2-2 		Passacaglia / "How Happy The Lover" / Ritornello /
 "For Love Ev'ry Creature" 	6:09 	
2-3 		Fourth Act Tune: Air 	0:51 	
  	Fifth Act
2-4 		Trumpet Tune 	0:45 	
2-5 		"Ye Blust'ring Brethren" 	2:43 	
2-6 		Symphony 	1:39 	
2-7 		Song Tune / "Round Thy Coast" 	3:17 	
2-8 		"For Folded Flocks" 	2:42 	
2-9 		Ritornello / "Your Hay It Is Mow'd" / Ritornello 	2:59 	
2-10 		"Fairest Isle" 	4:06 	
2-11 		"You Say 'Tis Love" 	5:24 	
2-12 		Trumpet Tune [Warlike Consort] 	0:35 	
2-13 		"St George" / "Our Natives Not Alone Appear" 	1:59 	
2-14 		Chaconne 	3:24 	

Ashley Stafford -  Alto
Stephen Varcoe - Baritone
Elisabeth Priday, Gill Ross, Gillian Fisher, Jennifer Smith (3) - Soprano Vocals
Paul Elliott - Tenor

Monteverdi Choir
English Baroque Soloists
John Eliot Gardiner – conductor

King Arthur or, The British Worthy (Z. 628), is a semi-opera in five acts with music by Henry Purcell and a libretto by John Dryden. It was first performed at the Queen's Theatre, Dorset Garden, London, in late May or early June 1691.
The plot is based on the battles between King Arthur's Britons and the Saxons, rather than the legends of Camelot (although Merlin does make an appearance). It is a Restoration spectacular, including such supernatural characters as Cupid and Venus plus references to the Germanic gods of the Saxons, Woden, Thor, and Freya. The tale centres on Arthur's endeavours to recover his fiancée, the blind Cornish Princess Emmeline, who has been abducted by his arch-enemy, the Saxon King Oswald of Kent.
King Arthur is a "dramatick opera" or semi-opera: the principal characters do not sing, except if they are supernatural, pastoral or - in the case of Comus and the popular Your hay it is mow'd - drunk. Secondary characters sing to them, usually as diegetic entertainment, but in Act 4 and parts of Act 2, as supernatural beckonings. The singing in Act 1 is religious observance by the Saxons, ending with their heroic afterlife in Valhalla. The protagonists are actors, as a great deal of King Arthur consists of spoken text. This was normal practice in 17th century English opera. King Arthur contains some of Purcell's most lyrical music, much of it inspired by French dance rhythms and adventurous (for the day) harmonies.
download: uploaded yandex 4shared mediafire solidfiles mega filecloudio nornar anonfiles ziddu
Last Updated (Wednesday, 26 March 2014 20:02)