Jacques Offenbach - Suites from Bluebeard and Helen of Troy (1954)
Jacques Offenbach - Suites from Bluebeard and Helen of Troy (1954)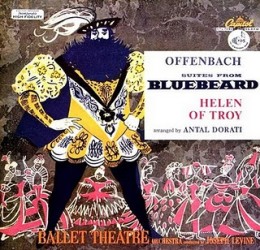 1. Barbe-bleue, operetta in 3 acts: Prologue - King Bobiche
2. Barbe-bleue, operetta in 3 acts: Prologue 2 - Bluebeard Enters 	
3. Barbe-bleue, operetta in 3 acts: The Queen and Her Courtiers 				play	
4. Barbe-bleue, operetta in 3 acts: The King Engages Oscar 
5. Barbe-bleue, operetta in 3 acts: Hermilia and Prince Sapphire 	
6. Barbe-bleue, operetta in 3 acts: Bluebeard in the Village 
7. Barbe-bleue, operetta in 3 acts: Bluebeard and Boulette 	
8. Barbe-bleue, operetta in 3 acts: Oscar and the Suitors 	
9. Barbe-bleue, operetta in 3 acts: Oscar and Hermilia Depart 
10. Barbe-bleue, operetta in 3 acts: The Carriages Meet 
11. Barbe-bleue, operetta in 3 acts: Bluebeard and Hermilia 	
12. Barbe-bleue, operetta in 3 acts: The Alchemist in the Crypt 	
13. Barbe-bleue, operetta in 3 acts: The Alchemist Takes Pity 	
14. Barbe-bleue, operetta in 3 acts: Hermilia is Welcomed Home 	
15. Barbe-bleue, operetta in 3 acts: The Duel - Bluebeard & Sapphire 
16. Barbe-bleue, operetta in 3 acts: Thrashing of Bluebeard 	
17. Barbe-bleue, operetta in 3 acts: Wives and Lovers 	
18. Barbe-bleue, operetta in 3 acts: Waltz Reprise 	
19. Barbe-bleue, operetta in 3 acts: Final Celebration 	
20. La belle Hélène, operetta in 3 acts: Prologue on Mount Ida 	
21. La belle Hélène, operetta in 3 acts: Aphrodite Wins the Golden Apple 
22. La belle Hélène, operetta in 3 acts: The King and his Court						play 	
23. La belle Hélène, operetta in 3 acts: The King is Deceived 
24. La belle Hélène, operetta in 3 acts: Helen Gives Paris the Key 	
25. La belle Hélène, operetta in 3 acts: Helen and Paris Make Love 	
26. La belle Hélène, operetta in 3 acts: King Menelaus Returns 
27. La belle Hélène, operetta in 3 acts: Helen and Paris Flee 	
28. La belle Hélène, operetta in 3 acts: The Port of Sparta 	
29. La belle Hélène, operetta in 3 acts: Helen and Paris Set Sail

Arranged by Antal Dorati
Ballet Theatre Orchestra
Joseph Levine – conductor

Jacques Offenbach is known to most as the composer of the opera 'Les Contes d'Hoffmann' but he also composed a number of delightful ballet scores including the two works on this recording, 'Bluebeard' and 'Helen of Troy.' Both ballets were mainstays in the repertoire of the legendary Ballet Theatre of Mexico City. On this recording the music is presented in two orchestral suites arranged by the great conductor Antal Dorati. The music is filled with bustling, effervescent tunes and an extremely popular 'Les Patineurs' by Giacomo Meyerbeer in an arrangement by Constant Lambert.
This dance extravaganza is performed by the Ballet Theatre Orchestra under the direction of Joseph Levine, an expert hand in this repertoire. This is a digitally re mastered recording from masters taken from the late 1950's and it's a sonic blockbuster. Brass shines with a brilliant glow and the string sound is warm and rich. This is a real treat for lovers of lavishly orchestrated ballet scores. --- arkivmusic.com
The liner notes are a bit misleading in calling these two orchestral suites arranged by Antal Dorati (better known as a conductor) from Offenbach scores, "suites from the ballet" Bluebeard and Helen of Troy. No, they are orchestral suites from ballet arrangements of two Offenbach operettas - "opera-bouffe" is what Offenbach called them both. The Bluebeard-ballet was first performed in Mexico City on October 27, 1941 - way too late for Offenbach to attend -, by the dance company called Ballet Theatre (originally established in 1937 as the Mordkin Ballet and renamed American Ballet Theatre in 1956) on a choreography by Michel Fokine, who years earlier had been one the stars choreographer of Diaghilev's Ballets Russes, before breaking off when Dhiagilev became infatuated with his new star, Vaslav Nijinsky. The original Offenbach Bluebeard was premiered in 1866 - way to soon for Fokine or Dorati to attend. Apparently the script to the ballet is slightly different from the one Meilhac and Halevy originally devised for Offenbach. Part 1 of the ballet stages events that in the operetta take place before the beginning. Some of the names have been changed as well. Not that it matters.
Helen of Troy is in fact the "opera-bouffe" La Belle Helène (Fair Helen), composed by Offenbach two years before Bluebeard, and given in its Dorati-arranged ballet form a year after the Bluebeard ballet, in November 1942. Fokine started working on the ballet's choreography with the Ballet Theatre, but then he died (August 1942) and David Lichine - a member of the company another Russian-born become American dancer and choreographer - brought the work to completion.
Apparently Dorati's arrangement work implied not only choosing the excerpts and doing some cuts, but also entirely (re) orchestrating. I doubt that Offenbach's orchestra had such a jazzy trombone as the one featured track 16. The two ballet-suites were recorded in 1954 by the Ballet Theatre Orchestra under its music director Joseph Levine (a former student of pianist Josef Hofmann and of conductors Fritz Reiner and Arthur Rodzinski a the Curtis Institute in Philadelphia), so the interpretations have all the zestful, dynamic, balletic credentials and hallmarks of "authenticity" required. Their balletic context is now just a historical reference, of course, but these recordings can serve, like the numerous Carmen-suites or Ring Without Words, for those wanting to revel in the purely orchestral experience of Offenbach, without being distracted by - oh yeech! voices. The original Bluebeard is seldom recorded anyway - I wonder why, it is as good as anything Offenbach wrote. That said, as zestful as it is, I'm not sure Offenbach's orchestral writing is as interesting and as self-sufficient as Wagner's or even Bizet's, even in Dorati's arrangement (never heard of Verdi or Rossini Senza Parole, either), and anyway the 1954 mono sound, as good as the transfers are, is too unidimentional to allow for complete enjoyment. As long as you are going to bask in the orchestra's sounds and timbres, it should really surround you, not be just a sonic poster on the wall of paradise-island. ---Discophage, amazon.com
download: uploaded yandex 4shared mediafire solidfiles mega filecloudio nornar ziddu
Last Updated (Tuesday, 04 March 2014 19:29)