Mussorgsky: Pictures at an Exhibition - Choral Works (Abbado) [2005]
Mussorgsky: Pictures at an Exhibition - Choral Works (Abbado) [2005]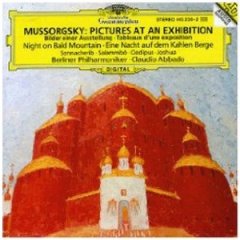 1. Night On Bald Mountain
2. The Destruction Of Sennacherib
3. Salammbo
4. Oedipus In Athens
5. Joshua
6. Pictures At An Exhibition - Promenade
7. Pictures At An Exhibition - Gnomus
8. Pictures At An Exhibition - Promenade
9. Pictures At An Exhibition - The Old Castle
10. Pictures At An Exhibition - The Tuileries Gardens
11. Pictures At An Exhibition - Bydlo
12. Pictures At An Exhibition - Promenade
13. Pictures At An Exhibition - Ballet Of The Chickens In Their Shells
14. Pictures At An Exhibition - Ballet Of The Chickens In Their Shells
15. Pictures At An Exhibition - The Market-Place At Limoges
16. Pictures At An Exhibition - The Catacombs (Sepulchrum Romanum)
17. Pictures At An Exhibition - Cum Mortuis In Lingua Mortua
18. Pictures At An Exhibition - The Hut On Fowl's Legs (Baba-Yaga)
19. Pictures At An Exhibition - The Great Gate Of Kiev

Berlin Philharmonic Orchestra
Claudio Abbado – conductor

Claudio Abbado, to my knowledge, is the only major conductor to record entire non-opera recordings devoted to Mussorgsky. This is his third such recording, although all the works on this recording are re-recordings that Abbado made earlier for RCA and DG.
Abbado seems to have a preference for the original version of Night on Bald Mountain, rather than the more common Rimsky-Korsakov arrangement of the work. The original version is quite different from the re-orchestrated version, and Mussorgsky has some interesting ideas. The structure of the tone-poem in Mussorgsky's hands in quite loose and episodic, and it is clear why Rimsky-Korsakov felt that he needed to re-orchestrate it. I just wish, however, that Rimsky-Korsakov would have used more of Mussorsky's unique tonal palette in his orchestration.
The four choral pieces on this disk are all short, pleasant, and well worth hearing. The sequence of the pieces make for a very satifying whole.
The real reason to buy this disk, however, if for Ravel's orchestration of Mussorgsky's Pictures at an Exhibition. Abbado recorded it earlier in 1981 with the London Symphony, and his interpretation had changed little when this recording was made. Compared to the 1986 version by Karajan with this orchestra, Abbado is more poetic and less dramatic than Karajan. The performance is very satifying in its own right, even though it lacks the "wow" factor of the Karajan recording.
The live recordings are warm, with great impact where appropriate. The bass drum and the tam-tam in Pictures are superbly caught.
I slightly prefer the Karajan in Pictures, but this certainly a fine alternative. ---oldfolks, amazon.com
download: uploaded yandex 4shared mediafire solidfiles mega filecloudio nornar ziddu
Last Updated (Saturday, 01 March 2014 10:19)