Caroline Shaw - Orange (2019)
Caroline Shaw - Orange (2019)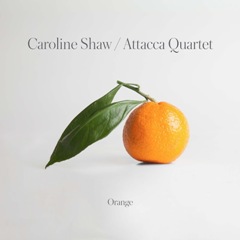 1	Entr'acte	11:00
2	Valencia	5:49
3	Plan & Elevation: I. The Ellipse	3:58
4	Plan & Elevation: II. The Cutting Garden	2:56
5	Plan & Elevation: III. The Herbaceous Border	3:31
6	Plan & Elevation: IV. The Orangery	1:57
7	Plan & Elevation: V. The Beech Tree	2:36
8	Punctum	9:32
9	Ritornello 2.sq.2.j.a	16:36
10	Limestone & Felt	5:42

Cello – Andrew Yee
Producer, Mixed By, Mastered By, Engineer – Antonio Oliart
Viola – Nathan Schram
Violin – Amy Schroeder, Keiko Tokunaga

'Orange' marks the first release in a new partnership announced earlier this year between the Nonesuch and New Amsterdam labels. The aim is to co-release three albums per year, and if this disc is anything to go by, prospects for a rewarding and fruitful collaboration are promising.
Caroline Shaw is best known for her choral music – the strikingly original four-movement a cappella work Partita was awarded the Pulitzer Prize in 2013 – but she is no stranger to string instruments either, being herself a violinist. Comprising six pieces for string quartet, 'Orange' displays some of the hallmarks found in her choral works, in particular an ability to present familiar ideas in strange and often unfamiliar contexts. The string quartet seems ideal in this respect, possessing, in Shaw's words, a medium that contains 'something familiar … yet you can keep on opening these doors and diving down these little rabbit holes'.
Established chord patterns and harmonic sequences suddenly veer off in unexpected directions in 'Entr'acte', while 'Punctum' plays out a series of alternative solutions to a harmonic puzzle that eventually reveals itself in the form of a quote from JS Bach's well-known chorale 'O Haupt voll Blut und Wunden'. Throbbing patterns refuse to lie still in 'Valencia', containing within them the seeds of a mechanism that doggedly pushes the music forwards. Shaw further accentuates the strange and unfamiliar through her colourful treatment of timbre, vividly heard in 'Limestone & Felt' in an excellent performance by the Attacca Quartet, who are brilliant throughout.
While such abrupt twists and turns often create surface-level tensions, continuity is achieved through a series of connecting threads formed around terraced or layered variations. 'Orange' readily draws on natural metaphors associated with fruits, gardens and landscapes, thus emphasising the music's organic qualities. The overriding image one gains is that of the composer as honeybee, flitting from one flower to the next, hiving musical nectar to make sounds most strange and sweet. ---Pwyll ap Siôn, gramophone.co.uk
download (mp3 @320 kbs):
yandex mediafire ulozto gett solidfiles