Jolivet - Troisième Symphonie • Concerto Pour Piano & Orchestre • 1er Concerto Pour Violoncelle & Orchestre (1992)
Jolivet - Troisième Symphonie • Concerto Pour Piano & Orchestre • 1er Concerto Pour Violoncelle & Orchestre (1992)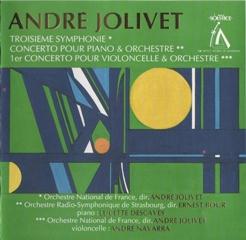 3ème Symphonie 	
1 	Obstiné 	12:16
2 	Fulgural 	7:09
3 	Lyrique, Véhément 	5:44
Concerto Pour Piano Et Orchestre 	
4 	Allegro Deciso 	7:48
5 	Senza Rigore 	9:18
6 	Allegro Frenetico 	6:28
1er Concerto Pour Violoncelle Et Orchestre 	
7 	Méditatif 	7:46
8 	Hiératique 	7:26
9 	Cursif 	5:59

Cello – André Navarra (tracks: 7 to 9) 
Piano – Lucette Descaves (tracks: 4 to 6)
Orchestre National De France (tracks: 1 to 3, 7 to 9)
Conductor – André Jolivet (tracks: 1 to 3, 7 to 9)
Orchestre Radio-Symphonique De Strasbourg (tracks: 4 to 6) 
Conductor – Ernest Bour (tracks: 4 to 6) 

André Jolivet (1905-1974) was French music's most sophisticated primitivist. While conducting advanced experiments with rhythm and sonority, Jolivet also found inspiration in the magic arts of equatorial realms and the "primitive" aspects of such instruments as the flute and percussion. He declared that he was dedicated to "restoring music's original ancient sense, as the magical and incantatory expression of the religiosity of human communities."
Interested in drama, painting, and literature in his youth, Jolivet eventually turned to music, studying cello and music theory at Notre Dame de Clignancourt. At 15, he wrote a ballet, and designed its set and costumes. His parents, who were artists, urged him to take up teaching, a more secure profession than composing. Nevertheless, in 1928, after a brief pedagogical career, Jolivet began an intense study of compositional technique under Paul Le Flem. In 1930, Jolivet fell under the spell of avant-garde composer Edgard Varèse, under whose influence he became especially aware of the potential of percussion in chamber and orchestral compositions. Jolivet's early works, which include a dense, atonal String Quartet and an Andante for String Orchestra, demonstrate his intimacy with the techniques of Béla Bartók, Arnold Schoenberg, and Alban Berg. In 1935, Jolivet helped found a contemporary chamber-music organization, La Spirale. The next year, this evolved into La Jeune France, dedicated to fostering modern French music; Jolivet's partners in this endeavor were Olivier Messiaen, Daniel Lesur, and Yves Baudrier. During his service in the French Army in World War II, Jolivet grew interested in primitive religion and magic, and this intellectual quest soon informed his style. Jolivet's intellectual preoccupations can be compared to Varèse's emphasis on Pythagorean number ratios as a basis of harmony and other musical components. In Jolivet's case, the results, as evidenced by the piano suite Mana, are simultaneously exotic and esoteric.
In 1943, Jolivet was named music director of the Comédie-Française, where he remained until 1959; this motivated him to develop a still adventurous, and more direct, expressive melodic style, exemplified by the virtuoso Concertino for trumpet, strings, and piano (1948) recorded by such luminaries as Maurice André and Wynton Marsalis, and the Flute Concerto of 1949, recorded by Jean-Pierre Rampal. A love-hate relationship with the Neoclassicism of the 1930s led him to experiment with the futuristic, electronic Ondes Martenot, for which he wrote a concerto in 1948, and with complex orchestrations, that evoke the sounds of Africa, East Asia, and Polynesia.
Jolivet wrote concertos for the traditional solo instruments (piano, violin, cello), but he also delighted in unusual sonic combinations. Besides frequently enlisting the Ondes Martenot, he produced such concoctions as Messe pour le jour de la paix for voice, organ, and tambourine; and Rhapsodie à Sept for clarinet, bassoon, trumpet, trombone, percussion, violin, and double bass.
Jolivet served as president of the Concerts Lamoureux from 1963 to 1968; from 1965 to 1970, he was professor of composition at the Paris Conservatory. At his death, Jolivet was regarded, with Messiaen, as one of the leading figures in contemporary French music. ---James Reel, allmusic.com
download (mp3 @320 kbs):
yandex mediafire ulozto gett bayfiles