Claudio Monteverdi – Combattimento di Tancredi e Clorinda (1997)
Claudio Monteverdi – Combattimento di Tancredi e Clorinda (1997)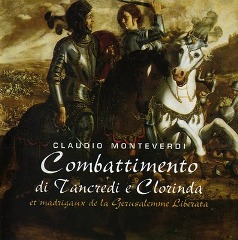 01 - Monteverdi -Combattimento di Tancredi e Clorinda
02 - Monteverdi -Sinfonia
03 - Sigismono D'India -Forsennata gridava
04 - Monteverdi -Vattene pur, crudel
05 - Eredi -L'Armida del Tasso -Rimanti in pace (I parte)
06 - Eredi -L'Armida del Tasso -Vattene pur, crudel (II parte)
07 - D'India -Là tra 'l sangue e le morti
08 - Mazzocchi -Chiudesti i lumi, Armida
09 - Eredi -L'Armida del Tassa -Or che farà? (V parte)
10 - Eredi -L'Armida del Tassa -Poi ch'ella in sé tornò? (VI parte)
11 - Eredi -L'Armida del Tassa -Che fa più meco il pianto? (VII parte)
12 - Eredi -L'Armida del Tassa -Misera Armida (VIII parte)
13 - Eredi -L'Armida del Tassa -Questo bellezza mia (IX parte)
14 - Bernardi -Sinfonia prima a 6
15 - Cifra -Era La Notte
16 - Monteverdi -Piagn'e sospira
17 - D'India -Ma che? Squallido e oscuro
18 - Biagio Marini -La bella Ermina

Marinella Pennicchi, soprano (Clorinda)
Giovanni Caccamo, tenor (Tancredi)
Furio Zanasi, baryton (testo)

Ensemble Elyma
Gabriel Garrido – director

'Il combattimento di Tancredi e Clorinda' (SV 153) is an operatic scena for three voices by Claudio Monteverdi, although many dispute how the piece should be classified. The piece has a libretto drawn from Torquato Tasso's La Gerusalemme Liberata ("Jerusalem Delivered", Canto XII, 52-62, 64-68), a Romance set against the backdrop of the First Crusade.
'Il Combattimento' was first produced in 1624 but not printed until 1638, when it appeared with several other pieces in Monteverdi's eighth book of madrigals (written over a period of many years). In 'Il Combattimento' the orchestra and voices form two separate entities. The strings are divided into four independent parts instead of the usual five – an innovation that was not generally adopted by European composers until the eighteenth century.
'Il combattimento' contains one of the earliest known uses of pizzicato in baroque music, in which the players are instructed to set down their bows and use two fingers of their right hand to pluck the strings. It also contains one of the earliest uses of the string tremolo, in which a particular note is reiterated as a means of generating excitement. This latter device was so revolutionary that Monteverdi had considerable difficulty getting the players of his day to perform it correctly. These innovations, like the fourfold division of the strings, were not taken up by Monteverdi's contemporaries or immediate successors.
download: uploaded yandex 4shared mediafire solidfiles mega filecloudio
Last Updated (Monday, 24 February 2014 12:03)