Monteverdi – L'incoronazione di Poppea (Harnoncourt) [2008]
Monteverdi – L'incoronazione di Poppea (Harnoncourt) [2008]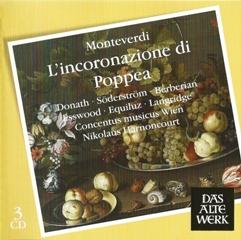 CD1
1 	Monteverdi : L'incoronazione di Poppea : Prologue "Deh, nasconditi, o virtù" [Fortuna, Virtù, Amor
2 	Monteverdi : L'incoronazione di Poppea : Act 1 "E pure io torno qui" [Ottone, 2 Soldiers]
3 	Monteverdi : L'incoronazione di Poppea : Act 1 "Chi parla" [2 Soldiers]
4 	Monteverdi : L'incoronazione di Poppea : Act 1 "Signor, deh, non partire" [Poppea, Nerone]
5 	Monteverdi : L'incoronazione di Poppea : Act 1 "Speranza tu mi vai" [Poppea, Arnalta]
6 	Monteverdi : L'incoronazione di Poppea : Act 1 "Disprezzata Regina" [Ottavia, Nutrice]
7 	Monteverdi : L'incoronazione di Poppea : Act 1 "Ecco la sconsolata donna" [Seneca, Ottavia, Valletto
8 	Monteverdi : L'incoronazione di Poppea : Act 1 "Le porpore regali e imperatrici" [Seneca]
9 	Monteverdi : L'incoronazione di Poppea : Act 1 "Seneca, io miro in cielo infausti rai" [Pallade, Sen
10 	Monteverdi : L'incoronazione di Poppea : Act 1 "Son risoluto insomma" [Nerone, Seneca]

CD2
1 	Monteverdi : L'incoronazione di Poppea : Act 1 "Come dolci, Signor" [Poppea, Nerone, Ottone]
2 	Monteverdi : L'incoronazione di Poppea : Act 1 "Ad altri tocca in sorte" [Ottone, Poppea, Arnalta]
3 	Monteverdi : L'incoronazione di Poppea : Act 1 "Otton torna in te stesso" [Ottone]
4 	Monteverdi : L'incoronazione di Poppea : Act 1 "Pur sempre con Poppea" [Drusilla, Ottone]
5 	Monteverdi : L'incoronazione di Poppea : Act 2 "Solitudine amata" [Seneca, Mercurio]
6 	Monteverdi : L'incoronazione di Poppea : Act 2 "Il comando tiranno" [Liberto, Seneca]
7 	Monteverdi : L'incoronazione di Poppea : Act 2 "Amici, è giunta l'hora" [Seneca, Seneca's Family]
8 	Monteverdi : L'incoronazione di Poppea : Act 2 "Sento un certo non so che" [Valletto, Damigella]
9 	Monteverdi : L'incoronazione di Poppea : Act 2 "Hor che Seneca è morto" [Nerone, Lucano]
10 	Monteverdi : L'incoronazione di Poppea : Act 2 "I miei subiti sdegni" [Ottone]
11 	Monteverdi : L'incoronazione di Poppea : Act 2 "Tu che dagli Avi miei" [Ottavia, Ottone]
12 	Monteverdi : L'incoronazione di Poppea : Act 2 "Felice cor mio" [Drusilla, Valletto, Nutrice]

CD3
1 	Monteverdi : L'incoronazione di Poppea : Act 2 "Io non so dov'io vada" [Ottone, Drusilla]
2 	Monteverdi : L'incoronazione di Poppea : Act 2 "Hor che Seneca è morto" [Poppea, Arnalta]
3 	Monteverdi : L'incoronazione di Poppea : Act 2 "Dorme, l'incauta dorme" [Amore, Poppea]
4 	Monteverdi : L'incoronazione di Poppea : Act 2 "Eccomi trasformato" [Ottone, Amore, Poppea, Arnalta]
5 	Monteverdi : L'incoronazione di Poppea : Act 2 "Ho difesa Poppea" [Amore]
6 	Monteverdi : L'incoronazione di Poppea : Act 3 "O felice Drusilla" [Drusilla]
7 	Monteverdi : L'incoronazione di Poppea : Act 3 "Ecco la scelerata" [Arnalta, Littore, Drusilla]
8 	Monteverdi : L'incoronazione di Poppea : Act 3 "Signor, ecco la rea" [Arnalta, Nerone, Drusilla, Lit
9 	Monteverdi : L'incoronazione di Poppea : Act 3 "No, no, questa sentenza" [Ottone, Nerone, Drusilla]
10 	Monteverdi : L'incoronazione di Poppea : Act 3 "Signor, hoggi rinasco" [Poppea, Nerone]
11 	Monteverdi : L'incoronazione di Poppea : Act 3 "A Dio, Roma" [Ottavia]
12 	Monteverdi : L'incoronazione di Poppea : Act 3 "Hoggi sarà Poppea" [Arnalta]
13 	Monteverdi : L'incoronazione di Poppea : Act 3 "Ascendi, o mia diletta" [Nerone, Poppea, Consuls, Tr

Helen Donath – Poppea
Elisabeth Söderström – Nerone
Cathy Berberian - Ottavia 
Paul Esswood  - Ottone
Jane Gartner – Fortuna/Damigella/Pallade
Rotraud Hansmann – Virtu/Drusilla

Concentus musicus Wien
Nikolaus Harnoncourt – conductor

If Monteverdi is considered the father of opera (his work 'L'Orfeo' is considered by many to be the first opera), then this is the crowning achievement of his operatic composition career. 'The Coronation of Poppea' draws not on sacred themes nor on mythological themes, but rather on historical events - Poppea was the wife of the emperor Nero,
Monteverdi and Busenello casts Poppea as a heroine, drawing her story from the Annals of Tacitus. There is a mythic overlay, as the characters of Love, Virtue and Fortune are personified, and in the end Love wins out over all (this draws on the mythological story 'The Judgement of Paris', in which three goddesses sought out an impartial judge, and Paris ruled in favour of love, setting off a course of events that would lead to the Trojan War).
There is quite a mess of love affairs, cheatings, and courtships in the story, as befit the scene in ancient Rome. The irony is that the climax seems to be the coronation of Poppea as Empress, having displaced the previous Empress and having left her husband Ottone for that of the emperor, whereas in history (a history the audience would know) Poppea then ends up being murdered by Nero, and Ottone/Otho ends up as emperor after all (albeit very briefly, being one of the four in the 'year of four emperors').
Ottone is often played as a baritone, but the original calls for an alto. Nero/Nerone was a role for a castrato soprano, now often cast for performance by a tenor or mezzo-soprano. There is quite a reversal of things here, as Poppea's nurse is usually played lower, often by a tenor.
The instrumentation of this performance strives for historical accuracy. 'Various continuo instruments, harpsichord, virginal, chitarrone, lute, organ and harp were in part assigned to certain figures, and partly also to definite dramatic effects, so that at the same time the dialogue sees a change in the continuo sound.' The composition survives in notes and singing parts only for the most part, in which much reconstruction has had to take place. Harnoncourt and his ensemble, the Concentus musicus Wien, have done a very good job at drawing together a fuller feel, but as another reviewer has commented, modern ideas are that Monteverdi intentionally left the composition more spare, and the more-Baroque sound of Harnoncourt, however beautiful, is in fact less faithful to the original than once thought.
Helen Donath and Elisabeth Soderstrom are perfect for their roles as Poppea and Nerone; the role of Seneca is performed by Giancarlo Luccardi, who gives a good, forceful and meaningful voice to this important role. --- FrKurt Messick, amazon.com
download: uploaded yandex 4shared mediafire mega filecloudio
Last Updated (Monday, 24 February 2014 21:01)