Eric Whitacre ‎– The Sacred Veil (2020)
Eric Whitacre ‎– The Sacred Veil (2020)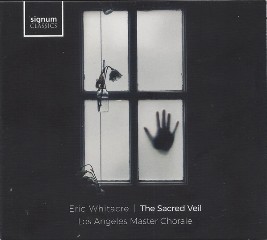 1 	The Veil Opens 	
2 	In A Dark And Distant Year 	2:19
3 	Home 	4:48
4 	Magnetic Poetry 	6:30
5 	Whenever There is Birth 	3:36
6 	I'm Afraid 	5:17
7 	I Am Here 	2:23
8 	Delicious Times 	5:20
9 	One Last Breath 	1:40
10 	Dear Friends 	3:17
11 	You Rise, I Fall 	10:00
12 	Child Of Wonder 	4:44
13 	Interview With Eric Whitacre and Charles Anthony Silvestri 	22:56

Alto – Eleni Pantages, Garineh Avakian, Ilana Summers, Jessie Shulman, Kristen Toedtman, Laura Smith Roethe,
 Leslie Inman Sobol, Niké St. Clair, Sarah Lynch, Sharmila G. Lash
Bass – Adrien Redford, Ben Lin, Brett McDermid, David Dong-Geun Kim, Derrell Acon, Dylan Gentile, John Buffett,
 Luc Kleiner, Mark Edward Smith, Michael Bannett
Cello – Jeffrey Zeigler
Conductor [Artistic Director] – Grant Gershon
Conductor, Text By – Eric Whitacre
Piano – Lisa Edwards 
Soprano – Andrea Zomorodian, Caroline McKenzie, Christina Bristow, Claire Fedoruk, Elyse Willis,
 Emma-Grace Dunbar, Karen Hogle Brown, Kelci Hahn, Suzanne Waters, Tamara Bevard
Tenor – Adam Faruqi, Anthony Ray, Charlie Kim, Dermot Kiernan, Jon Lee Keenan, Matthew Tresler,
 Matthew Thomas, Michael Lichtenauer, Nate Widelitz, Robert Norman 

I'm thrilled to announce that my latest album – The Sacred Veil – is out today. Written over a period of three years with my best friend, poet Charles Anthony Silvestri (Tony), it's a story of great beauty and love, loss and grief.
Writing The Sacred Veil felt profoundly important and the warm reception to the world premiere in Los Angeles, and the European premiere in London, meant the world to Tony and me. It's a work that we are intensely proud of.
The album was recorded January 2020 in California. It features extraordinary performances from the Los Angeles Master Chorale, cellist Jeffrey Zeigler and pianist Lisa Edwards. I am proud to have worked with legendary producer, Elaine Martone, on this album and to be sharing it through Signum Records. This recording also represents the culmination of two memorable and artistically rewarding terms as Artist-in-Residence with the Los Angeles Master Chorale. Their achievement under Artistic Director, Grant Gershon, is a cultural beacon for our nation.
I hope you might have the chance to listen to The Sacred Veil.
Stay safe and well. ---Eric, ericwhitacre.com
Eric Whitacre's The Sacred Veil is an accessible, melodic work for choir, piano and cello that tells the story of a woman's death from cancer – a subject matter and musical style selected to incite feeling. The first movement, 'The Veil Opens', is quasi-religious ('the sacred veil between the worlds' alludes to an afterlife), with gently moving harmonies and plenty of unison lines, neatly performed by the Los Angeles Master Chorale. So far, so pedestrian.
But the work quietly develops into something more interesting: the sixth movement 'I'm Afraid' repeats the fragmented phrase 'I'm afraid we've found something', interspersing the unfinished sentence with medical terms 'fifteen centimetre retroperitoneal cystic mass with complex internal septation…Metastasis'. The text was co-written by Whitacre and Charles Anthony Silvestri, whose wife Julie died of ovarian cancer at 36 in 2005. There is a pseudo-liturgical feel which recalls something of Karl Jenkins's work, intensified by the subsequent call for prayers taken from Julie's blog and a closing benediction. ---Claire Jackson, classical-music.com
download (mp3 @320 kbs):
yandex mediafire ulozto gett bayfiles