Maria Callas – Platinum Collection (2005)
Maria Callas – Platinum Collection (2005)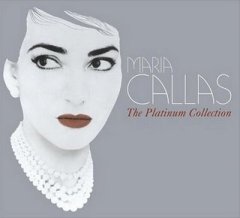 01 Madama Butterfly - Un Bel Di Vedremo
02 Carmen - Habanera L'amour Est Un Oiseau Rebelle
03 La Wally - Ebben Ne Andro' Lontrana (sorry, 192kbits)
04 Il Barbiere Di Siviglia - Una Voce Poco Fa
05 Norma - Casta Diva
06 Samson Et Dalila - Mon Coeur S'ouvre A Ta Voix
07 Rigoletto - Caro Nome
08 La Traviata - Sempre Libera
09 La Boheme - Si', Mi Chiamano Mimi (sorry, 192kbits)
10 Don Giovanni - Mi Tradi' Quell'anima Ingrata (sorry, 192kbits)
11 Cavalleria Rusticana - Voi Lo Sapete, O Mamma
12 La Gioconda - Suicidio!
13 Gianni Schicchi - O Mio Babbino Caro
14 Turandot - In Questa Reggia
15 Tosca - Vissi D'arte, Vissi D'amore
16 Andrea Chenier - La Mamma Morta
17 La Vestale - O Nume Tutelar
18 Manon - Adieu, Notre Petite Table
19 Manon Lescaut - Oh, Saro' La Piu' Bella ... Tu, Tu Amore (sorry, 192kbits)
20 Carmen - Pres Des Remparts De Seville (Seguedille) (sorry, 192kbits)
21 Il Barbiere Di Siviglia - Dunque Io Son
22 Lakme' - Dov'e' L'indiana Bruna (Aria Dei Campanelli)
23 Aida - Qui Radames Verra'! ... O Patria Mia (sorry, 192kbits)
24 La Boheme - O Soave Fanciulla
25 Turandot - Signora Ascolta
26 Pagliacci - Qual Fiamma Avea Nel Guardo
27 Il Trovatore - D'amor Sull'ali Rosee
28 Madama Butterfly - Vogliatemi Bene, Un Bene Piccolino
29 Dinorah - Ombra Leggiera
30 Carmen - Les Tringles Des Sistres Tintaient
31 Ernani - Surta E' La Notte ... Ernani, Ernani, Involami
32 Manon Lescaut - In Quelle Trine Morbide
33 Aida - Ritorna Vincitor
34 Orfeo E Euridice - J'ai Perdu Mon Eurydice
35 I Vespri Siciliani - Bolero Merce' Dilette Amiche (sorry, 192kbits)
36 Louise - Depuis Le Jour
37 La Boheme - Donde Lieta Usci' (sorry, 192kbits)
38 Mignon - Ah, Pour Ce Soir ... Je Suis Titania (Polacca)
39 La Traviata - Teneste La Promessa ... Addio Del Passato
40 Don Carlo - O Don Fatale
41 Samson Et Dalila - Printemps Qui Commence
42 La Sonnambula - Compagne, Teneri Amici ... Come Per Me Sereno
43 Adriana Lecouvreur - Ecco Respiro Appena ... Io Son L'umile Ancella
44 Lucia Di Lammermoor - Spargi D'amaro Pianto

Maria Callas was born Maria Anna Sophia Cecilia Kalogeropoulou in New York on 2 December 1923 to Greek immigrant parents Evangelia and George Kalogeropoulos. In 1937 Evangelia separated from her husband and returned with her two daughters Maria and Jackie to Greece, where she intended to give them the musical education she could not afford in America. Maria began her vocal studies with the soprano Maria Trivella and the following year she became a pupil of Elvira de Hidalgo, who concentrated on coloratura training. The young Mary Kalogeropoulou, as she was then known, made her stage debut at the age of 15 as Santuzza in a student production of Cavalleria rusticana, and in June 1940 she joined the National Theatre company in Athens, and her first engagement was to sing songs in Shakespeareís Merchant of Venice at the Royal Theatre.
On 21 January 1941 she made her professional operatic dÈbut as Beatrice in Boccaccio, and on 27 August 1942 she sang her first Tosca (in Greek) at the open-air Park Summer Theatre. There was a further run of performances of Tosca in September at which the opera was sung in Italian, and these afforded Maria her first real taste of stardom. During the following three years with the company she also sang in Tiefland, Ho Protomastoraas, Cavalleria rusticana, Fidelio and Der Bettelstudent.
As soon as the Second World War had finished, Maria decided to return to the USA to further her career, and in September 1945 she sailed for New York to be reunited with her father. Now calling herself Maria Callas (adopting the surname that her father had devised back in 1929) she failed to achieve anything until Giovanni Zenatello, who was in the USA to find singers for the 1947 Verona Opera Festival, engaged her to sing in La Gioconda.
Callas arrived in Verona on 28 June, and on that same evening she met Giovanni Battista Meneghini, a middle-aged wealthy Italian industrialist and opera lover, who immediately began to take an interest in the gauche and inexperienced girl. On 2 August she made her Italian dÈbut in the Arena at Verona in La Gioconda, conducted by Tullio Serafin. The performances were successful enough but Callas made no special impression and the expected offers of further work did not materialise. But Serafin knew that she had potential and he engaged her to sing Isolde in Italian at La Fenice in Venice in December, and this led to further engagements in Italy, mainly in heavy dramatic roles like Turandot and Aida.
On 19 January 1949, having just sung her first Br¸nnhilde in Die Walk¸re eleven days earlier, Callas, at the insistance of Serafin, replaced the indisposed Margherita Carosio as Elvira in I puritani at La Fenice, and her performance stunned the operatic world. This was the turning point in Callasís career and the start of her involvement in the rehabilitation of the Italian bel canto repertoire. On 21 April 1949 Callas married Meneghini in Verona and sailed that night for Argentina to sing at the Teatro Colon in Buenos Aires. Helped by Meneghini as both husband and manager, Callas developed her career in Italy and abroad during the next two years. On 7 December 1951 she opened the season at La Scala, Milan, in I vespri siciliani to enormous acclaim, and for the next seven years La Scala was the scene of her greatest triumphs in a wide range of roles.
On 29 July 1952 Callas signed a recording contract with EMI, the first fruit of which was Lucia di Lammermoor, recorded in Florence in February 1953. Later in the year Callas began a series of complete opera recordings with the forces of La Scala, starting with I puritani and Cavalleria rusticana conducted by Serafin. These were followed by the now legendary Tosca conducted by Victor de Sabata, In 1954 Callas reduced her weight by 30 kilos and her appearance changed dramatically.
During the summer she recorded a further four complete operas at La Scala and made her first two recital discs in London. Over the following three years she consolidated her position as one of the leading divas of the operatic world, and continued to record prolifically for EMI.
In September 1957 Elsa Maxwell, the American society hostess, introduced the Meneghinis to the Greek shipping magnate Aristotle Onassis at a party in Venice. In January 1958 Callas was harshly criticised in the media for withdrawing after the first act of a gala performance of Norma in Rome. Later that year she decided not to appear again at La Scala after quarrelling with the director, and she was fired from the Metropolitan in New York after failing to agree on performances for the following season. In July 1959 Onassis invited Callas and her husband for a cruise on his yacht, the Christina; by the end of the cruise Callas and Onassis were lovers and the Meneghini marriage was over. During the next few years Callas curtailed her stage appearances and devoted herself to the international high life with Onassis, until by 1962 she was performing only at a few concerts.
In January 1964 Franco Zeffirelli persuaded Callas to return to opera at Covent Garden in a memorable new production of Tosca. In May she appeared in Paris in Norma, directed by Zeffirelli, in a spectacular staging that was to be her last new production. During the early part of 1965 she sang further performances of Tosca in Paris and New York, and then five performances of Norma in Paris, but she was unable to finish the last one due to ill health. She was advised on medical grounds to withdraw from her next performances of Tosca at Covent Garden but she decided to sing just once; she chose the Royal Gala on 5 July, which turned out to be her final appearance on the operatic stage.
In 1966 Callas relinquished her American citizenship and took Greek nationality, thereby technically annulling her marriage to Meneghini; she expected Onassis to marry her but instead, two years later, he married Jacqueline Kennedy. Callas was devastated. In the summer of 1969 she played Medea in a non-operatic film of the play by Euripides, directed by Pier Paolo Pasolini, and in 1971-2 she gave a series of Master Classes at the Juilliard School of Music in New York. There she met up again with her old colleague, the tenor Giuseppe di Stefano, who persuaded her to undertake an extensive international recital tour with him. The tour, a personal triumph but an artistic failure, began in Hamburg in October 1973 and continued into 1974. The final concert with di Stefano took place in Sapporo, Japan, on 11 November 1974; this was Callasís last public performance.
Onassis tried to rekindle his relationship with Callas, but she refused to have him back while he remained married to Jacqueline. On 15 March 1975 Onassis died after an operation; Callas was by then a virtual recluse. Alone in her Paris apartment, she died from natural causes on 16 September 1977. ---Tony Locantro, amazon.com
download: uploaded yandex 4shared mediafire solidfiles mega filecloudio nornar
Last Updated (Sunday, 09 February 2014 18:23)