Kathleen Battle Itzhak Perlman – Bach Arias (1992)
Kathleen Battle Itzhak Perlman – Bach Arias (1992)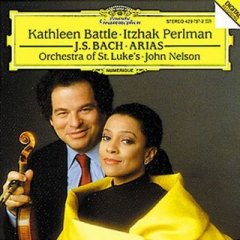 01. Cantata, BWV 197 "Gott ist unsere Zuversicht" - Aria "Vergnügen und Lust" 
02. Cantata, BWV 58 "Ach Gott, wie manches Herzeleid" - Aria "Ich bin vergnügt in meinem Leiden"
03. Cantata, BWV 204 "Ich bin vergnügt" - Aria "Die Schätzbarkeit der weiten Erde" 
04. Cantata, BWV 97 "In allen meinen Taten" - Aria "Ich traue seiner Gnaden" (Tenore) 
05. Cantata, BWV 115 "Mache dich, mein Geist, bereit" - Aria "Bete, bete aber auch dabei"
06. Cantata, BWV 171 "Gott, wie dein Name, so ist auch dein Ruhm" - Aria "Jesus soll mein erstes Wort"
07. Mass in B minor, BWV 232 / Sanctus - Benedictus
08. Mass in B minor, BWV 232 / Gloria - Laudamus te
09. Cantata No.202 "Weichet nur, betrübte Schatten" (Wedding Cantata), BWV 202 - 5. Aria: Wenn die Frühlingslüfte streichen
10. "Schwingt freudig euch empor" BWV 36 / Part 2 - 7. Aria "Auch mit gedämpften, schwachen Stimmen"
11. Cantata, BWV 187 "Es wartet alles auf dich" / Zweiter Teil - Aria "Gott versorget alles Leben"
12. Ich bin vergnügt mit meinem Glücke Cantata, BWV 84 - 3. Aria: Ich esse mit Freuden mein weniges Brot
13. Cantata, BWV 105 "Herr, gehe nicht ins Gericht" - 5. Aria: "Kann ich nur Jesum mir zum Freunde machen"

Kathleen Battle-Soprano
Itzhak Perlman-Violin
Orchestra of St. Luke's 
John Nelson - conductor
Battle and Perlman together in Bach sounds like a recipe for no uncertain sweetness and much stained-glass light. Prospective buyers are likely, though, to choose their purchase in this case as much, as it were, for the singer as for the song, so they will have a shrewd idea what to expect.
Among those expectations will be a decidedly virtuoso approach to the obbligato writing, and a doe-like purity of vocal inflexion. For Cantata No. 97's "Ich traue seiner Gnaden", Battle certainly also puts her trust in the soloist, whose little opening concerto paves the way for a gentle, effortless unfurling of the vocal line. The violin's pointed answers make it not only the equal of the voice in eloquence, but also set up quite a few demands for the voice in turn....
Not surprisingly, both Battle and Perlman are at their best in those arias which inhabit clearly recognizable expressive poles. In duet with an orchestral cello, Perlman provides a sombre prelude for Cantata No. 115's Passion-like "Bete aber auch dabei", to which Battle responds in suitably muted voice, and with a fitting sense of the long vision of the soul's self-preparation.
In the fiercely energetic "Jesus soil mein erstes Wort" from Cantata No. 171, on the other hand, Perlman rises splendidly to the ascending arpeggios and sequences, the cadential twists and turns of his dance, while the voice, making the most of the implicit "Wort/Fort" aural pun, sings with a new clarity and assurance which almost recalls the young Elly Ameling.
The oboe steps out of an always judiciously balanced and sprightly orchestral ensemble for Cantata No. 84's exuberant "Ich esse mit Freuden", and the trumpet sounds robustly, providing firm foundation for the vocal and instrumental pirouetting in Cantata No. 105.--- Gramophone [3/1992]
download:  uploaded 4shared anonfiles yandex solidfiles mediafire mega filecloudio nornar
Last Updated (Wednesday, 22 January 2014 12:57)