Jose Carreras – With a Song In My Heart - Tribute to Mario Lanza (1994)
Jose Carreras – With a Song In My Heart - Tribute to Mario Lanza (1994)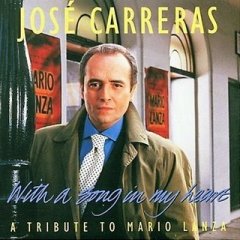 1. With a song in my Heat
Richard Rodgers (1902 – 1979)
2. Because you're mine
Nicholas Brodszky (1905 - 1958)
3. L'ultima canzone
Francesco Paolo Tosti (1846 – 1916)
4. Pour un baiser
Francesco Paolo Tosti (1846 – 1916)
5. Veni sul mar
Anonymous
6. Intermezzo - Cavalleria Rusticana
Ruggero Leoncavallo (1857 - 1919)
7. Marechiare
Francesco Paolo Tosti (1846 – 1916)
8. Musica Proibita
Martino Stanislao Luigi Gastaldon (1861 – 1939)
9. Una furtiva lagrima
Donizetti "L'Elisir D'Amore"
10. Mario Lanza Medley
arranger by C.Palmer
11. Serenade
Sigmund Romberg (1887 – 1951)
8. Beloved
Nicholas Brodszky (1905 - 1958)
16. Be my love
Nicholas Brodszky (1905 - 1958)
17. Core 'ngrato
Salvatore Cardillo (1874 – 1947)
18. Tu ca num chiagne!
Ernesto De Curtis (1875 - 1937)
19. Granada
Agustin Lara (1897 – 1970)
20. Because
Guy d'Hardelot (1858 – 1936)
21. Torna a Surriento
Ernesto De Curtis (1875 - 1937)

Jose Carreras - tenor
BBC Concert Orchestra
Englich Concert Chorus
Conducted by Enrique Ricci
Royal Albert Hall – London, 1994
In this 1994 concert from London's Royal Albert Hall, Jose Carreras pays tribute to tenor Mario Lanza. It was Lanza who first introduced Carreras to opera via the 1951 movie The Great Caruso, and this concert was one of a series of Lanza tributes that Carreras performed throughout 1994.
With the exception of Carreras' perennial concert favourite, Tosti's L'Ultima Canzone, all of the numbers performed here were associated with Lanza. Unfortunately for Carreras, the comparisons that his interpretations invite do not always favour him. He sounds strained at times, and the high notes in demanding pieces such as The Student Prince Serenade are a struggle. At other times, he opts out of the high notes altogether (eg Be My Love), or uses lower keys (Beloved, Granada). He also - unwisely, I feel - lets the orchestra take over at moments when he would normally be singing. In Musica Proibita, for instance, he begins the phrase "Vorrei baciar i tuoi capelli neri", but stops after "baciar", presumably to regroup his vocal resources.
And therein lies the problem. Carreras simply does not have the vocal energy to sing some of the numbers in this concert. Had he performed this concert, say, 10 years earlier (before the onset of his health and vocal problems), he could have done justice to his idol. Having said that, there is still much to enjoy in the less demanding numbers, and the superimposed images of Lanza singing the same songs (and skillfully timed to match Carreras' own singing) are a real treat. Carreras' middle register is rich and satisfying, and he is never less than committed in his singing.
There is also no doubting Carreras' sincerity in performing this tribute, as the brief interview snippets make abundantly clear.
For a vocally more secure performance from the same period, I highly recommend Carreras' video of Verdi's little-known Stiffelio, filmed at Covent Garden in 1993. ---DJ McGovern, amazon.com
download:  uploaded anonfiles yandex 4shared solidfiles mediafire mega filecloudio nornar
Last Updated (Sunday, 19 January 2014 14:06)