Georg Friedrich Händel - Admeto, Re di Tessaglia (2014)
Georg Friedrich Händel - Admeto, Re di Tessaglia (2014)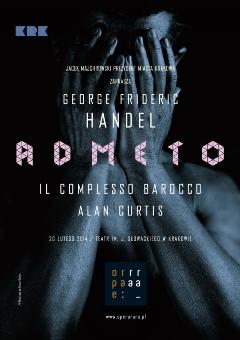 0. Commentary by Marcin Majchrowski (polish language)  0 – 10.02
1. Admeto Re di Tessaglia  	Part I			10.03 – 1.59.00
2. Interview with Alan Curtis				2.00.00 – 2.25.42
3. Admeto Re di Tessaglia  	Part II			2.25.43 – 3.30.57

Sonia Prina – contralto (Admeto), 
Josè Maria Lo Monaco – mezzosoprano (Alceste), 
Emőke Baráth – soprano (Antigona), 
Luigi De Donato – bass (Ercole), 
Romina Basso – contralto (Trasimede), 
Gianluca Buratto – bass (Meraspe), 
Il Complesso Barocco
Alan Curtis - conductor

2014.02.20, Cracov, Poland
Broadcast, Polish Radio 2

Haendel's Admeto, re di Tessaglia ("Admetus, King of Thessaly") has inaugurated this year's edition of the Opera Rara festival. Krakow will play host to the lovers of period music from Poland and abroad.
Admeto was another opera of Handel's in which the composer and librettist had to write for two equal leading ladies. The subject matter is different than any of Handel's other operas written for the Academy. Instead of an historical plot, Handel wrote an opera based on a mythological subject. There is plenty of opportunity for spectacle in the libretto. There is a sleep scene, a hell scene, a pastoral symphony, impressive variety, and incredible music. The very first scene is often compared with Gluck's Orfeo for the treatment of its subject matter, which is that of a deranged and raving king tortured by the furies. The characterizations of the lead women are masterful, well-rounded, and dramatically powerful. The opera was very successful, and played to full houses for a total of eight performances its initial run.
The libretto to Admeto is based on Ortensio Mauro's L'Alceste, and thought to be by Rolli for a variety of reasons. Rolli was a better versifier than Haym, but he had no sense of visual dramatics. He very often did not write scene changes, stage directions, and he left characters stranded on stage. Handel's imagination was such that he was inspired by an opera's setting and dramatic action; he and Rolli were not the best collaborative team for that reason. However, in this opera, Handel rises above his limitations and produces some fine, electrifying music. The setting of the original libretto by Mauro was performed in Hanover and known to King George I, as was the original version of Alessandro. The choice of two Hanoverian operas was meant as an act of homage to the King. ---Rovi
"Admet, król Tesalii" ("Admeto, re di Tessaglia"), opera w trzech aktach Jerzego Fryderyka Händla napisana dla Royal Academy of Music, stowarzyszenia arystokratów dbającego o rozwój i dostarczanie repertuaru operowego.
Prapremiera "Admeta" - w londyńskim King's Theatre 31 stycznia 1727 roku - okazała się ostatnim sukcesem pierwszej Akademii Królewskiej i wznawiana była wielokrotnie za życia kompozytora, także poza granicami Anglii. W samym roku śmierci Händla (1754) wystawiona została pięciokrotnie, później na bez mała dwa stulecia zniknęła ze scen, by wrócić w roku 1925 w Brunszwiku i przeżyć swój współczesny renesans.
Libretto zostało napisane w języku włoskim na podstawie dwóch wcześniejszych tekstów: Aurelia Aurelego do opery "L'Antigona delusa da Alceste" (Wenecja, 1660) oraz adaptacji tegoż autorstwa Ortensia Mauro ("L'Alceste", Hanower 1679-81), całość wywiedziona jest także z tragedii Eurypidesa "Alkestis". Atrybucja "Admeta" jest niepewna, wskazuje się tutaj Niccolò Francesca Hayna związanego z Akademią Królewską, dowodząc jego kunsztu widocznego w dziele. ---polskieradio.pl
download (mp3 @256 kbs):
uploaded yandex 4shared mediafire mega solidfiles zalivalka cloudmailru filecloudio oboom