Charles Gounod – Faust (Pretre)
Charles Gounod – Faust (Pretre) (1979)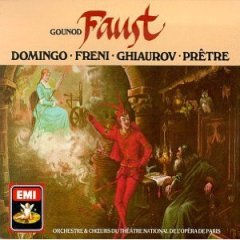 CD1
Charles Gounod - Introduction
Charles Gounod - ACT 1 - Rien! En vain j'interroge...
Charles Gounod - Ah! Paresseuse fille...
Charles Gounod - Mais, ce Dieu que peut-il pour moi? - Me voici!
Charles Gounod - A moi les plaisirs...
Charles Gounod - ACT 2 - Vin ou bière
Charles Gounod - O sainte médaille
Charles Gounod - Avant de quitter ces lieux
Charles Gounod - Le veau d'or
Charles Gounod - Merci de ta chanson!
Charles Gounod - De l'enfer qui vient émousser nos armes
Charles Gounod - Nous nous retrouvons, mes amis!
Charles Gounod - Ainsi que la brise légère...
Charles Gounod - Ne permettrez-vous pas ma belle demoiselle

CD2
Charles Gounod - Introduction
Charles Gounod - Faites-lui-mes aveux
Charles Gounod - C'est ici?
Charles Gounod - Attendez - moi là, cher docteur
Charles Gounod - Quel trouble inconnu me pénètre!...Salut! demeure chaste et pure...
Charles Gounod - Alerte! la voilà!
Charles Gounod - Je voudrais bien savoir... Il était un roi de Thulé
Charles Gounod - Un bouquet!... O Dieu, que de bijoux!
Charles Gounod - Seigneur Dieu, que vois-je!... Dame Marthe Schwerlein, svp?
Charles Gounod - Prenez mon bras un moment!
Charles Gounod - Il était temps!
Charles Gounod - Il se fait tard!
Charles Gounod - Tenez! Elle ouvre sa fenêtre!... Il m'aime!
Charles Gounod - Introduction
Charles Gounod - Elles ne sont plus là!
Charles Gounod - Marguerite!... Siebel!
Charles Gounod - Si le bonheur...
Charles Gounod - Seigneur, daignez permettre...
Charles Gounod - Souviens-toi du passé
Charles Gounod - Quand du Seigneur...

CD3
Charles Gounod - Déposons les armes!
Charles Gounod - Gloire immortelle
Charles Gounod - Allons, Siebel!
Charles Gounod - Vous qui faites l'endormie
Charles Gounod - Que voulez-vous, messieurs?
Charles Gounod - Par ici, par ici, mes amis!
Charles Gounod - Écoute-moi bien, Marguerite
Charles Gounod - Dans les bruyères
Charles Gounod - Jusqu'aux premiers feux du matin
Charles Gounod - Que ton ivresse, o volupté
Charles Gounod - Intermezzo
Charles Gounod - Va-t'en!
Charles Gounod - Mon coeur est pénétré d'épouvante!
Charles Gounod - Ah! C'est la voix du bien-aimé!... Oui, c'est moi, je t'aime!
Charles Gounod - Alerte, alerte... Anges purs... Christ est ressuscité
Charles Gounod - Les Nubiennes
Charles Gounod - Adagio
Charles Gounod - Danse antique
Charles Gounod - Variations de Cléopâtre
Charles Gounod - Les Troyennes
Charles Gounod - Variations du miroir
Charles Gounod - Danse de Phryné

Plácido Domingo (tenor) - (Faust)
Mirella Freni (soprano) - (Marguerite)
Nicolaï Ghiaurov (bass) - (Méphistophélès)
Thomas Allen (baritone) - (Valentin)
Michèle Command (soprano) - (Siébel)
Jocelyne Taillon (soprano) - (Dame Marthe)
Marc Vento (baritone) - (Wagner)

Chorus of the Théâtre National de l'Opéra de Paris/Jean Laforge
Orchestra of the Théâtre National de l'Opéra de Paris
Georges Prêtre – conductor

This EMI Classics/Prêtre recording of Gounod's Faust was first issued in 1979 and digitally re-mastered in 1986. Released several times over the years this well cast and dedicated interpretation is regarded by many as a classic recording. The tradition of making recordings of Faust started as long ago as 1909 when Enrico Caruso made the first recordings of extended highlights from the opera.
Gounod wrote twelve operas between 1851 and 1881. Faust was the fourth of these and took him almost three years to write. He used a French libretto by Jules Barbier and Michel Carré that combines the first part of Goethe's dramatic poem Faust, in the French translation by Gérard de Nerval, with a contribution from Michel Carré's own adaptation Faust et Marguerite.
The hero of the classic German fable, the philosopher and alchemist Doctor Faust makes a pact with the Devil in exchange for superhuman knowledge and power. The Faust legend has been the basis for many literary and musical works, such as those by Goethe, Christopher Marlowe, Thomas Mann, Berlioz, Liszt, Wagner, Schumann and Gounod. Goethe's dramatic poem of the Faust legend made him Germany's most celebrated writer; giving him enduring worldwide literary fame.
The opera Faust is Gounod's masterwork and was premièred at the Théatre-Lyrique, Paris on 19 March 1859. In 1868-69, for its new production at the Paris Opéra, Gounod made revisions adding ballet music to the score. It rapidly achieved international distinction and for more than half a century after its première was probably the most popular opera in the repertoire. For opera-lovers its elevated status, with the exception of temporary changes in vogue, has endured. It was selected for the inauguration of the New York Metropolitan Opera House in 1883. Evidently its high frequency of production there led to the frivolous idea by the New York music critic W.J. Henderson that that the Met should be renamed the 'Faustspielhaus'.
Writer Gervase Hughes in 1969 stated that for many, "a mention of Faust does in the first instance call to mind neither the Urfaust, nor Marlowe, nor Goethe, nor such musical interpreters of the legend of Schumann, Liszt, Berlioz and Wagner; but rather Gounod, that talented eclectic and inconsistent French composer..." I note that writer Alan Jefferson in The Glory of Opera (1976, rev. 1983) does not include Gounod's Faust in his list of the twenty-five Great Operas, although it would certainly feature in any my list. Author Richard Somerset-Ward in The Story of the Opera (1998) considers Faust as, "one of the most noble French exports of the nineteenth and twentieth centuries", also describing it as "sugary and sentimental."
In the opening monologue, Rien! ... En vain j'interroge and in Mais ce Dieu, que peut-il faire pour moi? tenor Plácido Domingo in the title role is secure, strong and passionate, providing superbly intelligent singing. In his cavatina Salut, demeure chaste et pure he is memorable and equally confident. Faust's love duet with Marguerite, in the prima donna role, played by Mirella Freni Oui, c'est toi que j'aime is especially well performed conveying blissful happiness; tender and mesmerising.
Freni is dignified and expressive in her eleven-minute solo scene in Act 3 that commences with Je voudrais bien savoir…then Il était un Roi de Thulé…and Un bouquet!…O Dieu! que de bijoux! Her appealing account of the conclusion of the scene, the celebrated jewel song Ah! je ris de me voir is a highlight. In Marguerite's aria Elles se cachaient the soprano reaches the high notes with rapt assurance. The baritone Thomas Allen is convincing and telling in his role as Valentin. In Avant de quitter ces lieux he delivers an especially proud and meaningful performance. I enjoyed Allen's authoritative contribution to the virile Soldiers' Chorus Gloire immortelle to celebrate a victorious homecoming.
Soprano Michèle Command is a delightful and creamy-toned Siébel as she skilfully demonstrates in her arias Faites-lui mes aveux and Si le bonheur. The duet between Plácido Domingo (Faust) and the marvellous bass Nicolaï Ghiaurov (Méphistophélès) A moi les plaisirs is notably dramatic. The Wagnerian brass episode is quite superbly played (CD 1, track 5 at 2:52-3:29). I loved the grotesque quality that Ghiaurov gives to Méphistophélès' serenade Vous qui faites l'endormie and his contemptuous tirade in Le veau d'or.
The orchestra and chorus perform to a high standard throughout. Their interpretation of a mysterious summer's evening in the introduction to Act 3 is exceptional. Prêtre's forces combine to particularly fine effect in Quand du Seigneur with the organ at 3:55 (CD 2, track 20) making a great impression. The opening scene of the final Act Dans les bruyères is set on Walpurgis Night when witches gather on Brocken in the German Harz Mountains. Here Faust and Méphistophélès attend the revelry and we can enjoy a splendid evocation of the fantasy world of spirits, elves and fairies echoed from Mendelssohn's A Midsummer Night's Dream. I loved the magical conclusion where the dying Marguerite's soul ascends to heaven and in despair Faust genuflects in prayer. The exquisite entrance of the organ at (2:59, CD3, track 15) to augment the chorus and orchestra accentuates the emotion. The set closes with the seven pieces of ballet music as an appendix - a lovely independent suite.
This EMI Classics recording is impressive and well performed and recorded. I will return to this set often. Of the several other excellent versions in the catalogue my particular favourites are listed in order of preference at the end of the review.
On this reissued EMI Classics set the performance by this splendid cast is impressive. This is a version that will stand alongside the competing sets (listed above). However, some of the satisfaction is spoilt by the lack of full texts that should be regarded as de rigueur for an opera release. The five page synopsis is well-cued and there are also two pages of track numbers containing some bewildering aria titles. Trying to connect the two sources of information was a trial of tolerance. Furthermore, from the track number titles it is difficult to identify some of the popular pieces in the opera by name such as the: Jewel Song, Drinking Chorus, Spinning Song, The ballad of the King of Thule and the Flower Song. I had no problem with the pleasing and clear sound quality of the recording. The rather lacklustre presentation includes a decent enough essay by Richard Osborne. But it is the quality of the music and the performances that do the talking here. ---Michael Cookson, musicweb-international.com
download (mp3 @192 kbs):
yandex mediafire ulozto bayfiles
Last Updated (Sunday, 23 August 2020 09:09)