Othmar Schoeck - Das Schloss Dürande (2019)
Othmar Schoeck - Das Schloss Dürande (2019)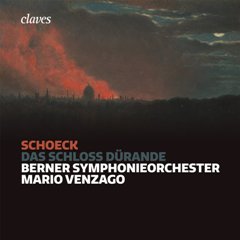 01. Das Schloss Dürande, Op. 53, Act I: "Ein junger, fremder Mann"
02. Das Schloss Dürande, Op. 53, Act I: "Am liebsten würd ich nach dem Fremden zielen"
03. Das Schloss Dürande, Op. 53, Act I: Still! Da amtet es im Wald
04. Das Schloss Dürande, Op. 53, Act I: "Renald, so falsch, so dumm!"
05. Das Schloss Dürande, Op. 53, Act I:"Sie beteuerte, dass sie es nicht wisse"
06. Das Schloss Dürande, Op. 53, Act I: "Wie heuchlerisch du das erzählst!"
07. Das Schloss Dürande, Op. 53, Act I: "Was hast du da-Zeig her!"
08. Das Schloss Dürande, Op. 53, Act I: "Gute Nacht, mein selig Vater und Mutter" (Duett)
09. Das Schloss Dürande, Op. 53, Act I: "Gabriele, sie lauschte am Fenster" (Arie)
10. Das Schloss Dürande, Op. 53, Act I: "Verzeih mir, Bruder, im Zimmer ist eine so dumpfe Luft!"
11. Das Schloss Dürande, Op. 53, Act I: "Was will sein Stampfen und Pochen"" (Arie)
12. Das Schloss Dürande, Op. 53, Act I: "Gabriele! Alles leer!"
13. Das Schloss Dürande, Op. 53, Act I: "Ich hab gesehn ein Hirschlein schlank" (Jägerlied)

14. Das Schloss Dürande, Op. 53, Act II: "Angelus Domini"
15. Das Schloss Dürande, Op. 53, Act II: "Eine Gems auf dem Stein"
16. Das Schloss Dürande, Op. 53, Act II: "Sie legte den Kopf auf ihr Bündel"
17. Das Schloss Dürande, Op. 53, Act II: "Es ist nun der Herbst gekommen"
18. Das Schloss Dürande, Op. 53, Act II: "Ich möchte mich gerne bei Nacht verirren" (Arie)
19. Das Schloss Dürande, Op. 53, Act II: "Wein gereift im Sonnenstrahl"
20. Das Schloss Dürande, Op. 53, Act II: "Renald Dubois, warum so gehetzt ""
21. Das Schloss Dürande, Op. 53, Act II: "Wie, so geschwind wieder bei Kräften ""
22. Das Schloss Dürande, Op. 53, Act II: "Wer beschreibt die große Freude"
23. Das Schloss Dürande, Op. 53, Act II: "Ich schwang mich auf vom Gitter"
24. Das Schloss Dürande, Op. 53, Act II:"O, wie mich der Gedanke mitten ins Leben trifft ! "
25. Das Schloss Dürande, Op. 53, Act II: "Der zweite Schluck vom neuen Wein"
26. Das Schloss Dürande, Op. 53, Act II: "Er in Paris, sie hier im Kloster !"
27. Das Schloss Dürande, Op. 53, Act II: "Gestern, Brüder, könnt ihrs glauben !"
28. Das Schloss Dürande, Op. 53, Act II: "Endlich am Ort der ehrwürd'gen Frauen"
29. Das Schloss Dürande, Op. 53, Act II: "Zum Teufel, wo sind meine Sachen ""
30. Das Schloss Dürande, Op. 53, Act II: "Hi hi ! Sie sind in Paris !"
31. Das Schloss Dürande, Op. 53, Act II: "Bleibe er brav !"

32. Das Schloss Dürande, Op. 53, Act III: "Ihr Leute von Paris !"
33. Das Schloss Dürande, Op. 53, Act III: "Sie kommen aus dem Süden her, sagen Sie ""
34. Das Schloss Dürande, Op. 53, Act III: "Er will sein Recht vom Grafen von Dürande"
35. Das Schloss Dürande, Op. 53, Act III: "Ein Advokat, ein niemals angelangter"
36. Das Schloss Dürande, Op. 53, Act III: "Herz, in deinen sonnenhellen Tagen"
37. Das Schloss Dürande, Op. 53, Act III: "Wer ist der Herr, den wir erwarten ""
38. Das Schloss Dürande, Op. 53, Act III: "Mein Diener Nicolas hat den Raum bestimmt"
39. Das Schloss Dürande, Op. 53, Act III: "Ich kann dein Held nicht sein !"
40. Das Schloss Dürande, Op. 53, Act III: "Fortgespült der Garten"
41. Das Schloss Dürande, Op. 53, Act III: "Nachts durch die stille Runde"
42. Das Schloss Dürande, Op. 53, Act III: "Herr Wirt, die Polizei !"
43. Das Schloss Dürande, Op. 53, Act III: "Nun, lieber Graf, erwacht vom Träumen "" (Duett)
44. Das Schloss Dürande, Op. 53, Act III: "Der Liebste ist davongegangen" (Arie)
45. Das Schloss Dürande, Op. 53, Act III: "Gefunden ! In Nacht und Bangen
46. Das Schloss Dürande, Op. 53, Act III: "Der Jäger frei !"

47. Das Schloss Dürande, Op. 53, Act IV: "Was für eine Welt !"
48. Das Schloss Dürande, Op. 53, Act IV: "Achille, Hyppolit Ferdinande !"
49. Das Schloss Dürande, Op. 53, Act IV: "Nur knapp entkommen !"
50. Das Schloss Dürande, Op. 53, Act IV: "Da draussen gellt die verrückte Zeit" (Arie)
51. Das Schloss Dürande, Op. 53, Act IV: "Lasst mich herein, ich muss zum Grafen !"
52. Das Schloss Dürande, Op. 53, Act IV: "Könnt ich mich niederlegen"
53. Das Schloss Dürande, Op. 53, Act IV: "Auf die Höh'n ! die Schauer wehen!" (Arie)
54. Das Schloss Dürande, Op. 53, Act IV: "Wie von Nacht verhangen"
55. Das Schloss Dürande, Op. 53, Act IV: "Da steht im Wald geschrieben" (Arie)
56. Das Schloss Dürande, Op. 53, Act IV: "Ich bin zu spät !"
57. Das Schloss Dürande, Op. 53, Act IV: "Mein Liebster ! Bei dir !"
58. Das Schloss Dürande, Op. 53, Act IV: "Der Wind hat's gebracht und genommen"
59. Das Schloss Dürande, Op. 53, Act IV: "Gerächt die Schande der Schwester"
60. Das Schloss Dürande, Op. 53, Act IV: "Da ist der alte Baum nicht mehr"

Renald Dubois - Robin Adams
Gabriele, his sister - Sophie Gordeladze
Count Armand, son of the old Count - Uwe Stickert
Prioress - Hilke Andersen
The old Count - Andries Cloete
Nicolas, the old Count's valet - Jordan Shanahan
Countess Morvaille - Ludovica Bello
A gamekeeper / Buffon the innkeeper - Todd Boyce
A gardener's boy, the orator of the mob, 1st huntsman - Michael Feyfar
1st nun - Jinsook Lee
2nd nun - Vilislava Gospodinova
A lawyer, 3rd huntsman - Nazariy Sadivskyy
Commissar - Andres Del Castillo
2nd huntsman, soldier - Carl Rumstadt
A policeman - David Park
A constable - Samuel Thompson
A Parisian - Carlos Nogueira
A voice - Bareon Hong

Orchestra Berne Symphony
Conductor - Mario Venzago

This reworking of Das Schloss Dürande aims to restore to the international operatic stage a significant opera of late-tonal Modernism that in the long term will have to find its own way into the repertoire alongside the works of Richard Strauss, Leoš Janáček, Franz Schreker and Alexander Zemlinsky.
Its late-Romantic style, which is common to the "lyrical" Schoeck of the songs and the "dramatic" Schoeck of the opera Penthesilea, here explores the very boundaries of what the idiom would allow.
At the same time, both these aspects of his oeuvre are so closely interwoven that the result in Dürande – which we are now able to rediscover for ourselves – is wholly autonomous and appropriate to its subject, almost postmodern in conception, and still capable of sweeping us off our feet today. ---Thomas Gartmann, claves.ch
It goes without saying that this opera – given the stigmatising circumstances of its genesis and its performance history as described above – cannot be performed again in its original form. I made an initial, somewhat half-hearted attempt at radically excising Burte's makeshift rhymes and dramaturgically trite text from the score, leaving just the music behind.
And it was only then that I recognised the impact of the music, its power and immediate sincerity. I also grasped that Schoeck had obviously composed his music over long stretches before even getting the text from his librettist. Without the text, without any words, the music itself tells the story of Eichendorff's novella in a compelling, unambiguous manner. I also recognised those passages where the composer had been compelled to extend his phrases and patch together bars in order to accommodate Burte's laborious verses more or less creditably.
These joins have remained so visible that we can open them up again without damage to the musical substance, and then with a certain amount of skill we can simply let the new verses flow into the music – without Burte's excrescences. When I listen to the performance documented on this CD, I experience just what I had so very much hoped for: the almost addictive rapture of the great Othmar Schoeck, with his visionary voice. This work is undoubtedly one of the most extraordinary to have ever come from his pen.
In fact, it's really his unspoken magnum opus. As in his other works from the war years, he continues to employ a musical vocabulary here that was already long out of date, if not in fact obsolete. We find much that is tonal and familiar, but so passionate and cleverly packaged that it doesn't just come across as utterly authentic and appropriate, but also as exciting, new, and deeply modern. Either way, it's unique!
This CD is essentially the second step of an unparalleled project that was initiated by the Bern University of the Arts. In his book "Zurück zu Eichendorff!" – Zur Neufassung Othmar Schoecks historisch belasteter Oper "Das Schloss Dürande", Thomas Gartmann offers a meticulous documentation of the whole process of restoration, so that everyone can judge for themselves if it has been a success – ethically, morally and artistically. Because in this second step, our concern is solely the music that everyone can now assess in its new context. It was our aspiration to present this ecstatic, richly colourful score on this CD as closely as possible to how it sounded at its recent world première.
So we have made hardly any edits, and engaged in no recording "tricks" at all. The singers mastered their task magnificently, and any little irregularities in their diction have been left untouched here. It is the listeners who will ultimately have to decide whether the implicit final step of our experiment can be undertaken: which is no less than the reintegration of Das Schloss Dürande into the operatic repertoire. ---Mario Venzago, claves.ch
download (mp3 @320 kbs):
yandex mediafire ulozto cloudmail.ru bayfiles