Gaetano Donizetti - Le Convenienze ed Inconvenienze Teatrali (1997)
Gaetano Donizetti - Le Convenienze ed Inconvenienze Teatrali (1997)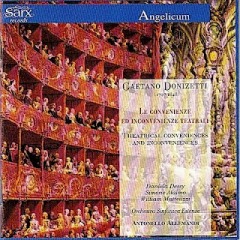 CD1
01. Act I Cori, Attenti E A Tempo Entrate
02. Ah, Vicino E Il Bel Momento
03. Brava! Ma Veramente La Cabaletta
04. Dica Un Po Signor Maestro
05. Si Lei Vuolere Per Mia Cavatina
06. Ottimamente
07. Mascalzoni! Sfaccendati! Piu Creanza, Piu Risopetto
08. Che Invenzione Sublime!
09. Che Credete Che Mia Moglie
10. Or S'e Parlato Di Arie E Di Rondo
11. Quel Ciglio Amoroso
12. Mio Dio Son Rovinato
13. Oh Povero Me, Povera La Mia Musica
14. Livorno, 6 Gennaio
15. Qual Scena E Questa
16. Dunque Andiamo, Amici Cari

CD2
01. Quest'abito Vi Dico Che Sta Male
02. Bona Tempora Currunt!
03. Ah! Tu Mi Vuoihi!
04. Assisa A Pie' D'un Sacco
05. Arrivano Le Naiadi Invitate Da Minerva
06. E Puoi Goder Tiranno
07. Signori L'aria Di Baule'
08. Il Mio Sogno E Debuttare
09. Viva Il Gran Romolo
10. Son Guerriero
11. Vergine Sventurata

Corilla Scortichini - Daniela Dessy
Procolo Cornacchia - Franco Sioli
Luigia Scannagalli - Lauretta Perasso
Mamma Agata - Simone Alaimo
Guglielmo Antolstoinoloff - William Matteuzzi
Biscroma Strappaviscere - Giuseppe Lamazza
Prospero Salsapariglia - Armando Ariostini

Orchestra Sinfonica Estense
Coro del Teatro dell'Opera Giocosa
Antonello Allemandi, 1981

Le convenienze ed inconvenienze teatrali (Conventions and Inconveniences of the Stage), also known as Viva la mamma, is a dramma giocoso, or opera, in two acts by Gaetano Donizetti. The Italian libretto was written by Domenico Gilardoni, adapted from Antonio Simone Sografi's plays Le convenienze teatrali (1794) and Le inconvenienze teatrali (1800).
The title refers to the convenienze, which were the rules relating to the ranking of singers (primo, secondo, comprimario) in 19th-century Italian opera, and the number of scenes, arias etc. that they were entitled to expect.
The opera was originally a one act farsa based on Le convenienze teatrali; this version premiered at the Teatro Nuovo, Naples on 21 November 1827. Donizetti revised it and added recitatives and material from Le inconvenienze teatrali; this final version premiered at the Teatro alla Cannobiana, Milan on 20 April 1831.
Convenienze had its first major modern revival in 1963 in Sienna, and has subsequently appeared in a number of translations and under various titles, most notably as Viva la mamma, a German adaptation presented in Munich in 1969 .
In the UK, the first staged performance was not given until 9 April 1976 by an amateur company, the Harrow Opera Workshop,[1] but that performance had been preceded by a 1969 BBC broadcast under the name of Upstage and Dowstage and in 1972 Opera Rara produced the one-act version in English as The Prima Donna's Mother is a Drag. In the US, the first production was given in Terre Haute, Indiana on 2 April 1966.
A 2004 production at the Opera of Monte Carlo starred June Anderson. In October 2009, the opera was performed at La Scala as Le Convenienze ed Inconvenienze Teatrali, under the direction of Marco Guidarini.
Synopsis
    Time: 18th century
    Place: "A provincial Italian theatre"

A regional (and mediocre) operatic troupe is rehearsing a new work -- Romulus and Ersilia -- and faces numerous obstacles. The Prima Donna acts every bit the diva, refusing to rehearse. The German tenor cannot master either the lyrics or melodies. In the midst of much quarrelling, various singers threaten to walk out. The situation turns more dire with the arrival of Mamma Agatha (a baritone role), the mother of the Seconda Donna. She insists on a solo for her daughter and even issues detailed demands on the musical arrangement of the aria. When the German tenor refuses to go on, he is replaced by the Prima Donna's husband. The show eventually collapses, and rather than pay back all the investors (whose money has already been spent), the company flees the town under cover of night.
download:  uploaded anonfiles yandex 4shared solidfiles mediafire mega filecloudio
Last Updated (Wednesday, 30 October 2013 15:29)