Craig Armstrong - It's Nearly Tomorrow (2014)
Craig Armstrong - It's Nearly Tomorrow (2014)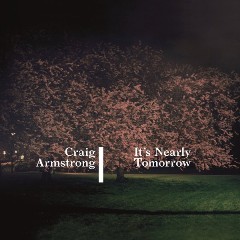 1 	Outside 	2:26
2 	Dust    (Featuring – Jerry Burns)	6:24
3 	Sing 	4:34
4 	Strange Kind Of Love    (Featuring – Katie O'Halloran)	3:44
5 	Désolé 	6:39
6 	Crash    (Featuring – Brett Anderson)	3:51
7 	Violet 	3:51
8 	Powder    (Featuring – James Grant, Jerry Burns)	4:30
9 	Lontano 	5:50
10 	Inside    (Featuring – Chris Botti)	2:58
11 	All Around Love    (Featuring – Paul Buchanan)	2:32
12 	15 Summers 	4:46
13 	Its Nearly Tomorrow    (Featuring – Vladislav Delay)	5:22
14 	Tender 	2:12
15 	It's Not Alright    (Featuring – Paul Buchanan)	4:37
16 	Early Sun 	2:36
17 	Endings 	2:22

Acclaimed composer Craig Armstrong's It's Nearly Tomorrow his first new album in six years, featuring long term Glasgow collaborators Paul Buchanan, Jerry Burns, James Grant and Kate O'Halloran. Other guests include Brett Anderson, Vladislav Delay (The Dolls), and Chris Botti on trumpet. It's Nearly Tomorrow was written over three years while Craig worked in his Glasgow studio on various orchestral projects including the score for Baz Lurhmann's The Great Gatsby and a new opera The Lady From The Sea for Scottish Opera. The album was recorded all over the world: Glasgow, Babelsberg - Berlin, Prague, London, Sweden, Finland and Los Angeles.
This beautiful new record is comprised of songs, piano tracks and orchestral works that reflect the many sides Craig Armstrong as a composer and his love for music in all forms. ---discogs.com
You always know where you are with this Glasgow composer. Armstrong has earned his corn with soundscapes of distinction for film-makers (Baz Luhrmann) and acts (U2, Massive Attack, Madonna). A solo work in name, It's Nearly Tomorrow pulls in vocal contributions from Paul Buchanan, Brett Anderson, Katie O'Halloran and James Grant. It's a vibrant album full of nocturnal musing and moods.
The presence of Buchanan is telling – It's Nearly Tomorrow owes much to The Blue Nile's broody conjurings of starry Glasgow rooftops and deserted streets. Though recorded around the world, there's a sense of the composer and musicians bringing it all back home. Armstrong's piano work and orchestral piping is wistful and dramatic, providing the songs with robust heft, and sending the listener dreaming into the night. ---irishtimes.com
download (mp3 @320 kbs):