Chopin - Die Klavierkonzerte und Klavierwerke solo CD01 (2007)
Chopin - Die Klavierkonzerte und Klavierwerke solo CD1 (2007)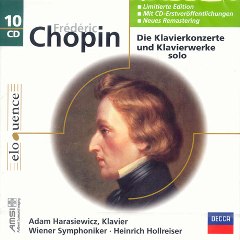 Piano Concerto No. 1 in E minor, op. 11	
1.1	Allegro maestoso	 	19:47
1.2	Romance: Larghetto	 	9:31
1.3	Rondo: Vivace	 	9:57

	Piano Concerto No. 2 in F minor, op. 21 
1.4	Maestoso	 	14:00
1.5	Larghetto	 	9:33
1.6	Allegro vivace	 	8:29

Adam Harasiewicz - piano
Wiener Symphoniker
Heinrich Hollreiser – conductor

Adam Harasiewicz – winner 1st place V Fryderyk Chopin International Piano Competition in Warszawa (1955). A.H. began piano lessons at ten years of age under K. Mirski and Janina Illasiewicz-Stojałowska in Rzeszów. At age 15, he won first place in the Competition of Young Talents in Rzeszów. One year later, he took part in the elimination competition for the IV International Chopin Competition. He studied piano at the State Music Academy in Krakow under Prof. Zbigniew Drzewicki (1950-1956).
In 1955, Adam Harasiewicz won first place in the V Chopin Competition in Warszawa. Two years later, he won the Harriet Cohen Foundation medal, in London, for outstanding achievement in piano (1957).
After his triumphant success in the Chopin Competition, Harasiewicz began his intensive work as a virtuoso. He performed in all the European countries, in Asia and North America. He performed concerts with the most famous conductors and best orchestras in the world's more prestigious venues. During his tour of Japan, he played over one hundred concerts. He played a gala concert specially organised during the World Fair in Brussels (1958). In 1960, playing both Chopin's piano concertos with the New York Philharmonic, under the baton of conductor Stanisław Skrowaczki, at the United Nations headquarters, he inaugurated the Year of Chopin, marking the 150th anniversary of the genius composer's birth. That same year he was awarded the Ignacy Jan Paderewski Foundation's gold medal, in New York.
Adam Harasiewicz was most famous for his fabulous interpretation of Chopin's works. His playing, coloured by an undercurrent of nostalgia (best described by the Polish word 'żal' – meaning grief or lament in this context), reflects the composer's romantic style, while the beautiful, resounding and romantic sound of the pianist is capitalised on to add another dimension to Chopin's music. Balance between the lyrical element and showman-virtuoso in Harasiewicz's performance creates a virtually ideal end-product.
During the years 1958-1974, the artist immortalised the majority of Chopin's works in recordings for Philips (14 LPs) as well as several compositions by Liszt and Brahms. Additionally, for Polskie Nagrania 'Muza', he recorded Chopin's II Concerto in F minor with the National Philharmonic's Symphony Orchestra conducted by Kazimierz Kord (1979), and for Koch, Chopin's – Sonata in B minor, Ballade in A flat major, Nocturnes in D major, Op. 62 nr 1, Scherzo in E major, three mazurkas from Op. 63 as well as Polonaise in A flat major (1992).
Aside from sporadically holding master's courses for pianists as well as giving private artistic consultations to other virtuosos, Harasiewicz does not engage in pedagogical work. He does however occasionally sit on juries of international piano competitions, such as: Bolzano (1984), Saragoss (1987), Tern (1989) and Warszawa (Chopin Competition 1995, 2000). ---Stanisław Dybowski, en.chopin.nifc.pl
Adam Harasiewicz – laureat I nagrody V Międzynarodowego Konkursu Pianistycznego im. Fryderyka Chopina w Warszawie (1955). Adam Harasiewicz naukę gry na fortepianie rozpoczął w dziesiątym roku życia u K. Mirskiego i Janiny Illasiewicz-Stojałowskiej w Rzeszowie. Mając 15 lat zdobył I nagrodę na Konkursie Młodych Talentów w Rzeszowie. Rok później wziął udział w konkursie eliminacyjnym do IX Konkursu Chopinowskiego. Studia pianistyczne odbył w krakowskiej Państwowej Wyższej Szkole Muzycznej w klasie prof. Zbigniewa Drzewieckiego (1950-1956).
W 1955 roku Adam Harasiewicz został laureatem I nagrody V Konkursu Chopinowskiego w Warszawie. Dwa lata później otrzymał medal Fundacji Harriet Cohen w Londynie za wybitne osiągnięcia pianistyczne (1957).
Po swym tryumfalnym sukcesie na Konkursie Chopinowskim, Harasiewicz rozpoczął intensywną działalność wirtuozowską. Występował we wszystkich krajach europejskich, w Azji i Ameryce Północnej. Koncertował z najsłynniejszymi dyrygentami i najwspanialszymi orkiestrami w najbardziej prestiżowych salach. W czasie jednego tournée po Japonii dał ponad sto koncertów. Z okazji Wystawy Światowej w Brukseli (1958) uczestniczył w galowym koncercie. W 1960 r., wykonaniem obu koncertów fortepianowych Chopina z orkiestrą Filharmonii Nowojorskiej pod batutą Stanisława Skrowaczewskiego w siedzibie Organizacji Narodów Zjednoczonych, zainaugurował Rok Chopinowski w 150. rocznicę urodzin genialnego kompozytora. Tego samego roku nagrodzono pianistę złotym medalem Fundacji im. Ignacego Jana Paderewskiego w Nowym Jorku.
Adam Harasiewicz zasłynął głównie jako wspaniały interpretator dzieł Chopina. Jego wykonania oddają, zabarwiony nutą nostalgii (nazywanej polskim słowem "żal"), romantyczny styl kompozytora, a piękny, nośny, właśnie romantyczny dźwięk pianisty, wykorzystywany jest przezeń do nadania śpiewności muzyce Chopina. Równowaga między elementem lirycznym, a popisowo-wirtuozowskim w sztuce wykonawczej Harasiewicza uzyskuje kształt niemal doskonały.
W latach 1958-1974 artysta dla firmy fonograficznej Philips utrwalił większość dzieł Chopina (14 płyt LP) oraz kilka kompozycji Liszta i Brahmsa. Ponadto dla firmy płytowej Polskie Nagrania "Muza", zarejestrował II Koncert f-moll Chopina wraz z Orkiestrą Symfoniczną Filharmonii Narodowej pod dyrekcją Kazimierza Korda (1979), a dla firmy Koch, tegoż twórcy – Sonatę b-moll, Balladę As-dur, Nokturn H-dur op. 62 nr 1, Scherzo E-dur, 3 mazurki z op. 63 oraz Poloneza As-dur (1992).
Poza prowadzeniem sporadycznie kursów mistrzowskich dla pianistów oraz udzielaniem prywatnych konsultacji artystycznych koncertującym wirtuozom, Harasiewicz działalności pedagogicznej się nie poświęca. Bierze natomiast czasem udział w pracach jury różnych międzynarodowych konkursów pianistycznych, m.in. w Bolzano (1984), Saragossie (1987), Terni (1989) i Warszawie (Konkurs Chopinowski 1995, 2000). ---Stanisław Dybowski, pl.chopin.nifc.pl
download:  uploaded anonfiles mega 4shared mixturecloud yandex mediafire solidfiles
Last Updated (Wednesday, 02 October 2013 16:01)