Charpentier – Lecons de Tenebres du Vendredy Sainct (2007)
Charpentier – Lecons de Tenebres du Vendredy Sainct (2007)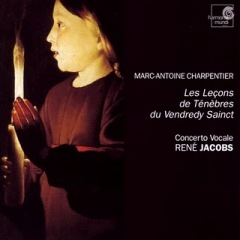 01. Première Leçon, H.105
02. Deuxième Leçon, H.106
03. Troisième Leçon, H.110

Judith Nelson: soprano
René Jacobs: countertenor
Wieland Kuijken: bass viol
William Christie: organ & harpsichord
Konrad Junghänel: theorbo
Concerto Vocale - René Jacobs (conductor)

Leçons de ténèbres, literally lessons of darkness, are a genre of French baroque music which developed from the polyphonic lamentations settings for the tenebrae service of Renaissance composers such as Sermisy, Gesualdo, Tallis, and Tomás Luis de Victoria into virtuoso solo chamber music.
The tenebrae service uses the text of the Lamentations of Jeremiah, originally deploring the Siege of Jerusalem (587 BC) and subsequent desolation of the city, but applied allegorically to the three days of mourning for Christ between crucifixion and resurrection.
However the context of the French Leçons de ténèbres was often private performance. Delalande's 15-year old daughter sang for Louis XIV first in his living rooms and then in chapel, becoming the praise of all Paris. Philidor's catalogue indicates that Delalande's three surviving virtuoso solo Leçons de ténèbres were composed for such occasions.
A complete set of Leçons de ténèbres for the full three days of Holy Week would have included nine lessons, with each of these leçons requiring the setting of specific texts from Lamentations, although the conventions of exactly which texts to set varied slightly from the Renaissance to the Baroque, and by local custom. The following respresents the typical French baroque schema set by Charpentier :
Holy Wednesday

    Première leçon pour le mercredi Saint - 1:1-5
    Deuxième leçon pour le mercredi Saint - 1:6-9
    Troisième leçon pour le mercredi Saint - 1:10-14

Holy Thursday

    Première leçon pour le jeudi Saint - 2:8-11
    Deuxième leçon pour le jeudi Saint - 2:12-15
    Troisième leçon pour le jeudi Saint - 3:1-9

Good Friday

    Première leçon pour le vendredi Saint - 3:22-30
    Deuxième leçon pour le vendredi Saint - 4:1-6
    Troisième leçon pour le vendredi Saint - 5:1-11

download:  uploaded anonfiles mega 4shared mixturecloud yandex mediafire solidfiles
Last Updated (Monday, 30 September 2013 17:04)