Brescianello - Concerti Sinfonie Ouverture (2011)
Brescianello - Concerti Sinfonie Ouverture (2011)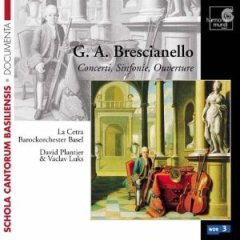 Symphony No. 5 in F major, Op. 1
Concerto for violin, oboe, strings & continuo in G minor
Violin Concerto No. 4 in E minor, Op. 1
Ouverture for 2 oboes, 2 violins, viola & continuo in G minor
Symphony No. 1 in D major, Op. 1
Concerto for violin, bassoon, strings & continuo in B flat major
Chaconne for 2 violins, 2 violas & continuo in A major

La Cetra Barockorchester Basel
Leit. David Plantier & Vaclav Luks

Brescianello was an Italian composer who spent many years working in Stuttgart. There is only one published work, Opus 1, but other unpublished manuscripts have been recently discovered.
This CD has 3 of the published works and 4 of the rediscovered, two sinfonie for two violins, viola and basso continuo; three concertos for violin, violin and oboe and violin and bassoon; an overture and finally a chaconne. This makes for a nicely varied program. The two sinfonies and the three concertos are very much in the Italian style of Vivaldi, although the cadenza in the third movement of the concerto for violin and oboe seems a bit out of place, we are not told if this was by Brescianello or by the soloist, David Plantier. The overture is in the French style, but sounds like it was written by an Italian, rather than a German such as Telemann. The cover notes say that the chacone is a tribute to Muffat, but it doesn't sound like the only Muffat I have, which is fortunate, as that is a set of six boring concerti grossi.
All the works are melodious and joyful, they will easily hold your attention, and are very well played by La Cetra Barockorchester Basel. The sound is excellent. I have no hesitation in giving this CD a strong recommendation and five stars.
download:  uploaded anonfiles mega 4shared mixturecloud yandex mediafire ziddu
Last Updated (Friday, 20 September 2013 21:35)