Georges Bizet – Ivan IV (1975)
Georges Bizet – Ivan IV (1975)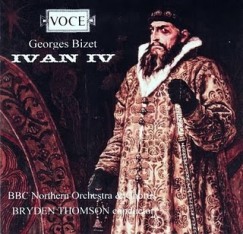 CD1
1. Introduction n.1 Puisons Mes Soeurs, L'eau Des Fontaines
2. Scene Et Morceau D Ensemble n.2 Mon Pere! Qu avez-vous
3. Final n.3 Victoire! Victoire!
4. Scene, Choeur Et Recit n.4 Sonnez, Eclatantes Fanfares!
5. Serenade n.5 Ouvre Ton Coeur A L'amour Qui M'emflamme
6. Recit Et Chant Du Cosak n.6 Eh! C est Un Chant De Femmes
7. Final n.7 Boyards, J'ai Fait Fouiller La Plaine Et La Montagne

CD2
1. Choeur Danse n.8 Sous Nos Pas Le Sol Resonne
2. Marche, Scene Et Choeur n.9 Silence, Le Csar S'avance
3. Duo n.10 Et Moi, J'aurais Quitte Mon Pere Vainement
4. Final n.11 N'est-ce Pas Toi, Jeune Homme
5. Choeur n.12 Trio Et Choeur Venez, Souveraine Adorée
6. Air n.13 Il Me Semble Parfois Que Ma Vie Est Un Songe!
7. Recit n.14 Pour La Fete De Nuit La Moskowa S'allume
8. Scene Et Recit n.15 Tiens, Lis Ce Billet
9. Recit Et Air n.16 Ma Vengeance Va Donc Etre Enfin Satisfaite
10. Duo n.17 Marie!_Igor!
11. Final n.18 Voyez!_Ah, Mon Ivan!

CD3
1. Marche Et Recit n.19 Qui Vive
2. Duo n.20 Enfin Le Jour Succede A L'ombre
3. Scene Finale n.21 A Mort, La Csarine Perfide!

Ivan IV - John Noble
Marie - Jeannette Scovotti
Igor - John Brecknock
Yorloff - Nielsen Taylor
Temrouk - Richard Angas
Le Jeune Bulgare - Patricia Kern

BBC Northern Orchestra and Chorus
Bryden Thomson, 1975

Ivan IV is an opera in five acts by Georges Bizet, with a libretto by Francois-Hippolyte Leroy and Henri Trianon. Bizet composed Ivan the Terrible in late 1862 and early 1863 for performance at the Baden festival in 1863 (which he had visited with Hector Berlioz, Gounod and Ernest Reyer). Dean also argues for Ivan pre-dating Les pêcheurs de perles on the basis of the more conspicuous weak passages in the score bearing witness to a less experienced stage composer; also several passages in Ivan are developed further in the 1863 work.
A manuscript score was found among the papers of Émile Straus (whom Bizet's widow had married) when he died in 1929, given to the Bibliothèque nationale, and put on public display at the Bizet Centennial Exhibition in 1938. A first concert performance with piano accompaniment may have taken place in 1940, and another in the winter of 1943 at the Théâtre des Capucins. When Choudens asserted their right to publish to score in 1943, Henri Büsser took over its preparation and, instead of following the almost complete manuscript, concocted his own 'performing version'.
Following a private performance of this revised score, at Mühringen Castle near Tübingen, it was performed at the Grand Théâtre de Bordeaux on 12 October 1951, the work then having performances in Cologne in April 1952, and Berne, Switzerland in December 1952. In the 1970s Howard Williams prepared a more faithful edition; the opera was broadcast by the BBC in October 1975, with Bryden Thomson conducting a mainly UK-based cast; this was issued on pirate records, but a subsequent French radio performance of March 2002 conducted by Michael Schønwandt was issued by Naïve.
download:  uploaded anonfiles mega 4shared mixturecloud yandex
Last Updated (Tuesday, 27 August 2013 10:23)