Georges Bizet - Les Pecheurs De Perles (1990)
Georges Bizet - Les Pecheurs De Perles (1990)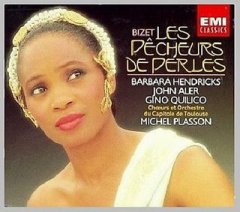 Disc: 1
1. Les Pêcheurs de perles, opera in 3 acts: Prélude
2. Les Pêcheurs de perles, opera in 3 acts: Act 1. No. 1.: 'Sur La Grève En Feu'
3. Les Pêcheurs de perles, opera in 3 acts: Act 1. No. 1.: 'Amis, Interrompez Vos Danses...'
4. Les Pêcheurs de perles, opera in 3 acts: Act 1. No. 1.: 'Demeure Parmi Nous, Nadir... Sur La Grève En Feu'
5. Les Pêcheurs de perles, opera in 3 acts: Act 1. No. 2.: 'C'est Toi, Toi Qu'enfin Je Revois'
6. Les Pêcheurs de perles, opera in 3 acts: Act 1. No. 2.: 'Au Fond Du Temple Saint'
7. Les Pêcheurs de perles, opera in 3 acts: Act 1. No. 3.: 'Que Vois-Je?'
8. Les Pêcheurs de perles, opera in 3 acts: Act 1. No. 3.: 'Sois La Bienvenue'
9. Les Pêcheurs de perles, opera in 3 acts: Act 1. No. 3.: 'Seule Au Millieu De Nous... Brahma, Divin Brahma!'
10. Les Pêcheurs de perles, opera in 3 acts: Act 1. No. 4.: 'A Cette Voix'
11. Les Pêcheurs de perles, opera in 3 acts: Act 1. No. 4.: 'Je Crois Entendre Encore'
12. Les Pêcheurs de perles, opera in 3 acts: Act 1. No. 5.: 'Le Ciel Est Bleu'
13. Les Pêcheurs de perles, opera in 3 acts: Act 1. No. 5.: 'O Dieu Brahma'
14. Les Pêcheurs de perles, opera in 3 acts: Act 2. No. 6.: 'L'Ombre Descend Des Cieux'
15. Les Pêcheurs de perles, opera in 3 acts: Act 2. No. 7.: 'Me Voilà Seule Dans La Nuit...Comme Autrefois'

Disc: 2
1. Les Pêcheurs de perles, opera in 3 acts: Act 2. No. 8.: 'De Mon Amie Fleur Endormie'
2. Les Pêcheurs de perles, opera in 3 acts: Act 2. No. 9.: 'Leïla! Leïla! Dieu Puissant'
3. Les Pêcheurs de perles, opera in 3 acts: Act 2. No. 10.: 'Ah! Revenez À La Raison'
4. Les Pêcheurs de perles, opera in 3 acts: Act 3. Part 1. No. 11.: 'L'Orage S'Est Calmé... O Nadir'
5. Les Pêcheurs de perles, opera in 3 acts: Act 3. Part 1. No. 12.: 'O Ciel! Quel Trouble...'
6. Les Pêcheurs de perles, opera in 3 acts: Act 3. Part 1. No. 12.: 'Je Frémis, Je Chancelle'
7. Les Pêcheurs de perles, opera in 3 acts: Act 3. Part 1. No. 12.: 'Entends Au Loin Ce Bruit De Fête'
8. Les Pêcheurs de perles, opera in 3 acts: Act 3. Part 2. No. 13.: 'Dès Que Le Soleil'
9. Les Pêcheurs de perles, opera in 3 acts: Act 3. Part 2. No. 14.: 'Sombres Divinités...O Lumière Sainte'
10. Les Pêcheurs de perles, opera in 3 acts: Act 3. Part 2. No. 15.: 'Le Jour Enfin Perce La Nue'
11. Les Pêcheurs de perles, opera in 3 acts: Act 3. Appendice.: 'C'est Toi, Toi Qu'enfin Je Revois... Amitié Sainte'

John Aler (Tenor)
Gino Quilico (Baritone)
Barbara Hendricks (Soprano)
Jean-Phillipe Courtis (Bass) 
Choeurs et Orchestre du Capitole de Touluse
Michel Plasson - conductor

This recording is a must have. For many years after it's premiere. "The Pearl Fishers" held a place in the repertoire nearly as important as "Carmen", but its popularity dropped significantly during the course of the 20th century. A compelling case for the opera is made with this recording. Barbara Hendricks, John Aler, and Gino Quilico are three of the most stylish, musical, and intelligent singers of their generation. They constitute an un-French cast proving to be (as each has done elsewhere) remarkable exponents of French style. They each contribute a beautiful, idiomatic performance that is truly glorious. Hendricks and Aler are just plain exquisite. Quilico is the best Zurga on record, and his dynamic performance keeps the dramatic balance on the baritone.
Michele Plasson leads a wonderful performance, capturing Bizet's atmospheric colors and dramatic contrasts with a skill hardly equaled on other recordings. He utilizes the orchestra and chorus to maximum effect throughout. The dramatic choral finale of the second act is magnificent and spine tingling; in lighter passages of the score when delicacy is called for, that is what is delivered.
Questions of performance edition, and what is and is not really Bizet, are points well covered elsewhere. However, I must praise the choice here to end the opera with the cathartic reprise of the melody from the Act 1 tenor / baritone duet. Sung by the tenor and soprano in the finale, it reinforces the conflicted friendship between the two men as the thematic and moral center if the opera.
Given the performances, conducting, and recorded sound superior to earlier releases, this recording is a clear first choice. ---"daniel0302", amazon.com
download:  uploaded anonfiles mega 4shared mixturecloud yandex mediafire ziddu
Last Updated (Tuesday, 27 August 2013 18:21)