Hector Berlioz - Romeo and Juliet (Maazel)
Hector Berlioz - Roméo Et Juliette (Maazel)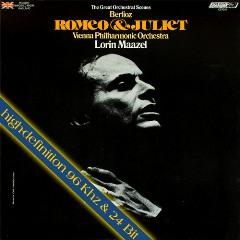 Part One
A1 Introduction - Combats - Tumulte - The Prince Intervenes 		
A2 Prologue 		
  	Part Two
B1 Roméo Seul. Tristesse – Bruits Iontains De Concert Et Bal – Grande Fête Chez Capulete 		
  	Part Three
B2 Nuit Sereine. Le Jardin De Capulet, Silencieux Et Désert. Les Jeunes Capulets, Sortant De La Fête, Passent En Chantant Des Rémini Scences De La Musique Du Bal – Scène D'amour 		
  	Part Four
C1 Scherzo. La Reine Mab, Ou La Fée Des Songes Part III 		
C2 Convoi Funèbre De Juliette 		
C3 Roméo Au Tombeau Des Capulets. Invocation – Réveil De Juliette – Joie Délirante, Désespoir, Dernières Angoisses Et Mort De Deux Amants 		
  	Finale
D1 La Foule Accourt Au Cimetière. Rixe Des Capulets Et Des Montagus. Quoi! Roméo De Retour! Récitatif Et Air Du Père Laurence. Mais Vous Avez Repris La Guerre De Famille! Serment De Réconciliation

Christa Ludwig (Mezzo Soprano), 
Michel Sénéchal (Tenor), 
Nicolai Ghiaurov (Bass)

Vienna Philharmonic Orchestra
Lorin Maazel – conductor

Recorded December 1973 in the Sofiensaal, Vienna

Roméo et Juliette is a "symphonie dramatique", a large-scale choral symphony, which was first performed on 24 November 1839. The libretto was written by Émile Deschamps and the completed work was assigned the catalogue numbers Op. 17 and H.79. It is based on Shakespeare's play Romeo and Juliet; it is regarded as one of Berlioz's finest works, and it is among the most original in form. The score is Berlioz's most comprehensive and detailed programmatic piece.
Structurally and musically, Roméo et Juliette is most indebted to Beethoven's 9th symphony - not just due to the use of soloists and choir, but in factors such as the weight of the vocal contribution being in the finale, and also in aspects of the orchestration such as the theme of the trombone recitative at the Introduction. The roles of Roméo and Juliette are represented by the orchestra, and the narrative aspects by the voices. Berlioz's reasoning follows:
If, in the famous garden and cemetery scenes, the dialogue of the two lovers, Juliet's asides, and Romeo's passionate outbursts are not sung, if the duets of love and despair are given to the orchestra, the reasons for this are numerous and easy to understand. First, and this reason alone would be sufficient, it is a symphony and not an opera. Second, since duets of this nature have been treated vocally a thousand times by the greatest masters, it was wise as well as unusual to attempt another means of expression.
download:  uploaded anonfiles mega 4shared mixturecloud yandex mediafire ziddu
Last Updated (Sunday, 25 August 2013 20:48)