Grażyna Bacewicz ‎– Przygoda Krola Artura (The Adventure Of King Arthur) [2009]
Grażyna Bacewicz ‎– Przygoda Krola Artura (The Adventure Of King Arthur) [2009]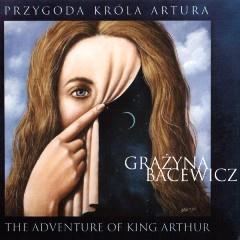 1 	Overture 	2:12
2 	Bard – At Whitsuntide King Arthur 	0:24
3 	Choir – At Whitsuntide King Arthur 	1:23
4 	King Arthur – Aha, I Know 	1:10
5 	King Arthur – Give Me My Sword 	0:40
6 	Knight – But Why, O King 	0:33
7 	Maiden – The Horses Are Neighing 	0:33
8 	Bard – King Arthur Set Out Armed 	0:30
9 	Giant – Heh Heh Heh. The Knight Cadaver Has Awakened Me 	1:07
10 	Bard – The King Circles The Lake 	0:16
11 	Giant – Heh Heh Heh 	0:22
12 	Bard – Oh Oh Oh, The Horse Fell 	0:56
13 	Giant – Listen, I'll Give You Some Conditions 	3:10
14 	Bard – The King Returned To The Castle 	0:13
15 	Choir – The King Returned To The Castle 	2:02
16 	Queen – They Desire Love 	0:31
17 	Wise Woman – The Queen Is Beautiful And Happy 	2:26
18 	Matronly Lady – Charm I Have 	0:54
19 	Servant Girl – As A Servant Girl 	1:05
20 	Venerable Lady – My Sister 	0:50
21 	Devout Lady – Health, It's True 	0:27
22 	King Arthur – Who Else Of The Wise Has Not Spoken? 	3:17
23 	Page – Lady Morgan Le Fay 	0:37
24 	Bard – Step By Step, King Arthur Rode To The Giant In The Forst 	0:24
25 	Giant – Heh Heh Heh 	2:30
26 	Bard – And Once Again King Arthur Returned 	0:27
27 	Witch – King Arthur, King Arthur 	3:54
28 	Bard – Arthur Returned To His Castle Hale 	1:14
29 	King Arthur – I Shall Give The Giant The Answer 	0:42
30 	King Arthur – Bring In The Old Woman 	1:11
31 	Gawain – I Shall Marry Her, King Arthur 	0:42
32 	Bard – At A Gallop, At A Gallop 	0:19
33 	Giant – Heh Heh, You Have Returned Quickly 	1:13
34 	Bard – To The Castle Returned King Arthur 	0:59
35 	Witch Bride – Sir Gawain, My Lord 	2:01
36 	Gawain – Oh Sweet Rose, Open Up Your Petals 	3:40
37 	Choir – How Great Is The Power Of Love 	0:25
38 	Bard – At Whitsuntide King Arthur A Strange Adventure Did Have 	1:02

Narrator [Bard] – Zbigniew Zamachowski
Soprano Vocals [Oblubienica, Pani Madra, Pani Sedziwa / Bride, Wise Woman, Venerable Lady] – Katarzyna Trylnik
Soprano Vocals [Panna, Dziewka Sluzebna / Maiden, Servant Girl] – Anna Karasinska
Mezzo-soprano Vocals [Krolowa, Matrona, Pani Pobozna / Queen, Matronly Lady, Devout Lady] – Agnieszka Makówka
Alto Vocals [Wiedzma / Witch] – Jadwiga Rappé
Tenor Vocals [Krol Artur / King Arthur] – Ryszard Minkiewicz
Tenor Vocals [Mlody Rycerz / Young Knight] – Aleksander Kunach
Baritone Vocals [Gavein, Goniec / Gawain, Page] – Przemyslaw Rezner
Bass Vocals [Olbrzym / Giant] – Daniel Borowski

Choir [Rycerze I Dworzanie / Knights And Courtiers] – Polish Radio Choir In Kraków
Polish Radio Symphony Orchestra
Conductor – Lukasz Borowicz

Comic Radio Opera In One Act (1959), From Celtic Tales (After Sigrid Undset).
Libretto By Edward Fiszer
Recorded at the Witold Lutoslawski Polish Radio Concert Studio, Warsaw, October 12-14, 2009.

While King Arthur is banqueting with his knights, a frightened Maiden bursts in and informs about the Giant, a great lover of virgins, ravaging the surrounding countryside. Arthur sets off to defeat him, but being defeated himself, he has to agree to the Giant's conditions: within three days he is to solve a riddle: ''What do all women desire?'', otherwise he will be killed. In the castle, King Arthur has asembled worldly-wise matrons, innocent maidens, charming ladies, slaves and milk-maids to ask their advice. He receives different answers: love, jewellery, children's happiness, a husband, health. A young knight, supported by others, claims that women long for change; Morgana says that such a question is not for women to answer as they keep changing their minds. All the answers are then presented to the Giant by King Arthur. but all turn out to be wrong. The Giant gives the King one more chance: the deadline for solving the riddle will be extended. An old Witch promises to help Arthur in exchange for a young husband. The right answer is: every woman wants to get her own way. Gavein agrees to marry the horrible Witch, who during the wedding night is transformed into a beautiful girl (being under a spell she lives as an old woman for twelve hours and as a young beauty for another twelve). ---pwm.com.pl/en/
"Bawiłam się, pisząc operę o królu Arturze - pragnę, aby z kolei słuchacze się bawili" - napisała Grażyna Bacewicz, skomponowawszy komiczną operę radiową, opartą na celtyckich motywach. Autorem libretta był Edward Fiszer, który skorzystał z wydanej wówczas "Legendy o Królu Arturze i Rycerzach Okrągłego Stołu", niezwykle popularnej u nas w latach 50. laureatki nagrody Nobla - Sigrid Undset.
Postać bajecznego króla Celtów i jego przygody wykorzystuje niezliczona ilość autorów, począwszy od benedyktyńskiego mnicha Goffreya w XII w., Henry Purcella, autora opery, aż po Marka Twaina i wspomnianą Undset. Któż zatem nie słyszał o św. Grallu, Lancelocie, Parsifalu, Merlinie, Ekskaliburze czy Guineverze? W operze Bacewicz wybrany jest tylko jeden wątek legendy, a mianowicie zagadki, zadanej królowi Arturowi przez Olbrzyma - czego pragną wszystkie kobiety? Odpowiedź poznają ci, którzy wysłuchają płyty. Zaś sama muzyka? Trudno porównać ten utwór z innymi kompozycjami Bacewicz. Z jednej strony zawiera idiom charakterystyczny dla tej artystki, z drugiej - jest całkowicie odmienna stylistycznie od znanych jej utworów. Chwała Polskiemu Radiu za przypomnienie tego dzieła. Znakomici soliści bawiący się formą i świetny Borowicz. ---Barbara Tenderenda, audio.com.pl
download (mp3 @320 kbs):