Andreas Scholl – English Folksongs and Lute Songs (1996)
Andreas Scholl – English Folksongs and Lute Songs (1996)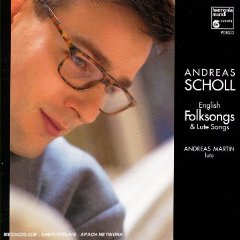 1.	Behold a wonder here, for voice, lute & bass viol (Third Book of Songs)
2.	Me, me, and none but me, for 4 voices & lute (Third Book of Songs)
3.	All ye whom love or fortune hath betrayed (First Book of Songs), for 4 voices & lute
4.	The Lady Russell's Pavan, for lute, P 17
5.	The Three Ravens, folk song
6.	O Waly, Waly, folk song
7.	King Henry, folk song
8.	Kemp's Gigue
9.	My sweetest Lesbia
10.	I Care Not for These Ladies for voice, lute & bass viol
11.	My Love Hath Vowed Hee Will Forsake Mee for voice, lute & bass viol
12.	I saw my lady weep, for 2 voices & lute (Second Book of Song)
13.	Flow, my tears, fall from your springs, for 2 voices & lute (Second Book of Songs)
14.	Sorrow, stay, lend true repentant tears, for 2 voices & lute (Second Book of Songs)
15.	Say, Love if ever thou didst find, for 4 voices & lute (Third Book of Songs)
16.	Can she excuse my wrongs, for 4 voices & lute (First Book of Songs)
17.	Go from my window, song arranged for lute, P 64
18.	Go from my window, song arranged for lute, P 64
19.	I Will Give My Love an Apple, folk song
20.	Barbara Allen, folk song
21.	Lord Rendall, folk song

Andreas Scholl - Counter Tenor
Andreas Martin - Lute 
The CD starts with Behold a Wonder Here (Dowland) and for people familiar with Emma Kirby's rendering, it's a bit of a surprise. Nothing namby-pamby about this: it suits Andreas's range perfectly and he lets go with plenty of oomph.
The unaccompanied King Henry is a showcase for his purity of tone. I doubt that other countertenors could pull this song off so well, of those one thinks of at the present time.
His expression in My Love Hath Vow'd (Campion) is very varied and playful, but it is so very much a woman's song that I found it hard to take from Andreas Scholl, albeit sung so so well. I had to imagine the composer singing with his own lute, and remind myself over and over again that the singer is quoting the woman in the song ...
The preoccupation with sorrow and death of the English composers of the period seems to amuse Andreas somewhat, when he is asked about it, but you would never know it from listening to him sing these sad songs. His steady, pure voice is like a rope drawing you right into the pain. The highlights IMHO are All Ye Whom Love or Fortune Has Betrayed and I Saw My Lady Weep. Heartbreaking.
Andreas Scholl describes himself as a singer in the English tradition - despite what others say of him and his German/Swiss musical background. In these archetypal English songs, he proves his point. It is a beautiful, beautful collection. ---R.J. Gunsell, amazon.com
download:   uploaded anonfiles mega 4shared mixturecloud yandex mediafire ziddu
Last Updated (Sunday, 28 July 2013 10:55)