Mondonville - Trio Sonatas, Op. 2 (2016)
Mondonville - Trio Sonatas, Op. 2 (2016)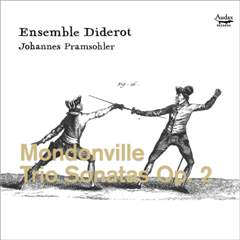 1. Trio Sonata No. 1 in E Minor, Op. 2 I. Adagio (3:14)
2. Trio Sonata No. 1 in E Minor, Op. 2 II. Fuga. Allegro (2:12)
3. Trio Sonata No. 1 in E Minor, Op. 2 III. Aria (2:15)
4. Trio Sonata No. 1 in E Minor, Op. 2 IV. Presto (2:16)
5. Trio Sonata No. 2 in B-Flat Major, Op. 2 I. Adagio (2:56)
6. Trio Sonata No. 2 in B-Flat Major, Op. 2 II. Fuga. Allegro (4:19)
7. Trio Sonata No. 2 in B-Flat Major, Op. 2 III. Gratioso (2:11)
8. Trio Sonata No. 2 in B-Flat Major, Op. 2 IV. Allegro (2:56)
9. Trio Sonata No. 3 in G Major, Op. 2 I. Largo (2:52)
10. Trio Sonata No. 3 in G Major, Op. 2 II. Fuga. Allegro (2:09)
11. Trio Sonata No. 3 in G Major, Op. 2 III. Cantabile (3:08)
12. Trio Sonata No. 3 in G Major, Op. 2 IV. Giga. Allegro (2:34)
13. Trio Sonata No. 4 in F Major, Op. 2 I. Largo (3:22)
14. Trio Sonata No. 4 in F Major, Op. 2 II. Fuga. Allegro (3:40)
15. Trio Sonata No. 4 in F Major, Op. 2 III. Gratioso (3:50)
16. Trio Sonata No. 4 in F Major, Op. 2 IV. Presto (2:20)
17. Trio Sonata No. 5 in D Major, Op. 2 I. Allegro (0:45)
18. Trio Sonata No. 5 in D Major, Op. 2 II. Fuga. Allegro (2:44)
19. Trio Sonata No. 5 in D Major, Op. 2 III. Largo (1:47)
20. Trio Sonata No. 5 in D Major, Op. 2 IV. Allegro (2:21)
21. Trio Sonata No. 6 in C Minor, Op. 2 I. Adagio (2:17)
22. Trio Sonata No. 6 in C Minor, Op. 2 II. Fuga. Allegro ma non presto (3:39)
23. Trio Sonata No. 6 in C Minor, Op. 2 III. Largo (3:20)
24. Trio Sonata No. 6 in C Minor, Op. 2 IV. Allegro (4:01)

Ensemble Diderot & Johannes Pramsohler
(Johannes Pramsohler and Roldán Bernabé (violins); 
Kirsten Huebner (flute); 
Gulrim Choi (cello); 
Philippe Grisvard (harpsichord))

These six well-crafted Trio Sonatas are as good as anything I've heard from the French Baroque period. What initially attracted me to this release was the impressive early music specialists Ensemble Diderot, who aim to explore the lesser trodden byways of this type of repertoire. Based in Paris, they were founded in 2008 by violinist Johannes Pramsohler and focus on the Baroque trio sonata repertoire of the seventeenth and eighteenth centuries. They take their name from the French philosopher, art critic and writer Denis Diderot. Earlier in the year I reviewed their superb disc of the German composer and organist Johann Friedrich Meister.
Jean-Joseph Cassanéa de Mondonville, to give him his full title, was born in Narbonne in southwest France. He was a younger contemporary of Rameau, a brilliant violinist and a prominent composer of his day both in Paris and Versailles. He held posts as such with the Concert Spirituel and the Chapel Royal. His compositional oeuvre includes operas, grand motets and instrumental music. He died in Belleville near Paris at the age of sixty. He's not that well remembered today and little of his music has been recorded.
Unusually, Mondonville's instrumental music was greatly admired by his contemporaries, more so than his vocal music, which attracted a barrage of criticism. Even the Grands Motets came under fire. The fact that he was an accomplished violinist and composed with consummate skill for the instrument may go some way to explain this. When I listen to this music I'm amazed how virtuosic, imaginative and intrepid his violin writing is. Take the Presto finale of the Sonata I, for instance, where you get a panoply of rhythmic audacity and flourish in the fiddle lines.
The Sonatas are cast in four movements, and in each a Fuga is positioned second. Mondonville's fluent counterpoint is imposing. Here, the cello not only takes on an accompanying role, but is an integral part of the contrapuntal texture. The slow movements are lyrical, graceful and elegant. The Largo opening movement of Sonata 4 is beguiling in its sheer simplicity, and the Largo sempre piano of Sonata 5 conveys an intimate dialogue between two lovers. The Allegro finale of Sonata 6 is an absolute delight, I wanted to repeat it several times. You sense the sheer enjoyment of the players in its joyous dance-like rhythms. Regarding the last movement of Sonata 4, Johannes Pramsohler, in his well-written annotations, poses the question 'Mondonville's musical depiction of a group of inebriates?' – a thought-provoking conundrum.
With regard to the instrumentation, the composer accommodates the flute as an alternative to the second violin in Sonatas 1, 3 and 5 by keeping that part free of double-stops and placing the musical line higher. The ensemble have opted for this substitution in nos. 3 and 5. The flute is very effective and offers some rewarding contrasts in both timbre and colour.
The Ensemble Diderot perform with historical awareness and enthusiasm. Their commitment to this music, receiving its first recording, is persuasive and their flawless precision is compelling. The engineering is splendid and the music is beautifully recorded, with all the instrumental components captured equally in the balance. The acoustic of the Bibliothèque musicale François-Lang is ideal, conferring warmth and intimacy. For those coming to Mondonville's music for the first time, this is as good a place as any to start. ---Stephen Greenbank, musicweb-international.com
download (mp3 @320 kbs):
yandex 4shared mega mediafire uloz.to cloudmailru uptobox ge.tt