Josef Hofmann - Historical Recordings 1916-1923 (2008)
Josef Hofmann - Historical Recordings 1916-1923 (2008)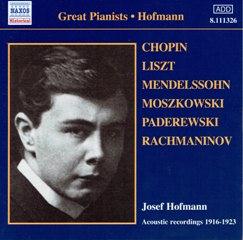 Fryderyk  Chopin
1.   Waltz No. 2 in A - Flat Major, Op. 34, No. 1, "Grande Valse brillante" 00:03:50
2.   Waltz No. 7 in C - Sharp Minor, Op. 64, No. 2 00:03:17
3.   Nocturne No. 5 in F - Sharp Major, Op. 15, No. 2 00:04:06
4.   Fantasy - Impromptu in C - Sharp Minor, Op. 66 00:04:13
5.   Berceuse, Op. 57 00:03:17
6.   Polonaise No. 3 in A Major, Op. 40, No. 1, "Military" 00:03:12

Chopin arr. Franz Liszt
7.   Chopin - 6 chants polonais, S480/R145 (Chopin, from Op. 74): No. 5. Mein Freuden (Moja pieszczotka, My Joys) 00:03:55
8.   Chopin - 6 chants polonais, S480/R145 (Chopin, from Op. 74): No. 1. Madchens Wunsch (Zyczenie, The Maiden's Wish) 00:03:16

Franz Liszt
9.   2 Concert Etudes, S145/R6: No. 1. Waldesrauschen (Forest Murmurs) 00:03:24
10.  Annees de pelerinage, 2nd year, Italy supplement, S162/R10: Venezia e Napoli: No. 3. Tarantella 00:04:41
11.  19 Hungarian Rhapsodies, S244/R106: No. 2 in C - Sharp Minor 00:08:32
12.  12 Lieder von Schubert, S558/R243: No. 4. Erlkonig 00:04:34

Felix Mendelssohn
13.   Lieder ohne Worte (Songs without Words), Book 6, Op. 67: No. 34 in C Major, Op. 67, No. 4, "Spinnerlied" ("Spinning Song") 00:01:50
14.   Rondo capriccioso in E Major, Op. 14 00:03:46
15.   Lieder ohne Worte (Songs without Words), Book 1, Op. 19: No. 3 in A Major, Op. 19, No. 3, "Jagerlied" ("Huntsman's Song") 00:02:10

Moritz  Moszkowski
16.  La jongleuse, Op. 52, No. 4 00:01:39
17.  Caprice espagnol, Op. 37 00:04:35

Ignacy Jan Paderewski
18.  Humoresques de concert, Op. 14: No. 1. Menuet celebre 00:03:40

Sergey Rachmaninov
19.  Rachmaninov  - 10 Preludes, Op. 23: No. 5 in G Minor: Alla marcia 00:03:35
20.  Liszt- Sonata in B minor 4, S.178	00:02:34
20.  Rachmaninov -  Morceaux de fantaisie, Op. 3: No. 2. Prelude in C - Sharp Minor 00:03:32

Josef Hofmann – piano

Liszt B-minor sonata (track 20) is not played by Hofmann, but taken from the 1932 Horowitz record.

Josef Hofmann was one of the greatest pianists of any age. His unique abilities incorporated a technique second to none, and a clarity and pureness of tone that has probably never been heard since his death. Always in total command of everything he played, Hofmann presented each work with an impression of complete facility of execution. The acoustic recordings on this disc include stunning performances of Liszt's Tarantella from Venezia e Napoliand Moszkowski's Caprice espagnole, both notable for supremely accurate repeated notes. In the extraordinary performance of Chopin's Nocturne in F sharp, Op. 15, No. 2, Hofmann's wonderful singing legato tone is coupled with his understanding of passages of filigree decoration that are played as an integral part of the melodic line, the descending chromatic passages sounding like vocal slides. --- naxos.com
The period covered by this disc covers the years when Hofmann was coming to the end of his Columbia contract (from 1913-18) and was about to join Brunswick. The running order on Naxos's disc is not chronological so, being grouped by composer and not date, it flits between the years. This has the happy advantage of allowing the listener to concentrate on Hofmann's approach to each composer rather than chopping things into individual studio sessions. Purists naturally would prefer the latter but this single disc conspectus serves both them and the generalist well.
The relatively extensive Chopin selection shows how much the younger Hofmann's performances reveal more of his grandeur and exalted status than the controversial 1930s inscriptions. The Op.40 No.1 Polonaise and Op. 15 No. 2 Nocturne are very different from the later, controverisial recordings and show a youthful perception and rich colouristic and architectural sensitivity and plasticity. The Fantasy-Impromptu in C sharp minor is sparing of pedal and wonderfully articulated. In the two Chopin/Liszt songs, Mein Freuden (Moja pieszczotka, My Joys) and Madchens Wunsch (Zyczenie, The Maiden's Wish) the refinement of his vocalised legato is palpable. Hofman left behind two well-known Duo Art rolls of the Moszkowski pieces but these disc performances are inevitably their superior and show him in scintillating form. He is subtle in Mendelssohn, virtuosic in Liszt – his 1923 Waldesrauschen remains one of the great recordings of the piece - and if his Rachmaninoff must cede to the composer's own performance in local terms – pockets of colour, exploration of the inner voices – the two Prelude performances remain remarkable.
I'm not disturbed by any surface noise; Mark Obert-Thorn manages to extract a considerable amount of detail at little cost in terms of hiss or swish. If you want unpublished Hofmann you will need to gravitate to VAI 1036, 1047 and Marston 52014. Similarly if you want the earlier G and Ts or the 1912 and 1915 sessions you will need to investigate further – that's not part of this disc's brief. By doing so you can listen to and contrast performances Hofmann left for both Brunswick and Columbia of the same pieces; his Waldesrauschen for Brunswick in this Naxos disc is the superior of the 1918 Columbia for example and the Brunswick Op.3 No.2 Rachmaninoff Prelude is again better on Brunswick than on Columbia. ---Jonathan Woolf, musicweb-international.com
download (mp3 @320 kbs):
yandex 4shared mega mediafire zalivalka cloudmailru oboom uplea