Ferenc Erkel - Bánk bán (1993)
Ferenc Erkel - Bánk bán (1993)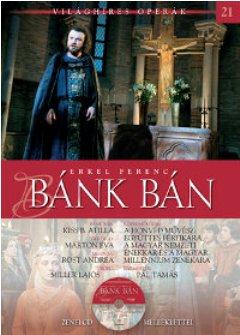 1. Act I
2. Act II
3. Act III

II. Endre - Gurbán János
Getrud - Marton Éva
Ottó - Daróczy Tamás
Bánk bán - Molnár András
Melinda - Kertesi Ingrid
Tiborc - Gáti István
Petur - Kálmándi Mihály
Biberach - Airizer Csaba
Udvarmester - Fülöp Attila

Magyar Fesztiválkórus 
Budapesti Szimfonikusok 
Oberfrank Géza – conductor

If there is any one lyric theaterwork that captures the spirit of Hungarian nationalism, that work would have to be Bánk bán ("Lord Bank") by Ferenc Erkel (1810-93). Erkel was primarily a composer of operas, and he drew upon the folk idiom of Hungarian music in much of what he wrote. Erkel completed Bánk bán ("Lord Bánk") in 1852. An earlier nationalist opera of his, Hunyadi László (1844), I broadcast on Sunday, May 31, 1990. Bánk bán, however, is now regarded as Erkel's operatic masterpiece.
In the mid-nineteenth century the Hungarian nation was struggling to achieve independence within the Hapsburg empire. Erkel looked back to the thirteenth century when the German-speaking counts of Tirol made their bid to rule Hungary outright. This imported minority of exploiters became intolerable to the native Hungarian aristocracy. The noble Lord Bánk joined a revolt against the Tiroleans. But the revolt was put down and Lord Bánk was executed for the leadership role he took in the uprising. When Erkel finished the score for Bánk bán it was suppressed by the Austrian censors. The opera had to wait nine years for its first staged production in 1861. By then a more tolerant regime had come to power in Vienna. A few years later the kingdom of Hungary worked out a political compromise or Ausgleich with the Austrian government and so was granted partial autonomy.
Ferenc Erkel composed the Hungarian national anthem. His music for Bánk bán is replete with Magyar-style melody and folk dance. Upon hearing it you'll understand how Johann Strauss acquired the exotic Hungarian flavor he added to his operettas. Yet Bánk bán is a historical tragedy, not a comedic Viennese theatrical entertainment. The language barrier has kept this gorgeous lyric drama from being performed internationally. Who could sing it correctly anywhere outside of Hungary? --- wwuh.org
Jeżeli miałbym opisać "Bank Bana" w jednym zdaniu powiedziałbym, że "To bardzo dobra verdiowska opera po węgiersku". O ile Moniuszko czerpał pełnymi garściami z Aubera, Donizettiego i Rossiniego, a Smetana pozostał dość oryginalny, Erkel najwięcej wziął od Verdiego. Jednak nie jest to bezczelny plagiat, ile bardzo zręczne (prawie zawsze zręczne) wykorzystywanie motywów i konceptów postaci.
Operę otwiera scena balu, bardzo przypominająca tę z "Rigoletta" – tu tańce, tu rozmowy, tu ktoś intonuje piosenkę. Ciekawą zmianą jest Petur, który choć ma zadatki na Montarone, jest jednak na tyle mądry by opowiedzieć o swoich lękach tylko przed zaufanymi, a publice serwuje słodko-gorzki toast (pierwszy utwór mający potencjał na bycie "hitem"). Kolejny ciekawy element pierwszego aktu to duet Petura i Banka, trochę nawiązujący do wczesnych oper Verdiego, trochę do Belliniego. Spotkanie Melindy z uwodzicielem i późniejsza scena Banka nasuwają na myśl pojedynki tenorów w operach Rossiniego (choć Bank ma pasję Manrica, zaś Otto – odpychającego i bardziej zdesperowanego księcia Mantui) – nie sposób jednak odmówić im oryginalności. Szczególnie dobrze wypadł duet Otto i Melindy, gdzie kompozytorowi udało się świetnie nakreślić niby to głębokie uczucia łajdackiego arystokraty. Najsłabszy element pierwszego aktu to bez wątpienia sceny zbiorowe, które nawet nie są złe, ile raczej mocno konwencjonalne.
Ale już akt drugi uderza ze zdwojoną siłą – słynna aria tytułowego bohatera winna być w repertuarze każdego szanującego się tenora: Erkel idealnie odmalowuje zarówno szlachecką godność jak i niepokój dzielnego rycerza. Nie sposób też odmówić jej węgierskich akcentów i… elementów popisowych (zwłaszcza w drugiej połowie), które nie tylko schlebiają tenorowi, ale też mają psychologiczne uzasadnienie (pomagają uwypuklić rozterki wewnętrzne głównego bohatera). Wszyscy wiemy, że Erkel musiał widzieć "Łucję z Lammermooru" (i prawdopodobnie "Lunatyczkę"), nie zmienia to faktu, że sceny obłędu Melindy nakreślono subtelnie i precyzyjnie. Szczególnie pięknie prezentuje się jej końcowy występ w akcie trzecim, gdzie łagodna solówka, okraszona spokojnym, nieco archaicznym stylem (bardziej pasującym do samego początku włoskiego romantyzmu) kontrastuje ze straszliwymi wydarzeniami wokół Melindy, zupełnie jakby chciała uciec od rzeczywistości.
Pozostaje wspomnieć jeszcze o dwóch scenach: pierwszą jest słynny duet Banka z królową, słusznie kojarzony z konfrontacją Węgry – Austria: rycerz walczy dla swojej żony (oczywisty symbol prześladowanej ojczyzny) zaś spiżowa, diaboliczna królowa to agresor w najgorszym wydaniu. Wyjątkowo mocny duet (punkt kulminacyjny opery) jest bez wątpienia rewelacyjny (mam też szczególną słabość do partii orkiestrowej poprzedzającej ich spotkanie), ale czy tylko ja tak uważam, czy Erkel trochę za dużo zapożyczył z Verdiego? --- poprostuopera.wordpress.com
download (mp3 @ kbs):
uploaded yandex 4shared mega mediafire zalivalka oboom uplea