Michal Kleofas Oginski – Polonaises (2005)
Michal Kleofas Oginski – Polonaises (2005)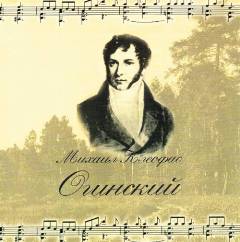 1 	 Minuet in A minor 		4:19	
2 	 Mazurka in G 		1:35 		
3 	 Mazurka in D 		2:16 	
4 	 Polonaise No 1 in F (Polonaise of Death) 	1:54 	
5 	 Polonaise No 2 in G 			1:58 
6 	 Polonaise No 3 in F minor 		2:59
7 	 Polonaise No 4 in B flat 			1:37 
8 	 Polonaise No 5 in E flat 			2:47 	
9 	 Polonaise No 6 in C minor (Les Adieux) 			3:24 
10 	 Polonaise No 7 in F 			3:25 
11 	 Polonaise No 8 in F minor (Funibre) 			3:20	
12 	 Polonaise No 9 in B flat 		3:20 	
13 	 Polonaise No 10 in D minor 			5:09	
14 	 Polonaise No 11 in G (For Amelia) 			3:57 	
15 	 Polonaise No 12 in G 			3:04 
16 	 Polonaise No 13 in A minor (Farewell) 			2:52 	
17 	 Polonaise No 14 in C 			2:49 		
18 	 Polonaise No 15 in G minor (Sirotinuszka) 			2:57 		
19 	 Polonaise No 16 in D minor (Pathetique) 			2:27 		
20 	 Polonaise No 17 in F minor (Serieuse) 			2:03	
21 	 Polonaise No 18 in G minor 			2:19 	
22 	 Polonaise No 19 in C 			2:11 	
23 	 Polonaise No 20 in F 			1:53 
24 	 Polonaise No 21 in G (O Cara Memoria) 			3:17 		
25 	 Polonaise No 22 in E flat 		3:05 
26 	 Polonaise No 23 in B flat 			3:40 		
27 	 Polonaise No 24 in E flat	2:22

Iwo Zaluski – piano

Born on 25 of September 1765, in Guzów near Warsaw, Ogiński was an heir to a great Polish tradition of patriotic gentry. His grandfather, Tadeusz, was the governor of the Trotsk District, the father, Andrzej, was a cousin of the Lithuanian general and composer, Michał Kazimierz Ogiński (1728-1800). Michał Kleofas studied piano with Józef Kozłowski (1757-1831) the court musician of his family (till 1786); in subsequent years he studied violin with Jarnovic, G. B. Viotti and others. He did not receive any formal training in composition but continued to compose and publish throughout his career. Ogiński was a diplomat, serving as a representative of Poland in the Hague (1789), London (1790), and again in Holland (1791). During the tumultous time of the partitions, he joined the Targowica group (who took over all of his property), but soon found himself on the side of the Kościuszko Insurrection, as a member of the Council. He created his own division of cavalry and served as its commander during the war. After 1794 he emigrated to Italy, where he continued his political activities: he travelled for instance to Constantinopole (1796) as a representative of the Polish emigre community. In 1802 he returned to Poland, to his manor in Zalesie near Wilno, where his time was devoted to writing memoirs and composing music. In 1811 Ogiński participated in the creation of the Grand Duchy of Lithuania, and became one of the supporters of the Tsar, who nominated him a senator. After the creation of the Congress Kingdom in 1815 Ogiński left for Italy, settling in Florence, where he died on 15 October 1833. His tombstone may be found in the church of Santa Maria Novella.
The list of Ogiński's compositions includes numerous polonaises for piano solo (ca. 20 for 2, 3, 4 hands), published in Lwow, Warsaw, Berlin, Vienna, Dresden, Prague, Paris, and London. The most famous of these is the Polonaise in A minor, "Pożegnanie Ojczyzny" (Farewell to the Homeland], also known as "Les Adieux" or "Polonaise tres favorite" and issued throughout Europe in numerous copies, transcriptions, variants. The location of the manuscript of this work is not known; its first edition appeared in 1831, with a scene from the November Insurrection (of the same year, against the Russians) on the cover. In addition to over 20 editions of the piano version, there are transcriptions for orchestras, chamber ensembles, according, viola, flute solo, flute and piano, guitar solo, 2 violins or mandolins, violin and piano, cello and piano and vocal transcriptions. Of interest are two choral arrangements, one in Polish (Pożegnanie Ojczyzny, 1962), and one in Russian (Polskij kraj, czudiesnyj kraj, text by J. Dolmatovskyj; 1962). You may listen to a short excerpt from this polonaise arranged for orchestra (in Real Audio format) if you click on the Polonaise's title above.
Ogiński is credited with transforming the brilliant court dance into a melancholy, salon composition: his polonaises are among the earliest instances of romantic piano miniatures, called "character pieces for the piano" and expressing a particular mood or stylizing a dance form. Besides the polonaises, Ogiński composed a series of romanses to French and Polish texts and patriotic songs for the Kościuszko Insurrection. The latter group of pieces did not survive. He is also the author of an opera to his own libretto: Zelis et Valcour ou Bonaparte au Caire (1799, manuscript held at the Iagellonian University, Cracow). This opera may have been inspired by contacts with his uncle, Michał Kazimierz Ogiński, a composer - aristocrat who had a private opera company and an orchestra at his service. The Bonaparte opera reveals the younger composer's interest in literature; his output in this area includes a series of memoirs and diaries, as well as collections of letters, rhymed treatises sent to friends. These writings are a testimony to his involvement in the artistic millieu of the late 18th- early 19th century, with featuring such well-known names as Maria Szymanowska and Karol Kurpiński (composers). ---Maja Trochimczyk, usc.edu
Działacz polityczny, skrzypek, kompozytor i pisarz. Urodzony 25 września 1765 w Guzowie koło Warszawy, zmarł 15 października 1833 we Florencji.
Gry na skrzypcach i klawikordzie oraz teorii i generałbasu uczył się u Józefa Kozłowskiego w Guzowie. Od 1782 pobierał lekcje gry na skrzypcach u Ivana Mane Jarnovića w Warszawie. Podczas późniejszych pobytów za granicą korzystał ze wskazówek udzielanych mu przez skrzypków-wirtuozów - Giovanniego Battistę Viottiego (1798) i Pierre'a Baillota (1810).
Nie zamierzał być zawodowym muzykiem. Już w wieku 21 lat rozpoczął działalność polityczną jako poseł na sejm i zwolennik króla Stanisław Augusta Poniatowskiego, od którego otrzymał godność komisarza skarbu Wielkiego Księstwa Litewskiego. W latach 1790-91 odbył jako dyplomata podróż do Hagi, Amsterdamu i Londynu. Celem jego misji było rozszerzenie kontaktów handlowych Polski z Europą Zachodnią drogą morską. Uczestniczył w pracach Sejmu Czteroletniego (1788-92), nie był jednak zwolennikiem Konstytucji 3-go Maja. W 1793 sejm powierzył mu stanowisko podskarbiego Wielkiego Księstwa Litewskiego. Należał do grupy polityków, którzy podpisali traktaty rozbiorowe z Rosją i Prusami, ale w 1794 wziął udział w powstaniu kościuszkowskim - dowodził własnym pułkiem strzelców konnych. Po upadku Wilna przedostał się do Warszawy, a po bitwie pod Maciejowicami wyjechał do Wiednia i dalej do Wenecji. Odrzucił otrzymaną od dowódcy okupacyjnych wojsk Aleksandra Suworowa propozycję powrotu do Polski, czego konsekwencją stała się konfiskata jego majątków. Przez kilka lat działał aktywnie na emigracji. W latach 1797-98 przebywał w Paryżu, gdzie poznał osobiście Napoleona Bonapartego. Pod koniec 1801 uzyskał zgodę na powrót do Rosji pod warunkiem złożenia przysięgi wierności carowi Aleksandrowi I. Zamieszkał wówczas w Zalesiu koło Wilna. Podczas kampanii 1812 przyjął postawę lojalną wobec Aleksandra I. Po 1812 związał się ze środowiskiem inteligenckim i kulturalnym Wilna, organizował przedstawienia i koncerty, był prezydentem Towarzystwa Typograficznego i członkiem Towarzystwa Dobroczynności. W 1823 osiadł na stałe we Florencji. --- culture.pl
download (mp3 @320 kbs):
uploaded yandex 4shared mega mediafire solidfiles zalivalka cloudmailru oboom