Gretry - Andromaque (2010)
Gretry - Andromaque (2010)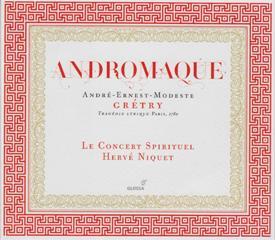 Disc: 1
  1. Andromaque, opera: Ouverture
  2. Andromaque, opera: Act 1. Scene 1. Cessez de répandre des larmes...
  3. Andromaque, opera: Act 1. Scene 1. C'est le seul espoir qui me reste...
  4. Andromaque, opera: Act 1. Scene 1. Si, fidèle au noeud qui l'engage...
  5. Andromaque, opera: Act 1. Scene 2. Marche
  6. Andromaque, opera: Act 1. Scene 2. Au vainqueur des Troyens...
  7. Andromaque, opera: Act 1. Scene 2. De tous nos rois secondez la colère...
  8. Andromaque, opera: Act 1. Scene 2. Non, non, ...je veux défendre et le fils et la mère...
  9. Andromaque, opera: Act 1. Scene 2. Je ne fus que trop implacable...
  10. Andromaque, opera: Act 1. Scene 2. Je défendrai contre eux est le fils eet la mère...
  11. Andromaque, opera: Act 1. Scene 2. Marche
  12. Andromaque, opera: Act 1. Scene 3. Je l'envoie, je le sais, aux pieds de sa maîtresse...
  13. Andromaque, opera: Act 1. Scene 4. Où portez-vous vos pas?...
  14. Andromaque, opera: Act 1. Scene 4. Ils me menacent de leurs armes...
  15. Andromaque, opera: Act 1. Scene 4. Triste, captive, importune à moi-même...
  16. Andromaque, opera: Act 1. Scene 4. Votre vainqueur baigne de larmes...
  17. Andromaque, opera: Act 1. Scene 4. Ah! dites-moi seulement que j'espère...
  18. Andromaque, opera: Act 1. Scene 4. Murs sacrés! que n'a pu conserver mon Hector...
  19. Andromaque, opera: Act 1. Scene 4. Cruelle!...
  20. Andromaque, opera: Act 1. Scene 4. Vous le voulez? Hé bien, cruelle!...
  21. Andromaque, opera: Act 1. Scene 4. Le fils, dans ma juste colère...
  22. Andromaque, opera: Act 1. Scene 5. Ah! c'en est fait, cruelle!...
  23. Andromaque, opera: Act 1. Scene 5. Je m'applaudis de ma victoire...
  24. Andromaque, opera: Act 1. Scene 5. Qu'on cherche Oreste, amenez Hermione...
  25. Andromaque, opera: Act 1. Scene 6. Fille de Ménélas, Oreste...
  26. Andromaque, opera: Act 1. Scene 6. J'oublie à jamais l'ingrate...
  27. Andromaque, opera: Act 1. Scene 6. Dieux! que cet aveu me flatte...
  28. Andromaque, opera: Act 1. Scene 6. Marche

Disc: 2
  1. Andromaque, opera: Act 2. Scene 1. Modérez ce transport jaloux...
  2. Andromaque, opera: Act 2. Scene 2. Régnez à jamais dans mon âme...
  3. Andromaque, opera: Act 2. Scene 2. Bientôt le pompe nuptiale...
  4. Andromaque, opera: Act 2. Scene 3. Ne fuyez point un spectacle si doux!...
  5. Andromaque, opera: Act 2. Scene 4. Elle fuit, la cruelle, et se rit de mes larmes...
  6. Andromaque, opera: Act 2. Scene 4. Chère épouse, dit-il, je te laisse ce gage...
  7. Andromaque, opera: Act 2. Scene 4. Et sa mère pourrait supporter son trépas?...
  8. Andromaque, opera: Act 2. Scene 5. Hâtons-nous et quittons ce rivage...
  9. Andromaque, opera: Act 2. Scene 6. Phoenix, il faut aux Grecs livrer le fils d'Hector...
  10. Andromaque, opera: Act 2. Scene 6. Hélas! vous pouvez, sans pitié...
  11. Andromaque, opera: Act 2. Scene 7. Je ne puis résister à ses larmes...
  12. Andromaque, opera: Act 2. Scene 7. À votre fils, je servirai de père...
  13. Andromaque, opera: Act 2. Scene 7. Ciel c'en est fait !...
  14. Andromaque, opera: Act 2. Scene 8. C'est pour l'hymen d'une immortelle...
  15. Andromaque, opera: Act 2. Scene 8. Gavotte
  16. Andromaque, opera: Act 2. Scene 9. C'en est fait! Le parjure!...
  17. Andromaque, opera: Act 2. Scene 9. Va lui jurer la foi que tu m'avais jurée...
  18. Andromaque, opera: Act 2. Scene 9. Quoi! préférer à la fille d'un roi...
  19. Andromaque, opera: Act 2. Scene 10. Croirai-je que vos yeux sont enfin désarmés?...
  20. Andromaque, opera: Act 2. Scene 10. Lâche! n'espère plus obtenir ma conquête!...
  21. Andromaque, opera: Act 2. Scene 10. Il ne mourra que de la main d'Oreste...
  22. Andromaque, opera: Act 2. Scene 10. Jurez de venger son injure...
  23. Andromaque, opera: Act 3. Scene 1. Ombre chérie, ombre sacrée...
  24. Andromaque, opera: Act 3. Scene 1. Reçois, chère ombre que j'adore...
  25. Andromaque, opera: Act 3. Scene 1. Vivez pour votre fils et faites son bonheur...
  26. Andromaque, opera: Act 3. Scene 2. Pyrrhus vous attend à l'autel...
  27. Andromaque, opera: Act 3. Scene 3. Quel spectacle cruel!...
  28. Andromaque, opera: Act 3. Scene 3. Bravons la crainte et le danger...
  29. Andromaque, opera: Act 3. Scene 4. Gavotte
  30. Andromaque, opera: Act 3. Scene 4. Menuet
  31. Andromaque, opera: Act 3. Scene 4. Reprise de la Gavotte
  32. Andromaque, opera: Act 3. Scene 4. Marche
  33. Andromaque, opera: Act 3. Scene 4. Dieu d'Hymen, que sous ton empire...
  34. Andromaque, opera: Act 3. Scene 4. Andromaque, régnez sur mon peuple et sur moi...
  35. Andromaque, opera: Act 3. Scene 4. Combat
  36. Andromaque, opera: Act 3. Scene 5. Quels cris me remplissent d'effroi?...
  37. Andromaque, opera: Act 3. Scene 6. Princesse, c'en est fait! votre haine est servie...
  38. Andromaque, opera: Act 3. Scene 7. Est-ce Hermione?... Et que viens-je d'entendre?...
  39. Andromaque, opera: Act 3. Scene 8. Ô fureur! Ô funeste sort!...
  40. Andromaque, opera: Act 3. Scene 8. Sauvons-le de sa fureur!...
  41. Andromaque, opera: Act 3. Scene 8. Filles d'enfer, vos mains sont-elle prêtes?...
  42. Andromaque, opera: Act 3. Scene 8. Dieux implacables, dieux vengeurs...

Karine Deshayes - soprano
Maria Riccarda Wesseling - mezzo-soprano
Sébastien Guèze - tenor
Tassis Christoyannis - baritone

Le Concert Spirituel
Hervé Niquet - conductor

Working in collaboration with the Centre de Musique Baroque de Versailles and the Palazzetto Bru Zane (Centre de Musique Romantique Française), Hervé Niquet and Le Concert Spirituel carry on with their journey of rediscovering forgotten operatic works, this time pitting themselves against music from the close of the Age of Enlightenment, in Andromaque (1778), the single tragédie lyrique written by André-Ernest-Modeste Grétry (1741- 1813). Known above all for his light opéras- comiques, at the end of his career the composer turned towards an increasingly heroic style in the vein of Méhul and Cherubini.
The work reflects the tendency of an age of changes which was torn between a nostalgia for the times of the reign of Louis XIV and the cult of modernity and progress. Thus, it overlays on the barely- altered Jean Racine text of Andromaque (1667) a music already suffused with Romantic aspirations where literally unheard-of tones and accents clothe the passions of the Classical Greek age in a new guise. Never performed again after its initial production Andromaque today reveals all the modernity of the French school on the eve of the French Revolution and imposes itself without doubt as one of the most singular and unexpected links between the Baroque and Romanticism. ---glossamusic.com
Grétry composed this work in 1780, when he had already had ten years of success writing comic operas in Paris. But this is a tragedy with a text derived from the revered dramatist Jean Racine, and it ends with the stage littered with dead bodies - Andromache of Troy (wife of the dead Hector) kills herself rather than live with Pyrrhus (ruler of Epirus in north-west Greece); Hermione (rejected lover of Pyrrhus) has Pyrrhus killed, and then stabs herself to death; and Hermione's lover, Orestes, then attempts to commit suicide.
The performers face interesting challenges here because Grétry's music is not up to the histrionic mayhem. Some scenes do come off – the lovely exchange between Andromache and the chorus at Hector's tomb (Act III, Scene 1) is brought to life by the mezzos: Karine Deshayes's mercurial and heartfelt expression in the title role, and Maria Wesseling as Hermione makes the most of her full-blooded 'revenge' monologue (Act III, Scene 3).
But elsewhere the fine, clear voice of tenor Sébastien Guèze as Pyrrhus is made by the music to sound as if he is addressing a public meeting (Act I, Scene 4) rather than quietly pleading for Andromache's attention, and the overture to Act I is ridiculously perky for a tragedy. Under Hervé Niquet's guidance, the orchestral sound is always tuneful, piquant and alert. -- Anthony Pryer, BBC Music Magazinea, rkivmusic.com
download (mp3 @320 kbs):
yandex mediafire ulozto gett bayfiles