Adam Jarzebski - Canzoni & Concerti (1999)
Adam Jarzebski - Canzoni & Concerti (1999)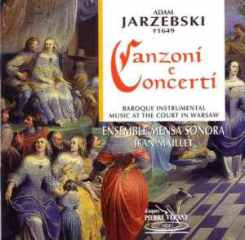 1. Corona Aurea, concerto
2. Königsberga, concerto
3. Sentinella, concerto
4. Spandesa, concerto
5. Nova Casa, concerto
6. Chromatica
7. Concerto Terzo
8. Concerto II
9. Concerto Primo
10. Berlinesa, concerto for 2 violins, viola da gamba & continuo
11. Bentrovata, concerto
12. Canzon Quinta
13. Canzon 3
14. Canzon Prima
15. Canzona Seconda

Ensemble Mensa Sonora
Jean Maillet – conductor

Baroque instrumental music at the Court in Warsaw

Polish composer Adam Jarzebski was one of the most prominent musicians in Warsaw in the first half of the 17th century. Born in the town of Warka, which is located about 40 miles south of Warsaw, Jarzebski made his debut at the Berlin-based court of John Sigismund, Elector of Brandenburg in 1612. In 1615, Jarzebski was permitted to leave for a year in order to study music in Italy, the center of the latest musical fashions and the birthplace of the then-emerging Baroque style. After a year or two spent in sunny Italy, however, Jarzebski decided to bypass Berlin and made straight for Warsaw, where he worked as a musician until he signed his last will and testament on December 26, 1648, presumably dying within a few days.
Adam Jarzebski's complete known works were collected and published in 1989, though a handful of his pieces appeared somewhat earlier, including a two-voice Canon that appeared in an Italian print in 1643. The main manuscript source of his work is headed by the rubric Canzoni é concerti; compiled in 1627, it contains 27 instrumental pieces and is considered a principal resource for the understanding of early, Central European Baroque chamber music. Certain pieces also exist in keyboard tablatures as well. They demonstrate the impact of the Italian music that Jarzebski studied and some pieces even utilize known compositions by Italian composers as a sort of jumping off point. Jarzebski also developed a fondness for the strange, highly chromatic harmony favored by Monteverdi, Caccini, and others, perhaps best noted in his three-part composition Chromatica. --- Uncle Dave Lewis, Rovi
Aż chciało by się powiedzieć – "… to oni tam też słuchali muzyki? Oprócz naparzania się z szablami, mieczami, czy innym ustrojstwem?" Wygląda na to, że tak…
Z Adamem Jarzębskim spotkaliśmy się przy okazji recenzji albumu Baroque in Poland nagranego niedawno przez Alla Polacca Ensemble. Utwór, który się znalazł na płycie zawierającej muzykę barokową powstałą na ziemiach polskich to właśnie jedna z części Canzoni e Concerti Jarzębskiego. Napisałem wtenczas, że utwór kompozytora z Piaseczna (bo w tej miejscowości w właśnie sprawował on funkcję wójta) to jedna z moich ulubionych kompozycji. I zdania nie zmieniam, przeciwnie, utwierdza mnie w tym album wydany nakładem Arion-Vérany w 1999 roku.
Bo tym razem jednak za muzykę polskiego kompozytora zabrał się Jean Maillet, skrzypek koncertujący między innymi z Herreweghem czy Christiem: jego zespół Mensa Sonora Ensemble słynie z wykonywania tych właśnie "mniej" znanych utworów barokowych kompozytorów, a Jarzębski jest właśnie jedną z takich zapomnianych postaci.
Niestety, takie płyty, jak recenzowana splendoru Jarzębskiemu nie przyniosą. Nie dlatego, że muzyka jest słaba, tudzież kiepsko wykonana. Przeciwnie – ani muzykom, ani ich ostatecznemu dziełu w postaci krążka CD niczego zarzucić nie można. Ta muzyka ma w sobie faktycznie pewien spokój warszawskiego dworu królewskiego (gdzie Jarzębski był muzykiem kapeli królewskiej i zarazem nauczycielem muzyki znanych osobistości ówczesnej Warszawy). Słychać też w kompozycjach mistrza znad Pilicy swego rodzaju zadumę. Coś wybitnie wisi w powietrzu między nutami. Może to jakieś przeczucie, że mimo tego, iż I Rzeczypospolita targana była przez różne zawieruchy, to Warszawa jeszcze przez jeszcze niespełna trzydzieści lat miała pozostać wolna od wojen? Kto wie…
W każdym razie poszczególne części Canzoni e Concerti wywołują niezwykłe emocje w słuchaczu. Drzemią w nich pałacowe intrygi, słychać szczęk szabel na rubieżach Królestwa, niesie się z nich krzyk szlacheckich gardeł, wołających o kolejne przywileje i … wybrzmiewa też spokojne i ciche popołudnie w małym dworku na Mazowszu, gdzie dzieci biegają dookoła i generalnie "…miło dumać wśród dźwięku pszczół nad bytowaniem, czy się zboża wykłoszą, a czy kuśka stanie…" jak śpiewał Jacek Kaczmarski.
Piękna muzyka. Świetnie zagrana. Ale ani krztyny w niej pikanterii, żadnych eventów czy skandali. Mała wytwórnia, muzycy znani tylko pasjonatom – w taki sposób właśnie ląduje się na takim blogu, jak Klasyczna Niedziela. Polecam. --- classicsunday.wordpress.com
download:   uploaded anonfiles mega 4shared mixturecloud yandex mediafire ziddu
Last Updated (Monday, 12 August 2013 15:37)