Giuseppe Sarti - Giulio Sabino (Epponina) [2000]
Giuseppe Sarti - Giulio Sabino (Epponina) [2000]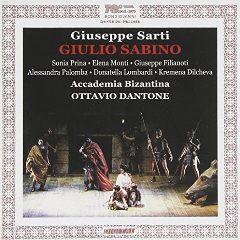 Disc: 1
  1. Sinfonia
  2. Introduzione: 'Dove m'inoltro' (Sabino)
  3. Aria: 'Pensieri Funesti' (Sabino)
  4. Recitativo: 'Oh dei!...Sabin!...Dove t'inoltri?' (Arminio)
  5. Aria: 'Già al mormorar del vento' (Arminio)
  6. Recitativo: 'Annio, che sento mai!' (Tito)
  7. Recitativo Accompagnato: 'Ch'io parta? Oh dio!' (Epponina)
  8. Aria: 'Trema il cor, non v'è più speme' (Epponina)
  9. Recitativo: 'Dunque quell'infelice' (Voadice)
  10. Aria: 'Se Questa, oh cor tiranno' (Voadice)
  11. Recitativo: 'Conosco alfin l'error' (Tito)
  12. Recitativo accompagnato: 'Oh ciel, che dissi!' (Tito)
  13. Aria: 'Già vi sento, e già v'intendo' (Tito)
  14. Recitativo: 'L'infelice Epponina' (Arminio)
  15. Recitativo: 'Oimè! Qualora all'idol mio ritorno' (Epponina)
  16. Recitativo accompagnato: 'Non dubitar, verrò' (Sabino)
  17. Aria: 'Là tu vedrai chi sono' (Sabino)
  18. Recitativo: 'Fermati, o mio bel nume' (Tito)
  19. Aria: 'Un dolce contento' (Annio)
  20. Recitativo: 'E ancor seguire ardisci' (Sabino)
  21. Recitativo accompagnato: 'Ah cara sposa, errai' (Sabino)
  22. Aria e duetto: 'Come partir poss'io' (Epponina)

Disc: 2
  1. Recitativo: 'E dunque a suo talento' (Annio)
  2. Aria: 'Quando il pensier figura' (Annio)
  3. Recitativo: 'Il parlar di costui' (Arminio)
  4. Aria: 'Da quel dì ch'io ti mirai' (Arminio)
  5. Recitativo: 'Questo pure il momento esser dovria' (Sabino)
  6. Recitativo accompagnato: 'Taci, m'uccidi' (Epponina)
  7. Aria: 'Con qual core, o dio, potrei' (Epponina)
  8. Recitativo: 'Che sventura fatal...' (Tito)
  9. Aria: Tigre ircana in selva ombrosa' (Tito)
  10. Recitativo: 'Oh, quanti in questo giorno' (Voadice)
  11. Scena: 'Venite, oh figli! Al vostro sen stringete' (Sabino)
  12. Aria: 'Cari figli un altro amplesso' (Sabino)
  13. Recitativo: 'E Tito avrà tal core' (Voadice)
  14. Aria: 'Quell'ira che invano' (Voadice)
  15. Recitativo: 'Sin che vive Sabino' (Tito)
  16. Terzetto: 'Sfogati pur tiranno' (Epponina, Tito, Sabino)
  17. Aria: 'Al caro bene a lato' (Epponina)
  18. Recitativo: 'E vinto sarà Tito' (Tito)
  19. Aria: 'Bella fiamma, che il seno m'accendi' (Tito)
  20. Scena: 'S'una vita infelice' (Sabino)
  21. Aria: 'In qual barbaro momento' (Sabino)
  22. Recitativo: 'Dove sono?' (Sabino)
  23. Finale: 'Di nobili allori' (Tutti)

Giulio Sabino - Sonia Prina
Epponina - Elena Monti
Tito - Giuseppe Filianoti 
Arminio - Alessandra Palomba
Voadice - Donatella Lombardi
Annio - Kremena Dilcheva 

Accademia Bizantina - Orchestra
Ottavio Dantone - Conductor

Giulio Sabino ("Julius Sabinus") is a dramma per musica (opera seria) in three acts by Giuseppe Sarti. The libretto was by Pietro Giovannini. The opera which is about the triumph of conjugal love. It is set in 1st century Gaul in the time of the Emperor Vespasian.
The opera, staged in six or seven European countries at the end of the 18th century, was the subject of a parody in Antonio Salieri's 1786 work Prima la musica e poi le parole.
It was first performed at the Teatro San Benedetto in Venice on 3 January 1781. The opera was revived in Ravenna in 1999.
Sarti was a contemporary of Mozart's and an extremely popular composer at that time. During the dinner at the end of "Don Giovanni", the orchestra plays excerpts from popular operas at the time, including Sarti's "Due Litiganti". However Sarti has been all but forgotten, there are very few recordings of his music so this set is a welcome (if pricey) opportunity to hear what else was going on around Mozart and Haydn in their heyday.
This is a 3 act opera seria, centering on the noble attempt by the Kings of the Sabines to resist the conquering Romans and protect his family. There are the standard opera seria arias about strength, love, despair, honor versus romance, etc. but Sarti manages to keep the pace moving despite the genre's somewhat stagnant conventions. Dry recitative is kept to a minimum except for a few spots, and amidst the majority of solo da capo arias Sarti colorfully utilizes orchestral recitatives, ensembles and instrumental asides. In addition, Sarti's pacing of the arias (how a certain mood, tempo or orchestral color follows another) is perfectly balanced, the music is never boring. It's also extremely technically difficult, and would be incredible save for the merely competent cast and subpar recorded sound from a live performance. Sonia Prina expectedly is the standout, handling the roulades of notes and sustained lyricism of the title character with assurance and her signature rich, bubbly/reedy contralto. Academia Bizantina is lush, transparent or forceful as the music requires (if somewhat reserved compared to other Italian period instrument groups). The rest of the cast is competent, never disappointing but rarely awe-inspiring.
At this price this one is probably a sure bet for aficionados, but otherwise not a must-have. ---AJS, amazon.com
download (mp3 @320 kbs):
yandex 4shared mega mediafire uloz.to cloudmailru