Max Richter – Voices (2020)
Max Richter – Voices (2020)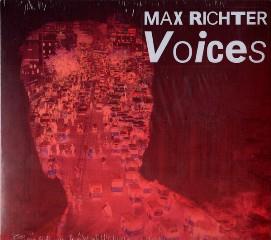 CD1:
01 – All Human Beings – Pt. 1
02 – All Human Beings – Pt. 2
03 – All Human Beings – Pt. 3
04 – All Human Beings – Pt. 4
05 – Origins – Pt. 1
06 – Origins – Pt. 2
07 – Journey Piece – Pt. 1
08 – Journey Piece – Pt. 2
09 – Chorale – Pt. 1
10 – Chorale – Pt. 2
11 – Chorale – Pt. 3
12 – Chorale – Pt. 4
13 – Hypocognition – Pt. 1
14 – Prelude 6 – Pt. 1
15 – Prelude 6 – Pt. 2
16 – Murmuration – Pt. 1
17 – Murmuration – Pt. 2
18 – Murmuration – Pt. 3
19 – Cartography – Pt. 1
20 – Cartography – Pt. 2
21 – Cartography – Pt. 3
22 – Little Requiems – Pt. 1
23 – Little Requiems – Pt. 2
24 – Little Requiems – Pt. 3
25 – Mercy

CD2:
01 – All Human Beings (Voiceless Mix) – Pt. 1
02 – All Human Beings (Voiceless Mix) – Pt. 2
03 – All Human Beings (Voiceless Mix) – Pt. 3
04 – All Human Beings (Voiceless Mix) – Pt. 4
05 – Origins (Voiceless Mix) – Pt. 1
06 – Origins (Voiceless Mix) – Pt. 2
07 – Journey Piece (Voiceless Mix) – Pt. 1
08 – Journey Piece (Voiceless Mix) – Pt. 2
09 – Chorale (Voiceless Mix) – Pt. 1
10 – Chorale (Voiceless Mix) – Pt. 2
11 – Chorale (Voiceless Mix) – Pt. 3
12 – Chorale (Voiceless Mix) – Pt. 4
13 – Hypocognition (Voiceless Mix) – Pt. 1
14 – Prelude 6 (Voiceless Mix) – Pt. 1
15 – Prelude 6 (Voiceless Mix) – Pt. 2
16 – Murmuration (Voiceless Mix) – Pt. 1
17 – Murmuration (Voiceless Mix) – Pt. 2
18 – Murmuration (Voiceless Mix) – Pt. 3
19 – Cartography (Voiceless Mix) – Pt. 1
20 – Cartography (Voiceless Mix) – Pt. 2
21 – Cartography (Voiceless Mix) – Pt. 3
22 – Little Requiems (Voiceless Mix) – Pt. 1
23 – Little Requiems (Voiceless Mix) – Pt. 2
24 – Little Requiems (Voiceless Mix) – Pt. 3
25 – Mercy (Voiceless Mix) 

Alto Vocals – Amy Blythe, Elisabeth Paul, Lizzie Drury, Hannah Cooke, Martha McLorinan, Sophie Overin
Cello – Ashok Klouda, Ayako Halder, Chris Worsey, Chris Allan, Dave Daniels, Davina Shum, George Hoult,
 Heeyeon Cho, Helen Rathbone, Ivan Hussey, James Douglas, Jess Cox, Katherine Jenkinson, Lydia Dobson,
  Madeleine Ridd, Nick Cooper, Paul Kegg, Rachael Lander, Samantha Ginsberg, Sara Hajir, Sophie Harris, Tony Willard
Cello [Solo] – Ian Burdge
Conductor – Robert Ziegler
Double Bass – Andy Marshall, Beth Symmons, Beverley Jones, Jack Cherry, Laurence Ungless, Leon Bosch,
 Lucy Shaw, Martin Lüdenbach, Nicola Davenport, Rhian Porter, Richard Pryce, Roger Linley, Stacey Watson
Percussion – Joby Burgess
Piano, Organ, Synthesizer, Producer – Max Richter
Soprano Vocals – Emily Dickens, Hannah Ely, Isabella Gibber, Josephine Stephenson, Rachel Haworth, Victoria Meteyard
Soprano Vocals [Solo] – Grace Davidson
Viola – Bruce White, Clifton Harrison, Elisa Bergersen, Emma Sheppard, Nick Barr, Oak Lau, Rachel Robson, Reiad Chibah
Violin – Ani Batikian, Claire Kohda Hazelton, Daniel Bhattacharya, Elspeth MacLeod, Eva Thorarinsdottir,
 Everton Nelson, Gillon Cameron, Hazel Correa, Ian Humphries, Jamie Hutchinson, Juan González, Kotono Sato,
  Marianne Haynes, Nicolette Kuo, Oli Langford*, Preetha Narayana, Raja Halder, Richard George, Rick Koster,
   Samantha Wickramasinghe, Tom Pigott-Smith, Zara Benyounes
Violin [Solo] – Mari Samuelsen

Looking back on Max Richter's career as a composer and his ability to make music centred around history, politics and literature, it's easy to feel that he doesn't really make albums about the everyday. Yet, new album Voices might be his most relatable and relevant album to date. It might take inspiration from another big subject, namely the Universal Declaration Of Human Rights, but it also feels one of the most inclusive of his albums, shining light on various rights and freedoms that many may take for granted.
The album features readings of many of the articles contained within the Declaration set to Richter's emotionally engaging orchestral score, showing that the combination of voice and orchestra that he has explored previously continues to serve him well. He explained more about the background to the piece in our recent interview but essentially Voices was born out of a feeling that the world was headed in a troubling direction and is Richter's attempt to search for possible solutions, something he sees the Declaration offering. Voices is primarily a celebration of the Declaration and of the ability and aspiration of the human race to create it, although it's tempered by a certain sadness at their inability to fully implement its contents.
American actress Kiki Layne is the main narrator on the album, but the other voices that drift in and out in the background in a variety of languages add a moving dimension. Layne's readings are delivered in a clear, pinpoint and proud fashion. "All humans are born free and equal" begins her first reading. The piece then takes a journey across the Declaration, touching on other rights, before it ends movingly with "everyone has the right to education", appropriate given Richter's desire to focus on the piece's potential to inform the future. Earlier, a child reading one of the rights among the crackly patchwork of other voices provides a similar stop-and-think moment.
The text might be the central focus but the music brings it alive. Richter chose to concentrate on the lower register of the orchestral spectrum, employing more cellos and double basses than usual but ultimately many of the hallmarks of his style are still recognisable; a focusing gravitas, sweeping passages, building strings and intimate piano. These instrumental sections are broken by the quiet drama of readings, and there are also times when wordless vocals float along, like birds flying through verdant woodland. The closing, searching track Mercy, offers a final chance for pause and reflection.
Like other moments in Richter's history, Voices also feels like a celebration and validation of music itself – its capacity for profundity and to be a conduit for ideas. The world may be going through an unprecedented period of difficulty, but Voices is an album that will no doubt prove a worthy, supportive companion throughout. ---Steven Johnson, musicomh.com
Ponad dekadę od narodzin koncepcji kompozytor Max Richter prezentuje "Voices" – nowy przełomowy projekt inspirowany Powszechną Deklaracją Praw Człowieka. Album jest artystyczną odpowiedzią na skomplikowe czasy, w których żyjemy i stawia pytanie o siłę oraz jakość ludzkiego współczucia i empatii.
Max Richter zaprosił ludzi z całego świata, by współtworzyli to dzieło poprzez odczytanie Powszechnej Deklaracji Praw Człowieka, co zostało wplecione w nagranie w wykonaniu "odwróconej" orkiestry. Artysta otrzymał setki zgłoszeń w ponad 70 językach. Melorecytacje budują głosowy pejzaż, przez który płynie muzyka: są one tytułowymi GŁOSAMI.
Przy projekcie artysta współpracował z laureatką nagrody BAFTA Yulią Mahr, która stworzyła przejmujące video do dwóch pierwszych singli: "All Human Beings" i "Mercy" . Julia Mahr i Max Richter pracują razem od ponad 25 lat w domowym Studio Richter Mahr, a obrazy stworzone do "Voices" to przedsmak większgo projektu filmowego, który zaprezentowany będzie pod koniec roku.
Przyjęta przez Zgromadzenie Ogólne Organizacji Narodów Zjednoczonych w 1948 roku jako bezpośrednia reakcja na wydarzenia II wojny światowej, Powszechna Deklaracja Praw Człowieka została sporządzona przez grupę filozofów, artystów i myślicieli zwołanych przez Eleanor Roosevelt, by odpowiedzieć na fundamentalne pytania tamtych czasów.
Jej głos można usłyszeć na początku "Voices", we włączonym przez Richtera do utworu nagraniu preambuły Deklaracji z 1949 roku. Obok głosu Roosevelt oraz głosów zarejestrowanych przez publiczność z całego świata, pojawia się również narracja cenionej amerykańskiej aktorki Kiki Layne (znanej z filmu Gdyby ulica Beale umiała mówić), której wyrazisty tembr głosu uzupełnia chóralny, orkiestrowy i elektroniczny pejzaż dźwiękowy. ---audio.com.pl
download (mp3 @320 kbs):
yandex mediafire ulozto solidfiles global.files workupload
Last Updated (Thursday, 22 April 2021 10:05)