Arturo Márquez - El Danzon Segun Marquez (The Danzon According To Marquez) [2006]
Arturo Márquez - El Danzon Segun Marquez (The Danzon According To Marquez) [2006]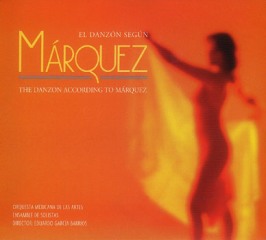 01.- Danzon No. 1
02.- Danzon No. 2
03.- Danzon No. 3
04.- Octeto Malandro
05.- Danzon No. 4
06.- La Pasion Segun San Juan De Letran
07.- Danzon No. 5
08.- Danzon No. 8

Orquesta Mexicana de las Artes
Ensamble de Solistas
Eduardo García Barrios - conductor

Arturo Márquez is a mexican composer known for his series of symphonic danzones, a traditional genre of music and dance that originated in Cuba and is now a staple of mexican culture. This is incredibly beautiful music, with a very distinct personality and harmonic language. The orchestration is nothing short of superb, and the Danzon No. 2 is easily one of the finest Mexican orchestral pieces ever written. Anyone who enjoys Latin-American music like Ginastera or Villa-Lobos, or Mexican music like Moncayo and Revueltas, will adore this.
Alguno lo conocerá, otros por lo menos habrán escuchado su nombre en alguna parte, lo cierto es que el sinaloense Arturo Márquez es indudablemente el compositor mexicano (tampoco es que hayan muchos) contemporáneo más importante, el más representativo desde Carlos Chávez y probablemente el más célebre latinoamericano teniendo inclusive el honor de ser la inspiración del "Festival Internacional de Música de Caracas" que lleva su nombre.
El signo característico de Márquez es la alta influencia de sonidos latinos, tintes indígenas y el uso de instrumentos tribales mexicanos en sus composiciones, las cuales están regularmente marcadas por ornamentos de instrumentos de aire, el uso cotidiano del contrapunto y por siempre tener un lugar en sus obras para el arpa (clara referencia del son de Sotavento).
En esta ocasión traemos aquí el disco "El Danzón según Márquez" interpretado por la Orquesta Mexicana de las Artes. Este recopila prácticamente todos sus Danzones (excepto el 6 y 7) y algunas otras composiciones fundamentales de Márquez de las que personalmente recomiendo el "Danzon #4″ y La Pasión según San Juan de Letrán de su obra "Máscaras".
Un disco que refleja la obra de Márquez y representativo de la música culta nacionalista mexicana. --- garrafoncito.wordpress.com
download: uploaded yandex anonfiles 4shared mediafire solidfiles mega gett filecloudio nornar
Last Updated (Tuesday, 11 February 2014 15:36)